When you think of Daytona Beach, the image that comes to mind is likely wide, expansive beaches, waterfront beauty and an all-American spirit of adventure. Without a doubt, Daytona Beach has a one-of-a-kind personality, but do you know why it has such a fun island-like vibe? Perhaps it's because Daytona Beach has its very own barrier island! Learn more about Daytona Beach's barrier island and how it contributes to the area's laid-back island attitude and fun outdoor adventures. 
What is a Barrier Island?
Barrier islands are, generally speaking, narrow, offshore buildups of sand and sediment that parallel the coastline. Often, barrier islands look like a ribbon running along the coastline of a certain area — and that's the case in the Daytona Beach area.
Barrier islands exist all over the world, but there are a number that dot the eastern seaboard from Florida all the way up to New England. In fact, barrier islands make up more than 700 miles of Florida's coastline. When they occur organically, barrier islands are Mother Nature's way of helping to protect a shoreline. Though they appear small in stature, barrier islands help protect the towns they align with from ocean winds and waves.
Typically, barrier islands are separated from the mainland by a smaller body of water like a bay or lagoon — or, in the case of Daytona Beach the Halifax River which is part of the Intracoastal Waterway.
What Part of Daytona Beach is Considered the Actual Barrier Island?
Loosely defined, everything west of the Halifax River is the mainland, and everything east of the river is considered the barrier island. If you've ever driven to Daytona Beach, you likely remember the incredible view that greets you as you as you cross town and come over one of the high-rise bridges. As you cross the Halifax River, the ocean rises up to greet you from the other side — a magnificent sight and warm welcome to Daytona Beach's barrier island.
That part of the Daytona Beach area that's east of the Halifax River is what you likely think of when you think of the destination's actual beach – what the locals refer to as "the beachside". That's where the wide beaches are located, where oceanfront hotels offer magnificent views and where you hang out at your favorite oceanfront pubs and restaurants. Technically, the barrier island extends just over 46 miles - from the tip of Ponce De Leon Inlet to the south up to Matanzas Inlet  near St. Augustine.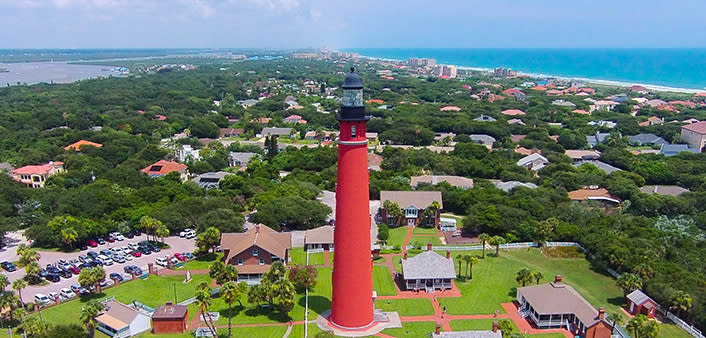 What are the best ways to enjoy Daytona Beach's barrier island?
A barrier island is surrounded by water, and water means lots of opportunity for fun waterfront adventures! Capture the essence of Daytona Beach's island spirit with one of these fun activities:
Stretch out in the sand along the 23 miles of expansive beaches in the Daytona Beach area. Sometimes, the simplest things in life bring the most joy — and on these wide beaches, you'll have plenty of room to soak it in.
Because of the barrier island, there are a wide range of eco adventures to take on, and lots of marshes, creeks, waterways and inlets to explore. Rent a kayak or paddleboard and discover the island's natural beauty. It's the perfect way to get a little exercise in without even noticing it!
Get hooked on a new adventure.
Again, with so much water within easy access, there are numerous opportunities and locations where you can spend time on the waterfront. Try pier fishing, or maybe hire a local charter to do the navigating so you can focus on the fun of fishing. Either way, it's a relaxing way to experience island life— even if you come back empty-handed!
Sip a drink to the sound of the waves.
There's something about a cold beverage just off the beach — the salt in the air simply makes everything taste a little bit better. After a day in the sun, head to one of these six favorite beach bars in Daytona Beach grab a cold beverage, and let your worries fade away.
When it comes to truly experiencing Daytona Beach's barrier island, your activity options are endless. Come explore the island for yourself — plan your stay today!