African-American Heritage 
A guide to African-American Cultural and Historical Sites in Volusia County. Click the link to download the Share the Heritage Brochure brochure.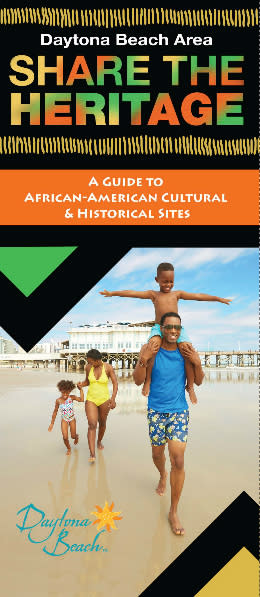 African-Americans were among the Daytona Beach area's earliest settlers. In 1866, a large colony of freedmen (free slaves) was established by Esther Hill and John Milton Hawks in an area just south of Daytona Beach now known as the towns of Ponce Inlet and Port Orange. Hawks and his wife, both physicians, were staunch abolitionists who spent the Civil War years caring for Black Union soldiers. It was primarily these soldiers and their families, numbering as many as 1,500, who settled in this area following the Civil War. Among the 26 individuals who voted to incorporate Daytona Beach in 1876, two were Black men, Thaddeus Goodin and John Tolliver. Tolliver played an important role in the town's early years, building much of the original Ridgewood Avenue (U.S. Highway 1). Tolliver's father, Henry, an ex-Union soldier who came to Florida with Hawks, had a homestead in the northeast corner of Port Orange. This was the center of a Black hamlet that became known as Freemanville. Originally populated by freedmen from the nearby Hawks' colony, Freemanville grew rapidly during the 1880s as African-American workers poured into the area to work on the East Coast Railroad.
Influential African-American leaders such as Rev. Dr. Howard Thurman, Dr. Mary McLeod Bethune, Jackie Robinson and many others have left their legacies for you to discover in Daytona Beach. Their names, as well as their accomplishments, remain an important part of the area's proud heritage. More information about these and other people (James Huger, Sr., Dr. Richard Moore, Dr. Oswald P. Bronson, Yvonne Scarlett-Golden and Vince Carter) who have contributed to our community's culture is available in the Share the Heritage Brochure.
Historical Sites & Museums
You will find several historical sites and museums listed then plotted on the Share the Heritage Map. Learn more about some of the sites here: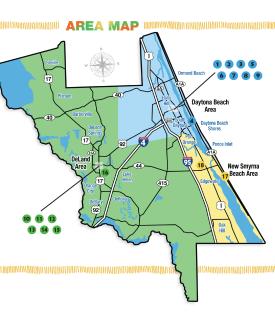 African-American Museum of the Arts
Bethune-Cookman University
Mary McLeod Bethune Beach Park
Dr. Mary McLeod Bethune Home & Gravesite
Dr. Mary McLeod Bethune Performing Arts Center
Black Heritage Trail  
Freemanville Historic Site
Mary S. Harrell Black Heritage Museum
Howard Thurman Home
Jackie Robinson Ballpark
Museum of Arts & Sciences
In addition to the list above, learn about all of the historical sites and museums in the Share the Heritage Brochure, including these sites: Bethel AME Church, DeLand Memorial Hospital and Military Museum, Greater Union First Baptist Church, Mount Bethel Institutional Baptist Church, Mount Zion African Methodist Episcopal Church, Noble "Thin Man" Watts Amphitheater, Murals at Painter's Pond in Historic DeLand, Yvonne Scarlett-Golden Cultural and Educational Center.