African American Heritage 
Share The Heritage Trail - A guide to African American cultural and historical sites in Volusia County. View the Map or download the Brochure.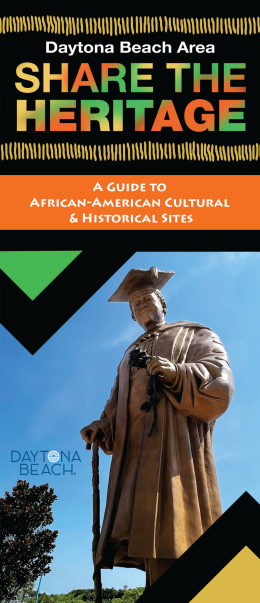 African Americans were among the Daytona Beach area's earliest settlers. Today, visitors to Daytona Beach can follow the Share The Heritage Trail to explore museums and historical and cultural sites and learn about the legacies of influential Black leaders linked to Daytona Beach, including Dr. Mary McLeod Bethune and Jackie Robinson.
-The home and gravesite of Dr. Mary McLeod Bethune present fascinating memorabilia and artifacts from this leader's high-profile career. This National Historic Landmark is situated on the grounds of Bethune-Cookman University and offers guided tours. The daughter of former slaves, Dr. Bethune, became a renowned educator, civil rights leader and advisor to five U.S. presidents. For most of her life, she resided in Daytona Beach, where in 1904, she founded the Daytona Literary and Industrial School for the Training of Negro Girls with little more than $1.50 in cash, faith in God, and five little girls for students. The school eventually became a co-ed high school and later merged with Cookman Institute of Jacksonville. In 2007, it became Bethune-Cookman University, as it is known today.
- Jackie Robinson Ballpark is where baseball legend Jackie Robinson broke the 'color barrier' in professional sports when he played in his first spring training game in 1946. A bronze statue of Robinson is on permanent display at the park's entrance. Schedule a tour and explore the numerous historical markers inside the park, which detail the facility's amazing history. Or take in a game and root for the home team, the Cincinnati Reds-affiliated Daytona Tortugas.
-The Smithsonian-affiliated Museum of Arts & Sciences is home to one of the finest African art collections in the Southeast. This permanent collection of tribal and ceremonial objects includes masks, sculpted figures, and ceremonial and everyday objects.
Watch video: Influential African American leaders such as Rev. Dr. Howard Thurman, Dr. Mary McLeod Bethune, Jackie Robinson, and many others have left their legacies for you to discover in Daytona Beach. Their names, as well as their accomplishments, remain an important part of the area's proud heritage. 
Discover Daytona Beach: History and Heritage from Daytona Beach on Vimeo.
LEARN MORE
In 1866, a large colony of freedmen (free slaves) was established by Esther Hill and John Milton Hawks in an area just south of Daytona Beach, now known as the towns of Ponce Inlet and Port Orange.
Hawks and his wife, both physicians, were staunch abolitionists who spent the Civil War years caring for Black Union soldiers. It was primarily these soldiers and their families, numbering as many as 1,500, who settled in this area following the Civil War.
Among the 26 individuals who voted to incorporate Daytona Beach in 1876 were two Black men, Thaddeus Goodin and John Tolliver. Tolliver played an important role in the town's early years, building much of the original Ridgewood Avenue (U.S. Highway 1). Henry Tolliver, Thaddeus' father, was an ex-Union soldier who came to Florida with Hawk. Henry had a homestead in the northeast corner of Port Orange, the center of a Black hamlet known as Freemanville. Originally populated by freedmen from the nearby Hawks' colony, Freemanville grew rapidly during the 1880s as African-American workers poured into the area to work on the East Coast Railroad.
More information about these and other people -- such as James Huger, Sr., Dr. Richard Moore, Dr. Oswald P. Bronson, Yvonne Scarlett-Golden, and Vince Carter -- who have contributed to our community's culture can be found in the Share The Heritage brochure or explore the many cultural and historical sites found along the Share The Heritage Trail.
Check out the Ultimate Daytona Beach Trail Guide, which features Hiking and Biking Trails, Motorsports Trail, Mural Trail, Iconic Trail, Ale Trail, and the Statues and Monuments Trail.  To watch a brief video overview of Daytona Beach area trails and tours, click here.