Hiking & Biking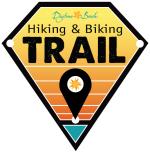 Eco-adventurers will find the Daytona Beach area rich in natural treasures! We invite you to enjoy over 60 miles - and growing! - of showcase trails. Hike or bike the nature trails, explore the lush botanical and tropical diversity each trail offers or bicycle on the beach. Rent a bicycle or take a hike without leaving the beaten path!
October through April is ideal for hiking and biking. However, early summer mornings can be a nice way to beat the heat. Please remember to plan accordingly and bring plenty of hydration, bug repellent and sunscreen, and observe trail rules.  
Doris Leeper Spruce Creek Preserve
The Doris Leeper Spruce Creek Preserve affords a variety of trail experiences, including equestrian. Check out these detailed maps of Doris Leeper Spruce Creek Preserve and East Volusia County bicycling routes.
Lyonia Preserve
Lyonia Preserve, known for its ultra-friendly scrub jay population, provides a range of trails, some hilly, from .4 to 2.4 miles. 
River-to-Sea Loop
The River-to-Sea Loop is an exciting trail network that with completion in 2025 will provide a 260-mile off road paved route throughout five counties in Central Florida.  
Showcase Multi-Use Trails
Begin your Spring-to-Spring Trail adventure from any of five trailheads. This trail, which will stretch 26 miles from Gemini Springs Park to DeLeon Springs State Park when complete, is part of the St. Johns River-to-Sea Loop and is being designed to accommodate walkers, joggers, inline skaters, bicyclists and people with disabilities.
Volusia County Bicycling Map
For detailed bicycling routes in West Volusia County, check out the Volusia County Bicycling Map for the Experienced Cyclist. 
Explore the parks and trails of beautiful Volusia County! Situated on the east coast of Central Florida, Volusia County includes 47 miles of Atlantic Ocean beaches, including Daytona Beach, Ormond Beach, and New Smyrna Beach. You will discover many wonders beyond the beaches with this app. There are charming historic towns, stunning springs where you can visit the manatees, and beautiful views of the St. Johns River. There is a place to hike, bike, and paddle to suit every traveler's interests.
Quickly find things to do, see, or know, and find what services are available using the index. If you have a cell signal, you can get turn-by-turn directions from your current location to the site you want to visit.
Explore miles of smiles in this West Volusia video!
See more adventure-filled Daytona Beach videos on our YouTube channel!
Watch video: Hike and bike your way along miles of smiles on the St Johns River-to-Sea Loop.
Check out the Ultimate Daytona Beach Trail Guide which features the Ale Trail, Motorsports Trail, Mural Trail, Iconic Trail, African American Heritage Trail and the Statues and Monuments Trail. To watch a brief video overview of these trails and tours, click here.