Media Coverage      
Here is a compilation of some of what travel writers, bloggers, social media influencers and magazine editors are saying about the Daytona Beach area.
Daytona Beach was featured on the WKMG TV6 (CBS) "Best of Central Florida" show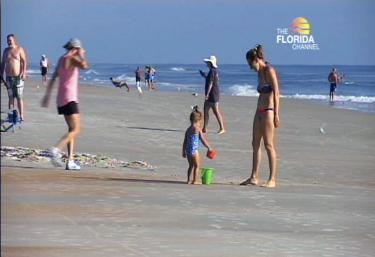 Daytona Beach was featured on an episode of Florida Crossroads, a TV program produced by THE FLORIDA CHANNEL. The show looks at the beauty and value of Florida beaches to tourism and the local economy. An interview with Daytona Beach Area CVB Executive Director Lori Campbell Baker begins at 22:34.
Daytona International Speedway: How To Arrange a NASCAR Fan's Dream Vacation | Travelawaits.com
These are the 10 Most Cost-Effective Trip Spots in Florida For 2022 | MSN Travel and Newslanes 
Affordable Beach Towns Perfect for Your Next Vacation | Southern Living
17 Best Florida Beaches for Families to Relax and Unwind | MSN Travel
The 9 Best Boardwalks to Visit in Florida | Southern Living
40 of the Cheapest Places to Travel in the World | Country Living
8 Festivals You Can't Miss In Daytona Beach, FL | Livability.com
How To See The Best of "Amercia's Castles" This Summer | Thetravel.com
East Coast Beaches That Promise Cheap Vacation | Thetravel.com
Best Beaches in Florida for Couples | Luggage and Lipstick
15 Crazy Fun Adventures in Central Florida to Do At Least Once! | Luggage and Lipstick
20 Best Instagram Spots in Daytona Beach You Can't Miss | Luggage and Lipstick
Travel: Postcard from Daytona Beach | The Christian Post
Daytona Beach Golf -- Five Must-Play Courses | eSouthernGOLF.com
7 Beautiful Beaches Near Orlando | Travel Awaits
10 Things To Do In Daytona Beach (You Haven't Thought of) | The Travel
15 Affordable Beach Destinations in the USA | Ordinary Traveler
10 Best Beaches in Florida | USA Today Network
Best Road Trips For Orlando Residents | Orlando Magazine
Paint the Town - New Daytona Beach Mural Trail | Whom You Know 
6 Small Towns with Big Black History Stories | Travel Awaits
Explore Jackie Robinson Ballpark | MLB Minor League Ballpark Guide
Florida isn't all about theme parks - amazing beaches, thrilling activities await | The Mirror
3 Fun Ways to Experience (& Be Part of) NASCAR History in Daytona Beach | Deb Thompson
Ultimate Guide to the Best Things to Do in Daytona Beach | Deb Thompson
Great Eats: Daytona Beach Restaurants on the Water (and Beyond) | Eat Move Make
Road Trip: Daytona Beach Beyond the Sand: Part 1 | Rockin' Down the Highway
40 Best Christmas Light Displays in the U.S. That Will Take Your Breathe Away | The Pioneer Woman
30 Best Christmas Light Displays Across the Country | Town and Country
My 8 Favorite Places in Florida to Experience Christmas Lights | Travel Awaits
Reintroduce Yourself to Daytona Beach, FL | Southern Living
Go to the Beach! | Whom You Know
Statue of Mary McLeod Bethune Unveiled in Daytona Beach Before Going to the US Capitol's Statuary Hall | Offbeat Travel
10 Best Things To Do in Daytona Beach, Florida Outdoors | Travelling Foodie
Best Things to Do in Daytona, Plus Where to Eat and Stay | Travel Awaits
Traveling to Daytona Beach in Search of History and Architecture | Travel Pulse
Best Places to Visit in Florida |The Planet D
Best Florida Beach Towns | Family Traveler Magazine
Smooth Traveler: from Snow to Sand in less than 2.5 hours - New Nonstop Flights to on American Airlines to Daytona Beach, FL | Philadelphia Sun
New Nonstop American Airlines Service from Dallas/Ft Worth - Dip Your Toes in the White Sandy Beaches of Daytona | Texas Lifestyle Magazine
Most Instagrammed Beaches in the World | Travel+Leisure
Short Trip to Daytona Beach, Florida | Now Habersham
Best Family Things to Do Near Daytona Beach | Kidding Around Greenville
6 Things You Cannot Miss in Daytona Beach | The Traveling Blondie
Top 10 "Must See" Beaches in Florida | Florida Insider
Best Places to Surf in Florida | Trips to Discover
Museum of Arts and Sciences in Daytona Beach | The Mom Maven
5 Best Kid Attractions in Florida | Florida Insider
The 15 Best Things to do in Daytona Beach, FL | Trip Savvy
Namastay Six Feet Away! Unique Yoga Classes Across Florida | Authentic Florida
8 Best Offshore Fishing Spots in Florida | Average Outdoorsman
Best Florida Beaches Near Orlando | MommyPoppins.com
Top 10 Florida Fishing Spots| South Florida Reporter
The extraordinary life of Mary McLeod Bethune: From the daughter of slaves to adviser to a president | Palm Beach Post
Where to Play Golf near the DAYTONA 500 | Golfweek
Spring Family Beach Break Adventures in Daytona Beach | DRIFT Travel Magazine
New and Expanded Direct Flights to Daytona Beach Start in January 2020 | Marketwatch
New and Expanded Direct Flights to Daytona Beach Start in January 2020 | WhomYouKnow.com
While Surf and Speed Grab Headlines in Daytona Beach, Savvy Golfers Will Tell You there is Much More | Traveling Golfer
Fall Festivals in Daytona Beach, Florida | Wherever Family
Daytona, the capital of US motor sport | Travel Mole
Best Beaches Near Orlando | GoCity.com
10 Best Beaches Near Orlando | Trips to Discover
Florida is the Place for Fun Destination Running Races | MatadorNetwork
Start Your Engines On These Par Fours in Daytona Beach | My Spike Travel
72 Hours in Daytona Beach | Ramnaths Away, A Family and Travel Blog
Welcome to Rockville | Billboard Magazine
Parasailing in Daytona Beach | Travelling Foodie
Things to Do Near Daytona Beach | Florida Rambler
Kayaking and Canoeing Along Cracker Creek | Travel Mole
10 Destinations in the U.S. for Car-Obsessed Kids | MommyNearest.com
A Racing Fan's Dream: The DAYTONA by Marriott | Ramnaths Away
Summer Vacation Ideas for Families on a Budget | LivingOnTheCheap.com
Florida on a Tankful: 5 Things to Know About Daytona Lagoon | Florida on a Tankful
Daytona Beach Golf | New England Golf
The Other Side of Daytona Beach (page 9)| Southern Saltwater Flyfishing Magazine
Brownie the Town Dog Tops the List of "18 of the South's Most Unusual Headstones" | It's a Southern Thing
2 Day Trip to Daytona Beach, Florida: 12 Places to Eat, Stay, Play| Travelling Foodie
20 Best Places to Go in 2019 | Money Magazine
Welcome to Daytona Beach - a family travel review | My Organized Chaos
Black History Tour: 10 Family Vacation Spots in Florida | Essence
17 Best Florida Beaches for Families to Relax and Unwind | 365 Atlanta Traveler
13 Best Places to Surf in Florida | Coastal Living Magazine
4 Places to Visit in Florida | Allie & Sam
Our Day In Daytona Beach | The Kidd Kraddick Morning Show
11 Best Florida Beaches for Families | PlanetWare
A Playful Octopus and a Harrowing Climb | Be Healthy Be Happy Wellness
9 Things to Know if You are Going to the Daytona 500 | WFTV 9
10 Best Golf Courses to Play at, around Daytona Beach | Golf.com
3 Reasons Daytona Beach is Golf's Fastest Destination | Golf Coast Magazine
What to Do in Daytona Beach With Kids | Travel Pulse
Free Things To Do with Kids in Daytona Beach | TravelingMom.com
Slow Down for Daytona Beach | USA TODAY Travel - GO ESCAPE
Vacation in Daytona Beach | Where-To-Vacation.com
11 Crazy Romantic Things to Do in Daytona Beach | Practical Wanderlust
Trip Dispatch: Changing Speeds in Daytona Beach | Golf Advisor
5 Family-Friendly Beaches Near Disney World | Family Vacation Critic
New 1.5-mile Digital Animation Magic of Lights at Daytona International Speedway | Drive I-95
Daytona Beach - the Perfect Fall Getaway | Tasteful Adventure
A Local's Guide to Daytona Beach | Ask Chef Dennis
Beyond Daytona Beach: Exploring Daytona as a Family  |  2 Travel Dads
What to do in Daytona Beach, Florida | PassportStamps (UK)
7 Ideal Spots to Watch Sunset in Florida  |  Ideal Magazine (UK)
6 One-of-a-Kind Daytona Beach Summer Adventures  |  Weekender Extended
The Ultimate Bachelorette Weekend in Daytona Beach  | Coastal Bride
Daytona Beach Double Feature is One of Florida's Best Golf Packages  |  American Golfer
Drivers, Restart Your Engines  |  Dreamscapes
A Ransom of Hidden Gems  |  Dreamscapes
Daytona Beach: the beach city to get your heart racing |  Trip Jaunt
River Respites of Florida's East Coast  |  Caller Times
Daytona Beach Area Fun Guide  |  Trekaroo
10 Best Beaches Near Orlando  |  Vacation Idea
Sunsets, Sunrises and Surprises: the Ultimate Daytona Beach Attractions |  Live Share Travel
Daytona Beach Golf  |  Golf News
Daytona Beach Revs Up Visitors with Beaches, Museums and Motorsports  |  Boston Herald
Exploring Southeastern Florida By Car, Part 1: Daytona Beach  |  JohnnyJet
Discover Daytona Beach With Your Family this Fall  |  Carrie on Travel
In Search of the Perfect Photo of Ponce de Leon Inlet Lighthouse |  Dave and Deb, thePlanetD 
11 Fun Things to Do in Daytona Beach  |  Thrifty Mommas Tips
10 Things to Do in Daytona Beach  |  Jonah Bonah
8 Great Things to Do in Daytona Beach  |  McCool Travel