Volusia County Parks and Trails App
Download the app for iOS or Android now: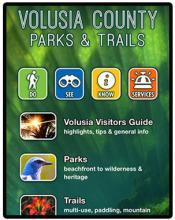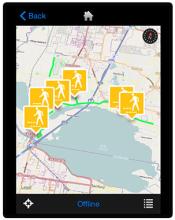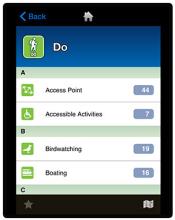 Download helpful tips about the app.
The mobile app is organized by guidebooks:
Volusia Visitors Guide
Highlights, general tips and overview info.
Parks
Listings for all park types found in Volusia County, including historical,
ecological/nature, sports, boat ramps, fishing docks, and pet-friendly.
Trails
Listings for all types of trail in Volusia County, including larger
showcase trails, and multi-use, paddling, nature, equestrian and cycling trails.
Trip Planning
Directions, regional highlights.
Recreation
Cycling, botanical study, paddling, hiking, boating, wildlife viewing, fishing,
& diving.
Events
Annual events in Volusia County.
Near Me
This feature lists all sites closest to the user. This feature works best
when you are in Volusia County.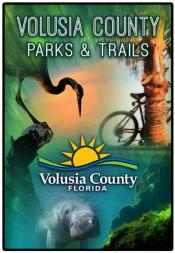 The Volusia County Parks and Trails App includes many links to useful phone numbers or websites for more information, and is packed with photo and video links to help inspire a trip.
Explore the parks and trails of beautiful Volusia County! Situated on the east coast of Central Florida, Volusia County includes 47 miles of Atlantic Ocean beaches, including Daytona Beach, Ormond Beach, and New Smyrna Beach. You will discover many wonders beyond the beaches with this app. There are charming historic towns, stunning springs where you can visit the manatees, and beautiful views of the St. Johns River. There is a place to hike, bike, and paddle to suit every traveler's interests.
Quickly find things to do, see, or know, and find what services are available using the index. If you have a cell signal, you can get turn-by-turn directions from your current location to the site you want to visit. Use the "favorite" feature to help keep track of the gems you find! Download helpful tips about the app.