Ocean Center Daytona Beach - Fifth Largest Convention Center in Florida
Convention Center
Featuring more than 200,000 square feet of flexible indoor and outdoor meeting space, the Ocean Center is a world-class venue that serves as the area's convention, entertainment and sports complex just 400 feet from the Atlantic Ocean.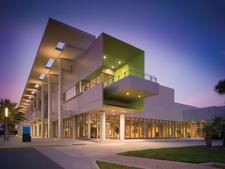 It's the fifth largest Convention Center in Florida, but makes events easy with an experienced staff to assist you with all of your planning needs. The Ocean Center offers over 2,500 parking spaces on site, "gigabyte plus" Internet service for events, and an exclusive in-house caterer that delivers fine dining, box lunches and everything in between.

For up-to-date information on meetings, conventions, public events and more at the Ocean Center, visit the Ocean Center Events Calendar.
Ocean Center Square Footage
Prime Meeting Space: 205,000 square feet
Exhibit Space: 164,000 square feet, interior; 100,000 square feet, exterior; utilities every 30 feet
Arena: 42,000 square feet; 9,600 seats; 45-foot ceiling
Meeting Rooms: 32,000 square feet; 36 breakout rooms; executive board room; VIP suite; easy sound and lighting controls
Banquet Hall: 12,000 square feet; banquet seating for 850