Daytona Beach Ale Trail Guide

Add exceptional craft beer or artisan spirits to your Daytona Beach travel itinerary! 
The craft beer and artisan spirit offerings are diverse. Each location has a unique atmosphere -- and all are owned and operated by those who are truly passionate about their brews. Some serve delicious tapas and meals, and others encourage you to visit neighboring eateries and bring your favorite dishes in, picnic-style. You might also find a food truck or two parked nearby and ready to serve up a wonderful pairing. View Ale Trail Map.
Our Ale Trail story begins with our first draft
Ormond Brewing Company, the first of a long line of breweries to open in the Daytona Beach area, thrives on its tasteful craft beers, live music and food trucks – all seamlessly woven into a family-friendly culture. OBC is popular for its spacious outdoor patio, making it a favorite for locals and visitors alike to grab a beer and unwind.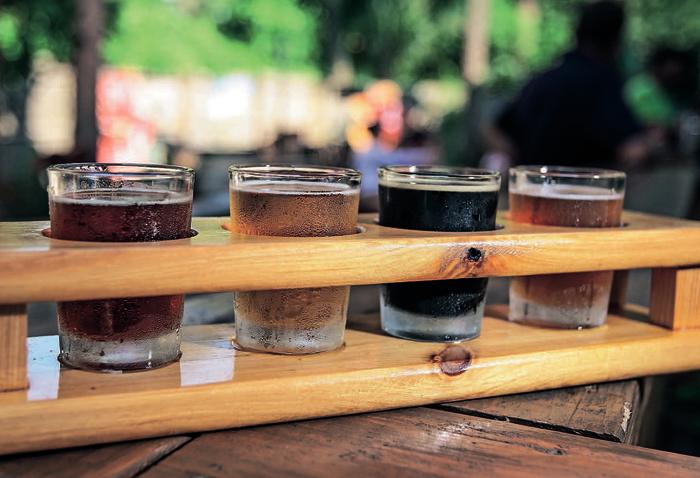 Happily, others soon followed! 
Five-barrel brew: Beachside Brew Pub in Ormond by the Sea crafts brews loved by locals using a five-barrel system. Eleven ales, stouts and porters are on tap at this food truck-loving hot spot.
Food truck friends: Daytona Beach Brewing Co. So close to Daytona International Speedway, you can hear race cars gear through the first turn. This 11-tap brewery keeps a busy event schedule punctuated by Growler Wednesdays.
Family Inspired: Central 28 Beer Company was founded at a family gathering and offers ales created from the finest raw materials from around the globe, carefully crafted for the beer enthusiast.
A Nod to the Old Fort: New Smyrna Beach Brewing Co. is just steps from – and crafts a beer to honor – the mysterious  Old Fort landmark, a 40-by-80-foot coquina ruin, reminiscent of St. Augustine's Castillo de San Marcos.
The People Have Spoken: Persimmon Hollow Brewing Co. fans, through a kickstarter campaign, helped two home brewers and best friends turn their dream into a very real small craft operation that now resides in the heart of historic downtown DeLand.
Bold & All Natural: Wild Atlantic Brew House at Tomoka Brewing Company offers a large selection of signature and core brews that can be paired with smoked wings and hand-tossed pies for the perfect experience.
Share the suds

New stops along the trail
A coastal brewhouse: Dunes Brewing is located on the beachside on the north side the Dunlawton Bridge's east end.
Daytona Beach's 1st beachside brewery: World's Most Famous Brewery located inside The Pallet Pub.
Wee taste of the Scottish Highlands: Hyderhead Brewery is nestled in the heart of historic downtown DeLand
Pushing the boundaries: Riverwalk Pizzeria & Brew Pub is an adventure for the taste buds with a variety of craft beers, pizza, food specials, and craft cocktails.
Reminisce about racing: Ormond Beach is the "Birthplace of Speed" and Ormond Garage Brewing invites you to its historic landmark for a cold pint and freshly prepared food.
Craft-focused: Local ingredients are the key to every brew at Red Pig Brewery, a new local hot spot. With both indoor seating in its funky, historic location and an outdoor patio to enjoy the cool river breezes, it's a great stop for any ale fan.
Panoramic views: Head over to Rock Bottom Brewery, a three-story restaurant and brewery at ONE DAYTONA across from Daytona International Speedway. Here, expect to find fresh, handcrafted brews made on-site and premium comfort food. Plus, you'll be able to enjoy the view from the rooftop bar, which offers expansive views of the Speedway and overlooks any live entertainment happening in Victory Circle. 
Brews on Beach Street: McK's Tavern & Brewery, long known for its classic Irish dishes and beers from around the world, has joined the handcrafted beer movement in Daytona Beach.
Raise a glass with us!
Watch video: 
Artisan spirits & distilleries
Copper Bottom Craft Distillery is Volusia County's first licensed craft distillery and reflects the deep roots that liquor distilling has in the area. Infamous bootlegger Bill McCoy called this area home a century ago, and the historic Three Chimneys Sugar Works site is the oldest sugar plantation and rum distillery in North America. While Copper Bottom pays homage to the past with unadulterated, clean spirits, its business dealings are free from the scandal of the distilling days of old . . . Odd Elixir MeadWorks is the area's first and only local boutique winery specializing in craft mead, the oldest fermented beverage in history made from honey. Sugar Works Distillery is run by a scientist whose life is filled with happy accidents. Once the predictor of Florida's fruit harvests, now the purveyor of traditional spirits with citrus notes, of course. 
Taprooms
Make a stop, or two, or dedicate several days to experience the ultimate handcrafted brews and spirits along the Daytona Beach Ale Trail:
Daytona Taproom - 90+ beers on tap and a burger that inspired a segment on Travel Channel's Man vs. Food
Mr. Dunderbak's - quaint locale in Volusia Mall, 130+ bottled beers and on tap from around the world, consistently voted best German restaurant
Half Wall Beer House - upscale craft beer house serving 75+ craft beers and 100+ bottled beers  
Seabreeze Tap House - a food haven where beer lovers can grab one of the hundreds of labels to choose from
Tours & excursions
Make friends! Hop on a tour and enjoy the camaraderie of fellow craft beer lovers. Climb aboard a 15-passenger pedal bike and pedal to the pub with Hopcycles of Daytona Beach!  Or let Fun Coast Tours do the all the driving while you get to experience the best craft beer the area has to offer.
Find where to go: Daytona Beach Ale Trail Map
So grab your designated driver, or take a brew tour, and be sure to use the mapping function to plot your course. You'll be sure to come away with the unique and delicious flavors of the Daytona Beach area, as well as a delectable experience to share with friends and family.
Check out the Ultimate Daytona Beach Trail Guide which features Hiking and Biking Trails, Motorsports Trail, Mural Trail, Iconic Trail, African American Heritage Trail and the Statues and Monuments Trail. To watch a brief video overview of Daytona Beach area trails and tours, click here.