The backwaters of Florida are known worldwide for being prime fishing spots, and Daytona Beach puts you in the perfect position to make the most of them. Navigating unfamiliar waters might not provide a most fruitful fishing trip, so hiring a local guide to take you and your crew out can make all the difference. And, luckily for you — though admittedly less lucky for the fish — there are many friendly and experienced fishing guides in the area who strive to transform your fishing trip into a catching trip.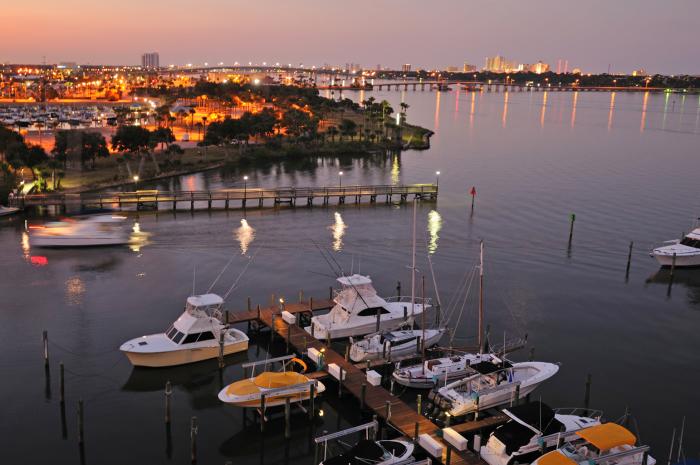 Although Daytona Beach offers easy access to offshore fishing, there are an abundance of places to toss a line closer inland. Cruise Mosquito Lagoon for tarpon, snook, flounder and more, or explore the Tomoka River Basin just north of Ormond Beach for redfish and trout. Finding the right guide can help take your fishing excursion from good to great. Before you embark on your trip, be sure to review the options below, and check out more Daytona Beach charters here.
Join Captain Drew Cavanaugh, who has over 30 years of experience cruising backwater flats, tarpon fishing on the Mosquito Lagoon and guiding families along the "redfish capital of the world."
LOCATION: Edgewater
COST: Charters for families and kids starting at $199!
This Ponce Inlet-based charter company offers inshore and near-shore fishing from the Indian Lagoon to the Halifax River. As its name alludes, you'll get to know the "real" Florida by cruising off the beaten path and discovering backwater beauty. 
LOCATION: Ponce Inlet
COST: Call (386) 566-9547 for rates
Whether you're an experienced angler or a first-time fisher, trust Captain Ron Hatcher to guide you to a winning spot in the Halifax River and Ponce Inlet waters. You'll be provided rods, reels and bait — just show up ready to explore! 
LOCATION: Ponce Inlet 
COST: Inshore charters from $350
Join Orvis-endorsed fishing guide Captain Kent Gibbons for a professionally guided flats-fishing trip from his custom-built, 18-foot guide skiff.
This three-time IGFA world-record holder brings over 40 years of fishing experience to the table, but his main focus is to ensure you have a memorable experience. 
LOCATION: Ormond Beach
COST: $300 for 4 hours; $400 for 6 hours
Whether you're a seasoned pro or a newbie looking for a laid-back day on the water, Captain Billy Pettigrew offers the perfect customized fishing trip for you and your family. As a native to these waters, he knows the fish here like few others  — and now he wants you to Com'N'Getit!
LOCATION: Daytona Beach
COST: Half day from $350; Full day from $550
No matter who you choose as your guide, getting out on the water for a day of salt, strikes and sunshine is the ideal way to spend your vacation. And, in addition to learning a trick or two about fishing spots in the area, you'll get to know the wild side of Florida and the magnificent waters surrounding the Daytona Beach area. Whether you want to putter along Ponce Inlet or toss a line in the Tomoka River, favorite memories are waiting to be made — start planning your trip today!