It's hard to relax when you feel like you can't stretch out on a crowded beach. Do you love traveling to a seaside destination where the best view is of the beach, where there is room for your umbrella and towel? Luckily, you'll encounter plenty of space to relax on Daytona Beach!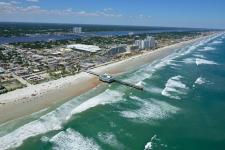 Known worldwide for its wide shoreline, Daytona Beach offers 23 miles of uncrowded, white-sand beaches that average 500 feet wide at low tide. The expansive coast means you and your family will have plenty of space to sprawl out, soak in the sunshine and splash about. You can lounge under the umbrella, set up beach-sand sports like bocce, find out who's fastest with a family footrace, or go for a serene stroll — all without worrying about tripping over other vacationers. 
Miles of wide-open beach allow for several fun activities not available in other beach destinations. While the streets in some beachfront towns can make it feel like you're packed in like sardines, here you'll find that you have room to breathe. In Daytona Beach, you can take a cruise along miles of coastline for a scenic bicycle ride — and you won't even have to ride in a single-file line! If four wheels are more your speed, you're in luck: here, you can drive your car right onto the beach.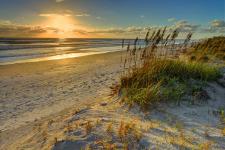 In fact, the wide beaches have played an important role in shaping Daytona Beach's iconic image and racing history. Stock car racing famously got its official start right here in the early 1900s — it was a place where land-speed records were made, sand was sprayed and crowds cheered wildly. It was the beginning of a favorite American tradition — one that is continued today at Daytona International Speedway. 
Today, drivers must adhere to different speed limits than those of beach days past (10 m.p.h. with lights on, windows down and no texting), but the bottom line remains the same: Wide shorelines and uncrowded beaches are the way to go! 
 
From uncrowded beaches and area history to exhilarating water sports and cultural gems, limitless fun awaits in Daytona Beach — start planning your trip today!