Florida is known worldwide for its abundant saltwater and freshwater fishing opportunities, and Daytona Beach is no exception. Whether you are a professional fisherman, are a first-timer or simply enjoy catching some peace of mind, the Daytona Beach area offers innumerable places that are perfect for casting a line. One great way to dabble in local waters without a boat is via pier fishing — and there are several to choose from. 
DAYTONA BEACH PIER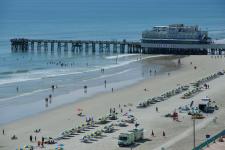 Centrally located in Daytona Beach's famous amusement and entertainment area, the Daytona Beach Pier has been a mainstay since 1925. At this popular local fishing spot, there's no cost to fish, and fishing licenses aren't required — making it the perfect activity to engage in on a whim. Grab your gear, bait your hook, and enjoy a relaxing day at one of the area's most well-loved landmarks.
If you're doing a lot of fishing and not a lot of catching, pop into Joe's Crab Shack right on the pier for some fresh seafood and house specials. Fishing is open on the east end of the pier between the hours of 7 a.m. and 5 p.m. from November 1 through March 15, and 7 a.m. to 7 p.m. March 16 through October 31. 
SUNGLOW PIER
A little farther south in Daytona Beach Shores is the beloved Sunglow Pier. Since it was built in 1960, this fishing spot has been a local favorite. To access and depart the pier, fishermen traipse right through Crabby Joe's Deck & Grill, giving diners a peek at the catch of the day and lending the whole restaurant an authentic seafaring atmosphere. Anglers have been known to catch whiting, flounder, trout, tarpon and more! 
Rods and bait are available for rent and purchase, and a small daily fee is required for those wishing to fish. If you get lucky with a catch, the cooks at Crabby Joe's will fry up a basket for you — talk about fresh food and "ocean to table!" The pier opens for fishing daily at 6 a.m. and closes at 11p.m. 

AMES PARK FISHING PIER
Ames Park in Ormond Beach has something the whole family will enjoy. The 2.2-acre riverfront park includes picnic tables, a gazebo, a playground, restrooms, the historic Ames House and — most importantly — a 75-foot fishing pier. The beautiful Halifax River is not only scenic, but also chock-full of trout, black drum, flounder and more. The park is open from sunrise to sunset.

HALIFAX HARBOR MARINA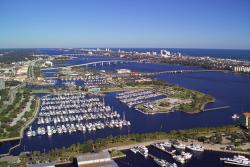 Head out to Halifax Harbor Marina for a lighted fishing spot and cleaning station. Here, fishermen will bring in sheepshead, trout, flounder, catfish and more. Bring your own rod and reel and cast a line into the Halifax River, or go for a stroll along the riverfront walking trail. This 60-acre facility is also home to a 550-slip marina, a restaurant, picnic pavilions and more. Parking is plentiful here, and the pier is open to the public. 

GRANADA PIER BAIT & TACKLE
Head slightly north into Ormond Beach, and you can enjoy great fishing in the Halifax River thanks to Granada Pier Bait & Tackle. Open seven days a week, the shop makes it super convenient to get live and frozen bait shrimp. This local hot spot has everything you need for an entire day of fishing — including lunch! Swing in the shop for their famous fish dip. Better yet, buy some fresh shrimp and catch your own dinner! 
Whether you're getting hooked on a new favorite pastime or simply soaking in the warm, salty air, fishing in Daytona Beach offers endless fun for all ages and experience levels. Embark on a fishing excursion, go for a peaceful solo adventure, or bring the kids for their first fishing experience — Daytona Beach is ready and waiting for you. Start planning your trip today!