Daytona Beach Bandshell Concerts & Fireworks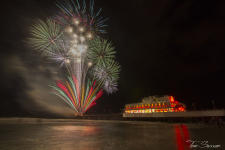 The 2018 Bandshell Summer Concert Series is spectacular! Enjoying the sights and sounds of summer at this historic coquina amphitheater is so easy - park in the Ocean Center garage, take the crosswalk to Ocean Walk Shoppes and the Daytona Beach Bandshell in Oceanfront Park, rent a VIP chair for only $10, purchase a drink and enjoy the free show. This free seasonal concert series is held May through September every Friday and Saturday night beginning at 7:00 p.m. The Boardwalk and Pier are the place to be after every Saturday night concert to catch a free Daytona Beach fireworks show at 9:45 p.m.
Get here early for Fish, Food and Photo-Ops on the Pier! Need more ideas? Here are some free things to see and do, too. Don't forget to check here for special deals to help turn one night of music into a well-deserved weekend getaway.
Free Bandshell Summer Concert Series Line-Up & Fireworks*
Jimmy Buffett tribute band: Caribbean Chillers, Friday, May 25, 7:00 p.m. 
Bruce Springsteen tribute band: The Boss Project, Saturday, May 26, 7:00 p.m.*
Aerosmith tribute band: Jaded, Friday, June 1, 7:00 p.m. 
Bon Jovi tribute band: Livin' on a Prayer, Saturday, June 2, 7:00 p.m.*
Prince tribute band: The Purple Madness, Friday, June 8, 7:00 p.m.
Cheap Trick and Kiss tribute bands: Dream Police and Kiss America, Saturday, June 9, 7:00 p.m.*
Van Halen tribute band: Completely Unchained, Friday, June 15, 7:00 p.m.
Bad Company and Foreigner tribute bands: Bad, Inc. and 4NR2, Saturday, June 16, 7:00 p.m.*
Garth Brooks tribute band: Ultimate Garth Brooks, Friday, June 22, 7:00 p.m.
Beatles tribute band: Let it Be, Saturday, June 23, 7:00 p.m.*
ZZ Top tribute band: Trezz Hombres, Friday, June 29, 7:00 p.m.
Steely Dan tribute band: Show Biz Kids, Saturday, June 30, 7:00 p.m.*
Eagles tribute band: Alter Eagles, Wednesday, July 4, 7:00 p.m.*
U.S. Navy Band, The Cruisers, Thursday, July 5, 7 p.m. 
Doobie Brothers and Santana tribute bands: China Grove and Supernatural, Friday, July 6, 7:00 p.m.
Lynyrd Skynyrd tribute band: Nuthin' Fancy, Saturday, July 7, 7:00 p.m.*
K.C. & The Sunshine Band: K.C. & The Flashback Party, Friday, July 13, 7:00 p.m.
Journey tribute band: Never Stop Believin', Saturday, July 14, 7:00 p.m.*
No Doubt/Katy Perry tribute band: California Given, Friday, July 20, 7:00 p.m.
Def Leppard and Queen tribute bands: Ultimate Def Leppard and Absolute Queen, Saturday, July 21, 7:00 p.m.*
Sundance Head, Friday, July 27, 7:00 p.m.
Fleetwood Mac tribute band: Fleetwood Max, Saturday, July 28, 7:00 p.m.*
Grateful Dead tribute band: Uncle John's Band, Friday, August 3, 7:00 p.m.
Billy Joel tribute band: The Turnstiles, Saturday, August 4, 7:00 p.m.
The Temptations tribute band: Motowner's Temptations Tribute, Friday, August 10, 7:00 p.m.
Styx and Boston tribute band: Smokin', Saturday, August 11, 7:00 p.m.*
Guns and Roses tribute band: Night Train, Friday, August 17, 7:00 p.m.
James Taylor, Crosby, Stills, Nash and Young tribute bands, Saturday, August 18, 7:00 p.m.*
Police tribute band: Zendatta, Friday, August 24, 7:00 p.m.
Rolling Stones tribute band, U.S. Stones, Saturday, August 25, 7:00 p.m.*
The Michael Allman Band, Friday, August 31, 7:00 p.m.
Elton John tribute band: Rocket Man, Saturday, September 1, 7:00 p.m.*
U.S. Navy Band, Country Current, Thursday, September 6, 7 p.m. 
George Strait tribute band, George Strait Experience, Friday, September 7, 7:00 p.m.
The Who tribute band: The Wholigans, Saturday, September 8, 7:00 p.m.*
U2 and INXS tribute bands: Vertigo and Original Sin, Friday, September 14, 7:00 p.m.
Led Zeppelin tribute band: In the Light of Led Zeppelin, Saturday September 15, 7:00 p.m.*
Tom Petty tribute band: The Wildflowers, Friday, September 21, 7:00 p.m.
AC/DC tribute band: Highway to Hell, Saturday, September 22, 7:00 p.m.*
Kid Rock tribute band: Cowboy Kid Rock, Friday, September 28, 7:00 p.m.
Pink Floyd tribute band: Wall of Echoes, Saturday, September 29, 7:00 p.m.*
*Bandshell Summer Concerts marked with an asterisk indicate that a free Daytona Beach fireworks show will take place after the concert at 9:45 p.m.