It's no secret that the list of possible adventures in Daytona Beach is a mile long. And although it's a blast to splash about the water park or round the corner at the raceway at top speeds, some of the best parts of the Daytona Beach area are its natural beauty. 
1. Your hotel – Daytona Beach has a wide variety of accommodations, including oceanfront hotel rooms that won't break the bank. What's more, you won't have to wander far to catch a view. Your hotel room veranda is the perfect venue to soak in the sun rising over the Atlantic. Grab a cup of coffee, take a deep breath, and sit back to enjoy the scene.
2. The beach – There's nothing quite like feeling the day come to life in a place so stunning. Lace up your sneakers for an early morning exercise session, or wiggle your toes in the sand with coffee in hand for a sunrise stroll. With 23 miles of beaches at your disposal, you'll catch a glimpse of pure Daytona Beach beauty before the rest of the world awakens.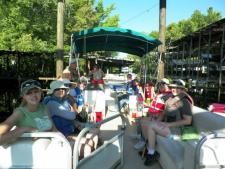 3. Highland Park Fish Camp – Listen up, nature lovers! Consider this full-service marina in DeLand as the starting point for your next sunrise trek. Go for a guided fishing trip with Coast Guard-licensed captains to some of the best bass-fishing locations in Florida. Bass boat and pontoon boat rentals are also available. Open daily at 6 a.m. 
4. Ponce Inlet Watersports – Head out to Ponce Inlet for a peaceful morning and unobstructed views of the sunrise. Kayak rentals and stand-up paddleboard tours are both available, but you'll need to call in advance to plan the early outing with the staff.
5. Ames Park – Situated on the Halifax River, this 2.2-acre area opens at dawn and offers excellent views of the sun rising over the water. The land was originally owned by former Union Army General Adelbert Ames, and now it offers a fishing pier, pavilion, picnic area, scenic walking path and restrooms to the public.
6. Crabby Joe's at Sunglow Pier
With unbeatable panoramic views and a delightful ocean breeze, there's no better way to greet the day than at the Sunglow Fishing Pier. The pier opens at sunrise, and breakfast is served at Crabby Joe's starting at 7 a.m. Enjoy an early morning fishing adventure with amenities like pole rentals and frozen bait, or let the cooks at Crabby Joe's do the work for you — breakfast tastes even better on the water! 
Sunrises in Daytona Beach are pure magic — you'll wish you could stop the world from turning and live in that moment forever. True, the sun will continue to rise and the day will press on, but here, that simply means a new day of possibilities and endless fun. 
Come and experience it for yourself — start planning your trip today!