People come from all over the world to stretch out on Daytona Beach's wide, white-sand beaches and watch the sun rise over the Atlantic Ocean. But the entire Daytona Beach area is entwined with a number of magnificent bodies of water — and they are all equally deserving of visitors' attention. For example, the Halifax River on the city's western border and the Indian River slightly farther south offer some of the best views in all of Florida. Explore this wondrous segment of the Intracoastal Waterway system on your next visit — you never know what you will come across!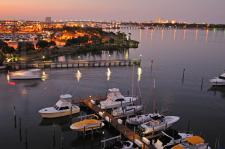 One convenient way to cruise the Indian River is via The Manatee, Daytona Beach's original scenic boat tour boat. Board the watercraft at Down the Hatch Seafood Restaurant in Ponce Inlet, and set your sights on the horizon! Embark on a 2-hour scenic excursion filled with nature observation, education on local heritage, and outstanding river views.
As you cruise along the protected wetlands and mangrove shores of the Indian River, you're likely to see manatees, dolphins and native birds, as well as an array of historic waterfront homes. The excursions are narrated by professional cruise directors, each of whom offers a glimpse into the area's rich history through a unique perspective. A river cruise is an ideal way to absorb the area's natural beauty and learn how the city took shape so many years ago.
The Manatee is equipped with both indoor and sundeck seating, giving passengers the option of seeking shade on those especially sunny days. And, if all the sightseeing works up an appetite, snacks and beverages are available right on the boat, as well as the added convenience of onboard restrooms. Cruises take place all year round, with daily departures at 10 a.m., 1 p.m. and 4 p.m. And during the summer months (June through September), an additional sunset cruise is added to the roster each day at 7 p.m. — an unrivaled way to watch the sun sink over the horizon. The Manatee is also available as a private charter at an additional cost, providing a memorable venue for your next celebration or family gathering. The crew happily accommodates a variety of requests, making your party on The Manatee a customizable experience.  
AT A GLANCE:
WHERE: 4884 Front Street, Ponce Inlet, FL
WHEN: Year-round
COST: $16–25 for guided tours
RESERVATIONS: 1-386-267-8205
In addition to hitting the beach on your next Daytona Beach getaway, be sure to leave time to cruise Ponce de Leon Inlet and the Indian River. And, check out more ecotour and boating opportunities in the Daytona Beach area by clicking here!