People come from all over the world to stretch out on Daytona Beach's wide, white-sand beaches and watch the sun rise over the Atlantic Ocean. But the entire Daytona Beach area is entwined with a number of magnificent bodies of water — and they are all equally deserving of visitors' attention. For example, the Halifax River on the city's western border and the Indian River slightly farther south offer some of the best views in all of Florida. Explore this wondrous segment of the Intracoastal Waterway system on your next visit — you never know what you will come across! 
One convenient way to cruise the Indian River is via The Manatee, Daytona Beach's original scenic boat tour offering. Board the watercraft at Down the Hatch Seafood Restaurant in Ponce Inlet, and set your sights on the horizon! Embark on a two-hour scenic excursion filled with nature observation, education on local heritage, and outstanding river views.
What You'll See
As you cruise along the protected wetlands and mangrove shores of the Indian River, you're likely to see dolphins, turtles, native birds and more. If you're lucky, you'll spot everyone's favorite wildlife find: manatees!
West Indian manatees are native to the Florida coast and are generally considered a migratory species; they tend to gravitate between slow-moving bays, rivers and estuaries of all varieties — freshwater, saltwater and brackish. They instinctively flock to warm waters, making Daytona Beach's sunny coast an ideal choice year-round, but especially in the winter months. Like all marine mammals, manatees must breathe air at the surface. Typically, manatees surface every three to four minutes while swimming, and they can remain submerged for about 15 minutes while resting. With such frequent surfacing, there's a good chance you'll be able to see a "sea cow" for yourself!
In addition to all of the natural beauty and members of the animal kingdom, your tour on The Manatee offers a good glimpse at an array of historic waterfront homes. The excursions are narrated by professional cruise directors, each of whom offers a glimpse into the area's rich history through a unique perspective. A river cruise is an ideal way to absorb the area's natural beauty and learn how the city took shape so many years ago.
Onboard Amenities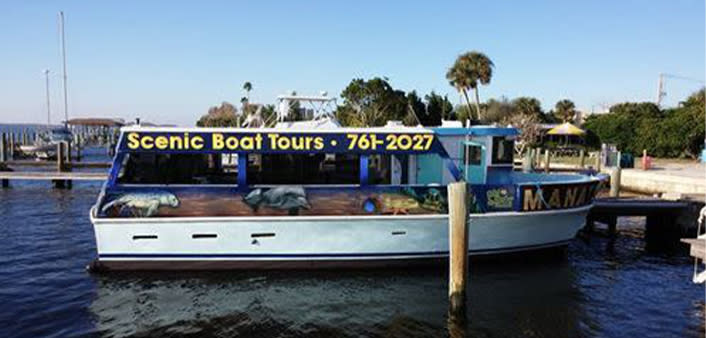 The Manatee is equipped with both indoor and sundeck seating, giving passengers the option of seeking shade on those especially sunny days. And, if all the sightseeing works up an appetite, snacks and beverages are available right on the boat, and onboard restrooms add additional convenience.
The staff members truly try to go above and beyond the basics to ensure each guest has a memorable experience. With all of the amenities you need conveniently located onboard, you'll be able to sit back and savor every moment without a worry!
When and Where
Cruises take place all year round, with daily departures for the Intracoastal Cruise at 10 a.m., 1 p.m. and 4 p.m. And during the summer months (June through September), an additional sunset cruise is added to the roster each day at 7 p.m. — offering an unrivaled way to watch the sun sink over the horizon. And, if you're looking for something special and a little more exclusive, the tour group has a plan for you, too. See more details on all options below!
Tour Types
One of the best things about The Manatee is that there's an option for all ages and interests. Whether you're looking for a fun family outing, a historical overview of the area, a romantic sunset cruise, or a scenic setting for a group or conference outing, The Manatee has something just your speed.
For a peek into the area's abundant wildlife and spectacular views of historic waterfront homes, opt for the tour company's signature cruise along a breathtaking stretch of the Intracoastal waterway. The Manatee's Historical Cruise offers guests a window into the community's heritage through the eyes and experience of the professional cruise directors. So sit back and relax while cruising along the protected wetlands and scenic mangrove shores of the Indian River.
Looking for an extra special way to experience Florida's famous sunsets? Treat yourself to a sunset cruise you will remember for the rest of your life. Aboard The Manatee, you'll have a front-row seat to view the sun as it melts into the water during the summer months. This is an ideal tour for couples, honeymooners and first-time Florida visitors!
Are you looking for a unique and memorable venue for corporate guests, a wedding party or extended family? The Manatee is also available as a private charter at an additional cost, providing a memorable venue for your next celebration or family gathering. Perfect for private gatherings and celebrations of all types, The Manatee is a unique way to enjoy bonding time together. The crew happily accommodates a variety of requests, making your party on The Manatee a customizable experience.
At a Glance
WHERE: 4884 Front Street, Ponce Inlet, FL
WHEN: Year-round
COST: $16–$25 for guided tours
RESERVATIONS: 1-386-267-8205
If you're considering giving a tour as a present, but aren't sure which tour type is right for the lucky recipient, a gift certificate to The Manatee is a great one-size-fits-all gift option! In addition to hitting the beach on your next Daytona Beach getaway, be sure to leave time to cruise Ponce de Leon Inlet and the Indian River. And, check out more eco-tour and boating opportunities in the Daytona Beach area by clicking here.