The Beach
The Original American Beach
When you think of American originals, there is one place that instantly stirs feelings of fun in the sun by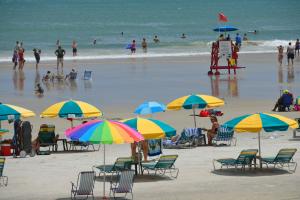 simply saying its name. Welcome to Daytona Beach. The original sunshine escape and family beach vacation. It's the home of America's most famous beach and dozens of legendary attractions. It's the home of NASCAR, the Daytona International Speedway and the LPGA. And it's the home of over 50 renowned art, music and one-of-a-kind pop culture festivals throughout the year. Come experience an authentic American beachside vibe unlike any other. 
Accessibility 
Our 23 miles of sandy, white beaches are open to pedestrians 24/7 with free access! Cars are permitted in designated areas of the beach from sunrise to sunset, tidal conditions permitting. Visit Daytona Beach and find out why people love to vacation here. Travelers with disabilities find our beaches highly accessible, too.
Learn more about exploring some of the Daytona Beach area's more accessible locations and available rental supplies:
Watch as one dad undergoes the time-honored ritual of establishing family base camp at the beach!
Great video content! Click here for 15-second spots of awesomeness.
Enewsletter Sign Up
Email Address...