For a lot of people, Daytona Beach is synonymous with summer. But here's a big secret: Warm weather continues in Florida, even when it's cold most everywhere else in the country. (OK — it's not really a secret. In the fall and winter, after summer ends and school starts, there are a few less visitors, even though the Florida fun is still as big as ever.
Here are five great reasons to visit Daytona Beach in the wintertime:
1. Perfect Weather: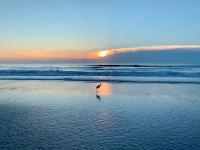 There's really no better time for a Florida getaway — as, while the weather is glorious year-round, the Florida weather is PERFECT in the fall and winter. The summer heat is gone, but the bright blue skies and pure sunshine are ideal for golfing … and just about everything else. Daytime temperatures are mild, with an average high of 72 degrees Fahrenheit in December, 65 in January and 71 in February. Evenings can get cool enough for a sweater or even a jacket, but still comfortable. 
2. Great Hotel Deals: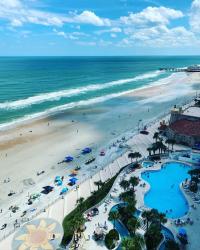 Fall and winter are also great times for special deals on accommodations in the Daytona Beach area. With everything from hotel rooms to oceanfront cottages and resorts, and from bed & breakfasts to condo hotels to campgrounds and RV parks — there's a place to stay for every visitor's taste and budget. Further, there is an unbelievable range of accommodation options for vacation crews of all sizes, and a wide range of hotel deals to make your stay affordable.
3. Outdoor Activities: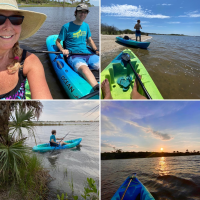 All the outdoor adventures you love about Daytona Beach in the summer are here in the winter, too. Our 23 miles of white-sand beaches are open and wide, giving you plenty of elbow room. Or, more adventurous vacationers can get out on the water with fishing, boating, paddleboarding, kayaking or sailing. Fans of the links can take their pick from more than 20 golf courses, including the 36-hole LPGA International and a pair of courses on the Florida Historic Golf Trail. Not a golfer? Try tennis or pickleball! You can also experience nature by renting a bike, explore our parks, or take an eco tour.
4. Arts & Culture:

Fewer fall and winter crowds also mean more elbow room at museums and galleries. At the Smithsonian-affiliated Museum of Arts and Sciences, guests can walk through galleries featuring everything from art to industry to prehistory, and then step out into the boardwalks of the 90-acre Tuscawilla Preserve. Dig into Daytona Beach's rich and colorful past at the Halifax Historical Museum. Or go on an art walk and take a few selfies at the Six Most Instagrammable Murals in the Daytona Beach area. A walk through downtown Daytona Beach or Ormond Beach will take you through an abundance of art galleries and public art, with even more galleries, museums and history centers nearby. Check out the Daytona Beach Area Arts Map for details and directions.
5. Dining: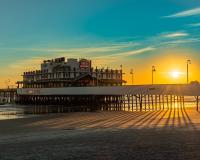 Outdoor dining is a great option throughout the fall and winter. Great dining options abound for every taste. From traditional ethnic eateries to Asian fusion, and from fine dining to the finest burger, Daytona Beach is ready to tickle your taste buds. An abundance of waterfront restaurants will satisfy your craving for fresh seafood, along with amazing views. The Daytona Beach Ale Trail highlights local craft beers and artisan spirits in a diverse string of establishments owned and operated by people who are passionate about their brews.
Ready to plan your wintertime getaway to Daytona Beach? Start planning your coastal getaway today! We'll be looking forward to seeing you and your vacation crew soon for some Wide. Open. Fun.