Intentionally touring – or merely stumbling upon – unique street art such as murals can offer unexpected and interesting experiences to your travels. Public artworks can also serve as a picture-perfect backdrop for an Instagram post. Here's the inside scoop on where to find some creative and off-the-beaten path street art in and around the Daytona Beach area. 
Art in the Alley Daytona Beach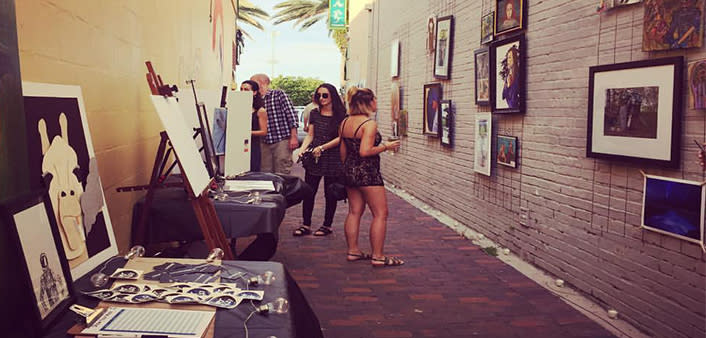 Art in the Alley is a movement with the intention of bringing art to the Daytona Beach community. The group's goal is admirable: to influence both young and local artists by encouraging art in everyday life. This collective intends to educate the public — and the area's many annual visitors — about the benefits of street art and to show how it can inspire the community. You can spot works behind Zappi's Italian Garden, on Orange Avenue between Palmetto Avenue and Beach Street in downtown Daytona Beach, and by Gold Leaf Coffee Company in Ormond Beach. Follow Art in the Alley on Instagram for even more inspiration and to locate more murals around town.
Crabby's Oceanside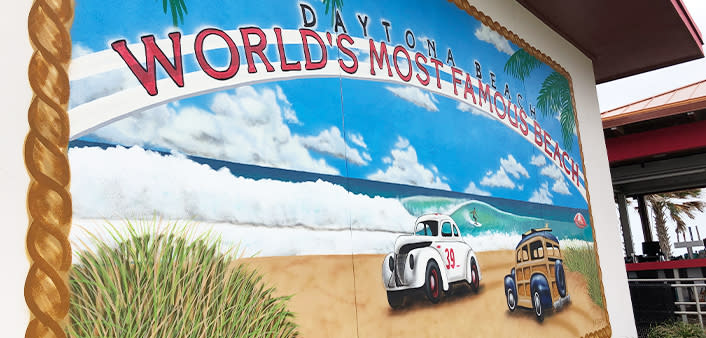 This beachside hotspot is now home to the "World's Most Famous Beach" mural that celebrates the beach racing days with a little sun and surf. Located right next to Landshark Grill on A1A, you can grab a free parking spot, a bite to eat and a selfie just steps from the beach.
Henry's Pizza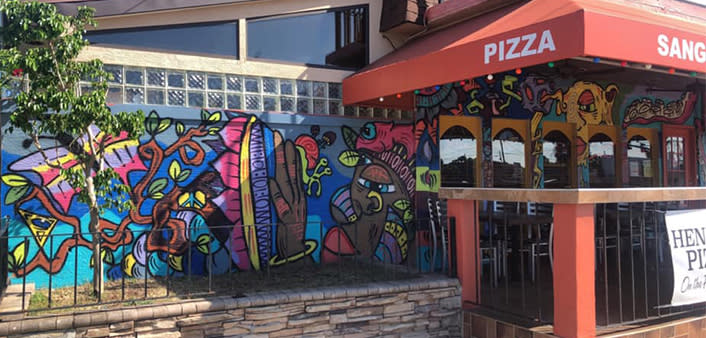 For a blast of color and larger-than-life artwork, head to this new pizza joint off of East International Boulevard. Henry's Pizza has an exterior wall that's covered top to bottom with bright mural works by an artist named East Mental. Snap a pic, then step inside for a grilled pizza pie and happy hour drink special!
DeLand Historic Mural Walk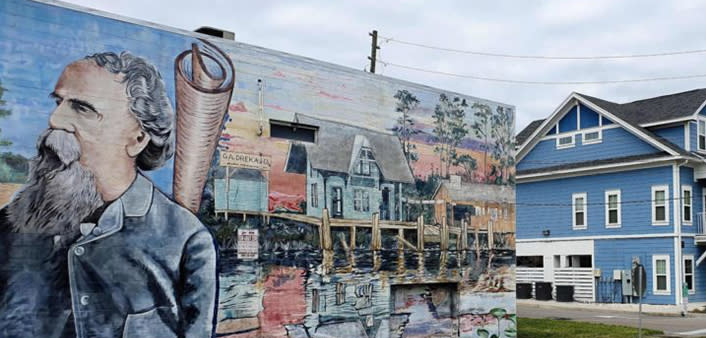 Murals have been an important part of the culture and arts of DeLand since the early 1990s, and you can experience many of them in one cohesive walking tour through town. The Mainstreet Deland Association established the DeLand Mural Committee around 1994 to share the history of the community. At the time, their vision was to take people on a historical stroll that would unfold along the city's streets like the pages of a giant book. The very first mural was painted on the Wells Building at 145 North Woodland Boulevard by the artist Perego. "Pioneers at the Parce Land" depicts the Parce Land Hotel during the 1880s. View this and so much more along the DeLand Historic Mural Walk!
Wings of the West Trail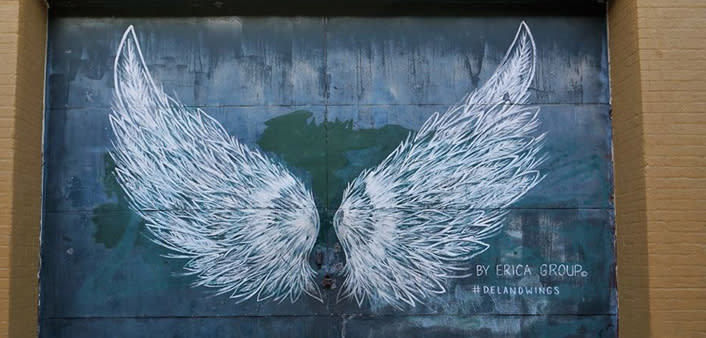 These murals soar to new heights! Give yourself wings in downtown DeLand, at Lyonia Preserve in Deltona, in DeLeon Springs and beyond! Artist Erica Group, the official artist in residence for the West Volusia Tourism Advertising Authority, has launched a beautiful campaign of painted wings and more with "Wings of the West Trail." See how many wings you can "grow" on your next visit to the area — it's an absolute must-visit spot for the perfect Instagram shot.
New Smyrna Beach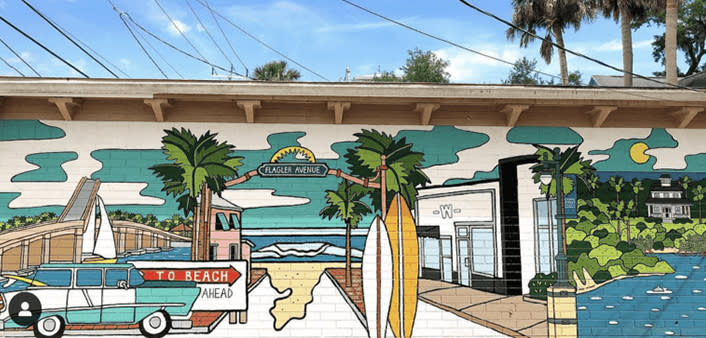 Just a short drive south of Daytona Beach, New Smyrna Beach is also brightening the town with murals painted by local artists. There are a handful of fun, colorful creations along Flagler Avenue and on Canal Street. You won't want to miss the mural completed by Chelsea Preston, located at 202 Julia Street. While you're over that way, head over to Smyrna Dunes Park to see the 36-foot mural highlighting the park's natural scenery and wildlife, painted by Sandra Koop. Learn more about New Smyrna Beach murals here!
Whether you want to make a day out of touring the area's murals or simply want to work them into your daily adventures throughout your stay, these creative works will add a pop of color to your vacation. Be sure to tag us on Instagram (@DiscoverDaytonaBeach), plus tag the local artist if possible. Happy posting!