With Father's Day just around the corner on Sunday, June 18, it's time to start planning all the ways you and the rest of your grateful crew will spoil Dad over Father's Day weekend. And by taking him on a family getaway to Daytona Beach, you'll have easy access to not only the World's Most Famous Beach and a broad array of family-friendly attractions, but also plenty of Dad-friendly activities that are sure to suit fathers of nearly any age or interest.
Consider this small sampling of the many great ways you could spoil Dad in the Daytona Beach area: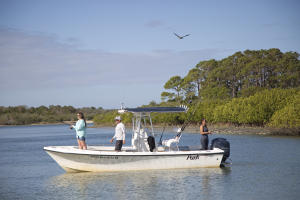 Take him fishing — Daytona Beach's prime location along the Atlantic coast makes it a mecca for all kinds of anglers, whether they prefer to drop a line offshore, from the coastline, or in an inland waterway. So load up the tackle box and get ready to reel in some good times with Dad!
EXPLORE AREA ANGLING OPTIONS
Put him behind the wheel of a race car — For fathers with a need for speed, the Daytona Beach area definitely offers ample reasons to get revved up. In addition to its long list of auto racing-focused attractions, the area is renowned as the home of the "World Center of Racing" — Daytona International Speedway. And it doesn't even have to be race day for Dad to make unforgettable memories at the speedway. The NASCAR Racing Experience offers him the opportunity to ride along in — or even get behind the wheel of — a real NASCAR race car for a few laps around one of the world's most famous tracks. TAKE TO THE TRACK
Help him make some waves — The high-speed thrills in Daytona Beach aren't limited to the asphalt-topped track at the speedway. Fathers who are ready to tear up the surf over the ocean waves can do just that with a jet ski adventure in the Atlantic waters. Or they can open up the throttle along the Intracoastal Waterway or in one of the area's expansive backwater estuaries. MAKE A SPLASH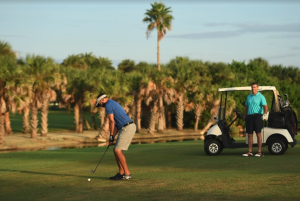 Put his afternoon on the right course — For fathers who love the sport of golf, the Daytona Beach area is a sure hole-in-one. As one of the Sunshine State's top golfing destinations, the area is home to nearly 20 world-class courses — with the two distinct courses at LPGA International being highlights among them. GET INTO THE SWING OF THINGS
Let him enjoy his craft — Dads who enjoy craft beers will find plenty of locally brewed flavors to savor in Daytona Beach — and lots of variety among them. The craft offerings on the Daytona Beach Ale Trail cover beer styles ranging from wheats, lagers, and pilsners to IPAs, stouts, sours, porters, and lots more. TASTE THE ALE TRAIL
Let him kick back on the oceanfront — Of course, some fathers would prefer to spend their special day simply relaxing and taking in the coastal area's inherent beauty. And with 23 miles of white-sand beaches to enjoy in Daytona Beach, there's no shortage of spots where Dad can spread out on a beach towel or kick back in a beach chair and simply watch the tide roll away. HIT THE BEACH
Feed his soul — For foodie fathers, the Daytona Beach area serves up a broad range of fresh-caught flavors, all-American meals, and other tasty Florida favorites. Whatever Dad's in the mood for, the menu of area dining options is sure to offer something to tempt his taste buds, from waterfront dining establishments to amazing seafood restaurants, fine dining options, and lots more. EXPLORE AREA EATERIES
Ready to start planning some serious Dad-spoiling over Father's Day weekend in Daytona Beach? Check out all the great accommodations available in the area now, and start planning your amazing beach vacation with Dad today! We'll be looking forward to seeing you and your Dad-celebrating crew in Daytona Beach soon!