Before a day of lounging on 23 miles of beaches, kick-start the morning with a scenic run! Whether you are coming to town for a relaxing beach vacation or want a getaway action-packed with adventure, Daytona Beach offers a number of different routes for those who want to stretch their legs. Go for a leisurely jog or put on your serious runner's cap — there are options for all skill levels here. Ahead, check out our top picks for running routes of various distances. 
Best 2-mile route: Ponce Inlet Trail
Where to park: Ponce Preserve (4400 South Atlantic Drive, Ponce Inlet)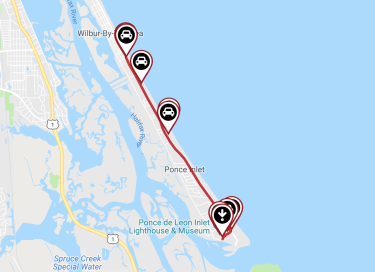 Source: https://www.traillink.com/trail-maps/ponce-inlet-trail/
For a relatively short but sweet sprint in the Daytona Beach area, the Ponce Inlet Trail is just the ticket. This trail stretches down the area's eastern shoreline from the southern outskirts of Daytona Beach and through the quiet coastal town just below called Ponce Inlet.
To begin, park for free at Ponce Preserve, which has 41 acres of its own to explore, should you decide to detour. The trail officially begins slightly above the parking area at Ponce Preserve at Major Street, and follows South Atlantic Avenue down through quaint neighborhoods and an array of natural beauty. Wind your way through a scenic setting of ocean dunes (being careful not to disturb them), wetlands and plenty of palmettos. Find a resting spot about one mile south at Winterhaven Park, where you can relax at picnic tables or walk the boardwalk.

The trail ends at the very tip of the peninsula at a special place called Lighthouse Point Park. It's a 52-acre preserve that offers families of all sizes opportunities for fun. Cool off after your run with a dip in the ocean here, watch the fishermen reel in a big one, or head up to the observation tower to take in the views. It's a reward well worth the effort!
Best 6-mile route: Halifax River Trail
Where to park: Cassen Park at the intersection of West Granada Boulevard and North Beach Street in Ormond Beach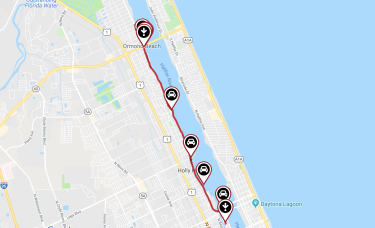 Source: https://www.traillink.com/trail-maps/halifax-river-trail/
The Halifax River Trail (also known as the Halifax River Greenway) currently stretches nearly 6 miles.
The trail begins in Cassen Park in Ormond Beach, where runners can find easy access to parking and restrooms. From there, begin your journey along the captivating Halifax River.
A popular stop along the pathway is Sunrise Park in Holly Hill. Located on a pretty peninsula and featuring a peaceful scene of palm trees and old oaks, this is the perfect spot to stop for a stretch and a sip of water. Stroll down the fishing pier, or perch at one of the picnic tables. Restrooms are also available here. Then, carry on with the second half of your run along the river. The trail ends right around the corner from Caribbean Jack's — the ideal spot to refuel with a post-run reward beer and a hot meal!
Keep an eye on this Halifax River Trail project in the future, as it will expand to 11 miles long as part of the East Coast Greenway, a trail network that will run from the Florida Keys to Maine!
Best 10-mile route: Blue Spring State Park segment of the Spring-to-Spring Trail
Where to park: Lake Beresford Park (2100 Fatio Road, DeLand)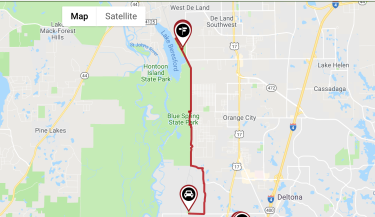 Source: https://www.traillink.com/trail-maps/spring-to-spring-trail/
The Spring-to-Spring Trail is a top bicycle route choice for cyclists who come to the area, but it's a wonderful path for runners, too!
The Volusia County trail got its name from linking a number of state and county parks featuring several of Florida's famous natural springs. It includes a total of 15 completed miles so far and will expand to 26 miles. There are two main legs of the trail; one runs north from the scenic Lake Monroe up to DeLeon Springs, and the other goes south from DeBary toward Deltona.
Any part (or all!) of the trail makes for a great runner's course, thanks to the paved pathway. A favorite part of the trail is a segment about five miles long that starts at the Lake Beresford trailhead  where there are restrooms and water. From there, the canopied trail travels south along Blue Spring State Park through an environment lush with hammock and magnolia trees. The Park is a designated manatee refuge, and trail-goers can learn more about this endangered animal through ranger programs. Visitors can also view them from an observation platform during the winter, when manatees gather in the warm waters of the natural spring. Swimmers, snorkelers and even scuba divers can also enjoy the spring during the summer.  A straight shot down to the southern corner of Blue Spring State Park is about five miles, then doubling back to your car totals 10 miles.
If you'd like to push on further, the trail continues seamlessly through DeBary, a city known for its beautiful oak trees. Eventually, the trail segment ends in Rob Sullivan Park. 
Well, what are you waiting for? Pack up your running shoes and water bottle and start planning your trip to Daytona Beach now! Explore your options and download our free official destination guide or sign up for our eNewsletter.