Riding bicycles is a favorite pastime of locals and visitors alike in the Daytona Beach area. In addition to cruising along 23 miles of hard-packed beaches, the trail options are endless. Get a good look at the area's wildlife, revel in waterfront views as you pedal forward, and breathe the salt air along one of these bicycle trails. 
Spring-to-Spring Trail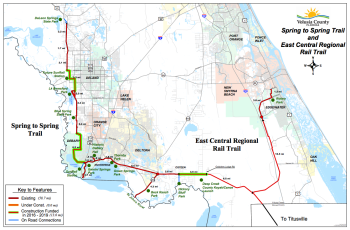 Volusia County's Spring-to-Spring Trail got its name from linking a number of state and county parks featuring several of Florida's famous natural springs. There are two main legs of the trail; one runs north from the scenic Lake Monroe up to DeLeon Springs, and the other goes south from DeBary toward Deltona.
Though easily accessible to anyone based in Daytona Beach, one of the most scenic sections runs from Gemini Springs Park to DeLeon Springs State Park. Or, for a slightly abbreviated version of that same route, start about halfway in at Blue Spring State Park.
In addition to the access points mentioned above, main points of entry are at DeBary Hall Historic Site, Lake Monroe Park, Lake Beresford Park and along Grand Avenue in Glenwood (south of DeLeon Springs State Park).
Get a feel for the trek by visiting the showcase trails on Volusia.org and downloading the latest maps. 
No wheels? No problem — this paved, multipurpose path is ideal for walkers, joggers, skaters, bicyclists and people with disabilities alike.
River-to-Sea Loop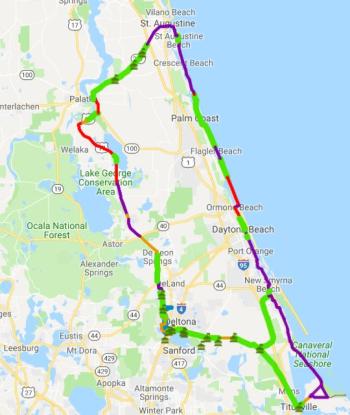 Currently about halfway complete, this scenic trail is expected to have all of its 260 miles constructed by 2020. Once finished, the St. Johns River-to-Sea Loop will be the longest multi-use loop trail in all of the American Southeast. In the meantime, there are many miles to see and explore on this path.
Access a southern section of the bike trail at Gemini Springs Park and cruise east through miles of natural beauty. Or, you can hop on at the trailhead at Thornby Park or Osteen Civic Center, both of which have restrooms and parking on-site.
If you prefer to stay a little closer to Daytona Beach, hop on the Sweetheart Trail in historic downtown Daytona Beach that winds along the riverfront.
The idea behind this trail is to offer a taste of Florida's distinctive character, giving a glimpse into everything from resort towns to rural wildlife refuges, and from coastal sands to natural springs — it's a unique cycling experience you won't want to miss.
For the most up-to-date maps, please be sure to visit St. Johns River 2 Sea Loop Alliance.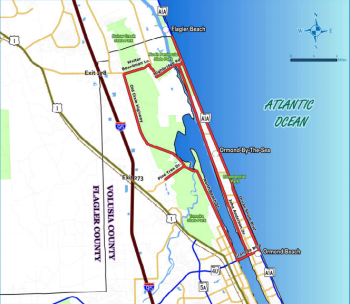 A true can't-miss for cycling enthusiasts and nature lovers alike, this 34-mile scenic route of roadways traverses some of the most diverse, breathtaking natural scenery in all of coastal central Florida. With an abundance of Spanish moss-lined passages and water views, the Loop is the perfect way to soak in the feel of "old Florida."
The trail offers ready access to the Atlantic Ocean; state, county and city parks; river vistas; creeks; beaches; and historic dwellings. You'll encounter no stoplights or shopping centers on this ride — just miles and miles of well-maintained, twisting and turning roads!
Enter the Loop at Granada Boulevard, or follow these directions for an abbreviated route. Note that this is not a bicycle-specific route — it's a two-way road that cars and motorcyclists also enjoy.
How to Rent a Bicycle in Daytona Beach
Need to rent a bicycle? There are several shops in Daytona Beach that have you covered.  And, for detailed bicycling routes in Volusia County, check out the Volusia County Parks & Trails App — available free for iOS or Android users! Find helpful maps, suggested routes, phone numbers you'll need and a number of videos to inspire your trip! Download the app and start planning your trip today.
Enjoy a look at everything Daytona Beach has to offer and start planning your next trip! Download our free official destination guide or sign up for our e-newsletter.