With 23 miles of Atlantic coastline and the Intracoastal Waterway in its backyard, along with a lengthy list of rivers, creeks, lakes and other bodies of water in the area, Daytona Beach offers an ocean of water-fueled fun for visitors to pursue. And whether your vacation crew prefers to chase its aquatic adventures in a boat, on a board, by paddle power, or with just your own arms and legs to propel you through the waters, this scenic stretch of Florida's eastern coast can accommodate.
Read on to discover all the ways you can splash into fun during your next getaway to the Daytona Beach area.
 Boating and sailing — Whether you're in the mood for a romantic sail along the Halifax River, a quest to see dolphins and manatees in a lagoon, or a high-speed adventure over the ocean waves, Daytona Beach's boating and sailing opportunities are sure to please.

GET ON BOARD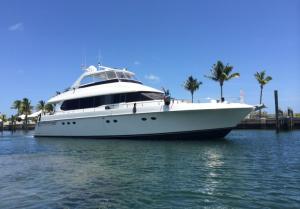 Parasailing — Take an exhilarating ride into the skies above the Atlantic Ocean and catch a bird's-eye view of the Florida coastline from 600 to 1,200 feet above the ocean waters with a parasailing adventure.

SOAR INTO THE SKIES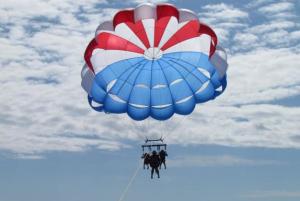 Jet skiing — Rev up the fun with a thrilling, high-speed ride over the Atlantic Ocean waves, along the Intracoastal Waterway or through an expansive backwater estuary with a jet ski adventure. The Daytona Beach area offers jet ski rentals in a range of scenic aquatic settings.

MAKE YOUR WAKE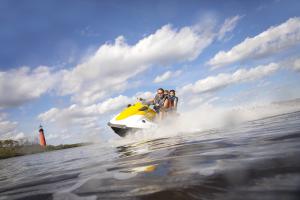 ​
 Daytona Speedboat Adventures — You're sure to make memories aboard the brightly colored Daytona Sea Racer, a speedboat that takes riders for hour-long tours along the coastlines of Daytona Beach, Ponce Inlet and New Smyrna Beach in search of adventure and natural wonders.

CHASE HIGH-SPEED THRILLS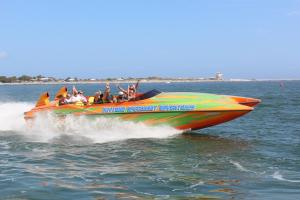 Scuba diving & snorkeling — Strap on your fins and goggles to explore the beauty of life beneath the water's surface. Artificial reefs, crystal clear springs and Florida State Parks are among the area's top scuba diving and snorkeling attractions.

FIND THE BEAUTY BELOW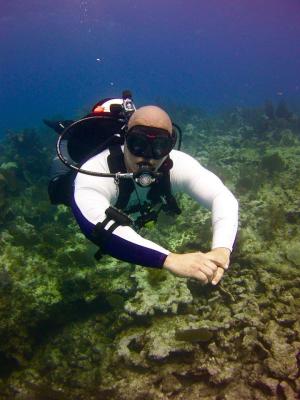 Paddleboarding — The nation's fastest-growing water sport has certainly found a warm welcome in the Daytona Beach area. As an especially quiet mode of over-the-water transportation, paddleboarding is a great way to see maritime wildlife while getting in some exercise and some fun as you soak in nature's beauty.

TAKE A STAND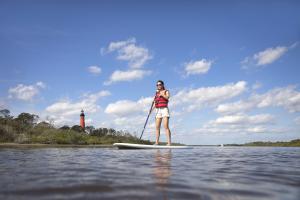 7. Surfing — Boasting regular, approachable swells and a soft, sandy bottom, the area's beaches offer a great place for newbies to learn to catch a wave, as well as for longtime surf riders to hang ten. Some of the area's top surf spots include Ponce Inlet, Daytona Beach and Ormond Beach.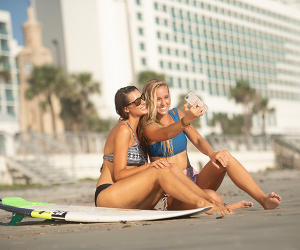 Kayaking & canoeing — Paddlers are drawn to the scenic beauty of the Daytona Beach area's broad variety of pristine waterways. And whether you're seeking high-energy adventure or a peaceful escape from the everyday, the dozens of parks and launching points in the area provide easy access to either in a kayak or canoe.
FLOAT INTO FUN
Deep sea fishing — With a plethora of area charter companies, the Daytona Beach area is a leading destination for anglers looking to reel in sport fish like cobia, kingfish, mahi-mahi and tarpon — or just some on-the-water fun.

REEL IN OFFSHORE ADVENTURE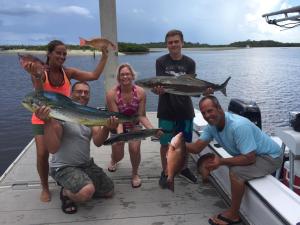 Ready to start planning your family's water-fueled getaway to Daytona Beach? Check out the great accommodations available in the area now, and start planning your amazing coastal vacation today! We'll be looking forward to seeing you and your family finding fun in the Daytona Beach area's waters soon!