Surrounded by winding rivers, backwater inlets and a big, beautiful ocean, it's not a mystery why Daytona Beach has attracted so many anglers over the years.From first-time fishermen to seasoned professionals, fishing for all levels is a favorite activity here. Whether you want to put in the legwork and fish along the shoreline or let a guide point you in the right direction, Daytona Beach has what you need.
With a subtropical climate and year-round warmer waters, there isn't really a bad time to fish in Daytona Beach. However, fall is a favorite for many reasons. Most notably, among the season's best features are the pleasant temperatures and the schools of redfish, snapper and grouper in the area. The type of experience and the type of fish you seek will dictate where you should go, but here are some of the best fishing spots in the Daytona Beach area:
1.) Daytona Beach Pier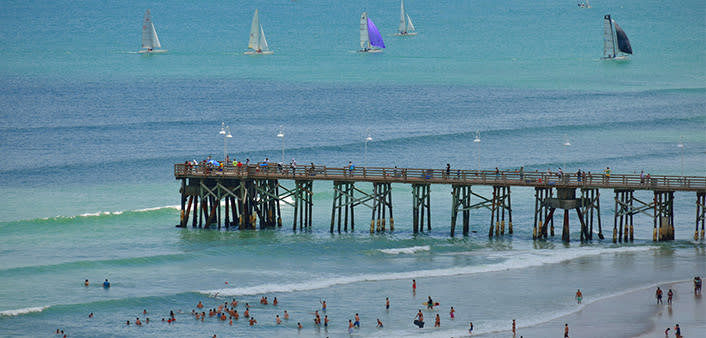 Since 1925, the Daytona Beach Pier has been a staple landmark in the area. Today, it serves as a popular spot for family entertainment, fresh seafood and — you guessed it — fishing! At this popular local spot, there's NO cost to fish, and fishing licenses aren't required. This isn't true for all fishing spots in the area, so the pier is a great place to head if you decide to engage in the activity on a whim. Grab your gear, bait your hook, and enjoy a relaxing day at one of the area's most well-loved landmarks.
Fishing is normally open on the east end of the pier from dawn to dusk, seven days a week, weather conditions allowing. For more information about the Daytona Beach Pier, call the City of Daytona Beach, Leisure Services Department, at (386) 671-8000,
If you like the sound of pier fishing, check out a more comprehensive list of pier-fishing spots in Daytona Beach.
2.) Halifax River
Head slightly north from Daytona Beach into Ormond Beach, and you can enjoy great fishing in the Halifax River thanks to Granada Pier Bait & Tackle. The shop is open seven days a week, which makes it convenient for you to get live and frozen bait shrimp anytime. And, there is a lighted dock where you're likely to pull in a variety of fish. This local hot spot has everything you need for an entire day of fishing — including lunch! Swing in the shop for their famous fish dip.
If you're looking for a spot where you can fish while the kids run around, Ames Park might be an ideal option for you. This 2.2-acre riverfront park includes picnic tables, restrooms, a gazebo, the historic Ames House that you can explore, and a playground where the kids can exert some energy. Of course, it also includes a 75-foot fishing pier where you can relish the scenic Halifax River and try your luck on trout, black drum, flounder and more. The park is open from sunrise to sunset.
3.) Ponce Inlet Jetty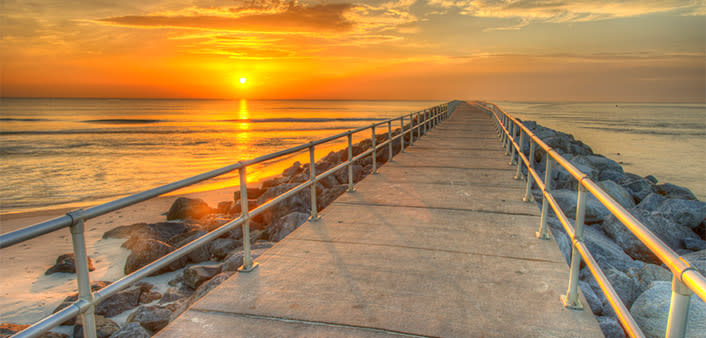 Often referred to as a "hidden gem," the Ponce Inlet Jetty is a perfect place to catch a breathtaking sunset and, if you're lucky, a few fish! The jetty is part of Lighthouse Point Park, a huge, 52-acre preserve in Ponce Inlet. The cost to get in is $10 per vehicle, but it is well worth the admission fee. In addition to the fishing, you can explore nature trails, spot birds of prey and climb the observation tower!
4.) The Atlantic Ocean
If you seek sport fish like cobia, kingfish, sailfish, mahi mahi and tarpon, it might be time to turn to the pros and go out into the Atlantic with a charter boat company and guide. Luckily, there are a number of off-shore fishing charter companies based in the Daytona Beach area, so you'll have no problem finding a well-practiced guide ready to take you on a memorable ride.  
5.) Mosquito Lagoon
Although Daytona Beach offers easy access to offshore fishing, there are an abundance of places to toss a line closer inland. Cruise Mosquito Lagoon for tarpon, snook, flounder and more. You can certainly attempt these waters on your own, but a good way to get the most out of your experience is to hire someone very familiar with the area. Finding the right guide can help take your fishing excursion from good to unforgettable — so check out more inshore Daytona Beach charters here.
Where to get supplies:
Before you hit the water, head to The Fishin' Hole, a family-owned bait and tackle shop located on North Beach Street. Whether you're looking for the right lure for local fish or need bait for your offshore fishing venture, The Fishin' Hole has you covered.
It was recently renovated in 2014, but it still has enough salty character to keep the place feeling authentic. The inside is tidy and clean, and the staff is happy to help direct you to what you need if you're unable to find it right off the bat. Plus, the friendly staff at The Fishin' Hole will be able to tell you some of the best spots to reel in a redfish, where to look for flounder and which bait you can trust for bass. Their knowledge of local waters is priceless!
If you will be fishing from the shore, be sure to review the ins and outs of surf fishing in Daytona Beach.
Enjoy a look at everything Daytona Beach has to offer and download our free official destination guide or sign up for our e-newsletter.
Happy casting!
RELATED VIDEO