Visit Responsibly - Travel Health and Safety Information
COVID19 Coronavirus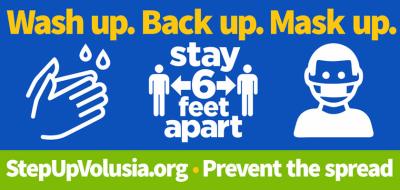 Everyone plays a part in lowering the impact within our communities and workplaces – how to protect yourself and others.
We hope that everyone who travels to our destination enjoys their visit and respects our cities, our laws and our residents.
Lodging
Hotels, motels, inns, resorts, time share projects and vacation rentals are open. Check here for Places to Stay.
 If you have a question about an existing reservation, please contact the property directly. 
Beaches
Our beaches are clear and open. All in-season beach access ramps are open, along with beachfront parks and parking lots. Everyone plays a role in keeping our beaches clean and safe. More information about Volusia County beaches is available at https://www.volusia.org/services/public-protection/beach-safety/
Please make sure that while you're enjoying your time, you're also respecting our area and following the laws. Fines will be issued for violations and when appropriate, vehicles will be towed. Some important reminders when it comes to the beach: - The 10 mph speed limit is strictly enforced. - Alcohol and glass containers are not allowed. - It is unlawful for any person to possess or use a radio, tape player, televisions, compact disc, boom box, loudspeaker, musical instrument or other mechanical or electronic sound making device or instrument on the beach or an approach to produce or amplify a sound which is plainly audible at a distance more than 50 feet from the device or instrument.
Restaurants, Bars and Attractions
Restaurants and bars are open. Many establishments offer outdoor seating areas as well as take out, with curbside and/or delivery service, too. Please check directly with your favorites for details. 
Volusia County/Local Information
Local information is available at https://www.volusia.org/services/public-protection/emergency-management/pin/coronavirus/. For health-related questions call the Florida Department of Health Call Center at (866) 779-6121 (available 24/7).
Parks
City, County and Florida State Parks are open. Please remember to practice social distancing and check with each park for specific questions about its facilities. For information on State Parks, go to www.floridastateparks.org.
Events
​Contact organizers and venues directly for the most up to date information as changes may occur.
Health and Travel Information and Advisories
Daytona Beach International Airport: http://www.flydaytonafirst.com/ready-to-fly/

Visit Florida: https://www.visitflorida.com/en-us/current-travel-safety-information.html
Red Tide: Most of Florida is unaffected by red tide. There has been no red tide observed on this coast. For the most up to date information on red tide in Florida, please refer to the Florida Fish and Wildlife Conservation Commission (FWC).
Florida Department of Health (FDOH), including tracking data:
Online http://www.floridahealth.gov/diseases-and-conditions/COVID-19
Call (866) 779-6121 (available 24/7)
Email COVID-19@flhealth.gov
Volusia Business Resources:  https://www.volusiabusinessresources.com/
Center for Disease Control (CDC): https://www.cdc.gov/coronavirus/2019-ncov/travelers. 
Guidance for Businesses: 
Enjoy the beach from home
Take a virtual beach break
Put yourself at the start/finish line at Daytona International Speedway. Stand on the 18th green at LPGA International. Experience 23-mile long panoramic views of the...
Check out the breathtaking views