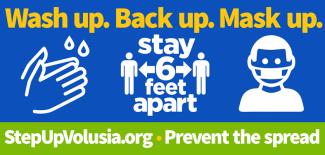 Visit Responsibly
COVID19 Coronavirus
Everyone plays a part in lowering the impact within our communities and workplaces – how to protect yourself and others.
"Wash Up. Back Up. Mask Up."  https://www.stepupvolusia.org/
Face Coverings
Everyone working, living, visiting or doing business within Volusia County is encouraged to wear face coverings when indoors in any business where social distancing can't be maintained. 
The City of Daytona Beach requires everyone to wear a face covering in any indoor location, other than their home or residence, when maintaining appropriate social distancing is not possible. More information is available here: http://www.codb.us/coronavirus. Many other area cities have mask guidelines as well.
Lodging
Hotels, motels, inns, resorts, time share projects and vacation rentals are open. Check here for Places to Stay.
 If you have a question about an existing reservation, please contact the property directly. 
Beaches
Our beaches are open. All in-season beach access ramps are open, along with beachfront parks and parking lots. Everyone plays a role in keeping our beaches open and safe. CDC guidelines should be followed. More information about Volusia County beaches is available at https://www.volusia.org/services/public-protection/emergency-management/pin/coronavirus/beaches.stml
Restaurants, Bars and Attractions
Restaurants and bars are open. Many establishments offer outdoor seating areas as well as take out, with curbside and/or delivery service, too. Please check directly with your favorites for details. 
Volusia County/Local Information
Local information is available at Volusia.org/coronavirus. For health-related questions call the Florida Department of Health Call Center at (866) 779-6121 (available 24/7).
Parks
City, County and Florida State Parks are open. Please remember to practice social distancing and check with each park for specific details. For information on State Parks, go to www.floridastateparks.org.
Events
​Contact organizers and venues directly for the most up to date information as changes continue to occur.
Health and Travel Information and Advisories
Daytona Beach International Airport: http://www.flydaytonafirst.com/ready-to-fly/

Visit Florida: https://www.visitflorida.com/en-us/current-travel-safety-information.html
Florida Department of Health (FDOH), including tracking data:
Online http://www.floridahealth.gov/diseases-and-conditions/COVID-19
Call (866) 779-6121 (available 24/7)
Email COVID-19@flhealth.gov
Volusia Business Resources:  https://www.volusiabusinessresources.com/
Center for Disease Control (CDC): https://www.cdc.gov/coronavirus/2019-ncov/travelers. 
CDC Guidance for Businesses: 
Enjoy the beach from home
Take a virtual beach break
Put yourself at the start/finish line at Daytona International Speedway. Stand on the 18th green at LPGA International. Experience 23-mile long panoramic views of the...
Check out the breathtaking views