Craving an escape from winter weather? Head to Daytona Beach for a range of holiday events and holiday spectaculars.Whether you are in the mood for the dreamlike experience of Christmas lights, a celebration that takes a step back in time or a jolly holiday parade, plenty of fun Christmas activities await in Daytona Beach! Consider any one of these events to put you in the holiday spirit:
Magic of Lights® Holiday Display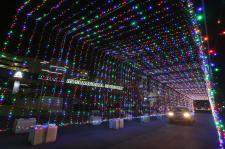 The iconic Daytona International Speedway transforms into a holiday heaven during the Magic of Lights® Holiday Display. Take the family and drive through the 1.5-mile display, which features the latest in LED bulbs and all-new digital animation technologies that have been specially created for the "World Center of Racing." For more information on ticket pricing for vans and oversized vehicles, visit the website. The event takes place daily through New Year's Eve from 5:30 p.m. to 10 p.m.
•    Venue: Daytona International Speedway
•    Address: 1801 West International Speedway Boulevard, Daytona Beach, FL 32114
•    Admission: $25/car at the gate; $20 in advance.
Stetson Mansion Christmas Spectacular Holiday Home Tour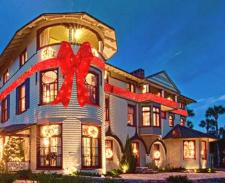 The Stetson Mansion Christmas Spectacular Holiday Home Tour takes place at "Florida's first luxury estate," the famed Victorian Gilded Age residence built in 1886. Its original, rich architectural details make the perfect backdrop for elaborate holiday decorations, which are different each year. Designer decorations from around the world will adorn the mansion, and each room has a unique theme. This year, a few of the themes include "A Victorian Christmas," "The 200th Anniversary of the Bicycle," "A Tribute to Elves," "A Salute to the Five Branches of Service," "Pretty as a Peacock" and many more! Come and experience how Stetson Mansion has decked the halls on one of these enchanting tours, which are offered daily (except Sunday mornings) through January 15 at 10:30 a.m., 1:30 p.m. and 5 p.m. Reservations are required; visit the website for more information. And, as a special holiday gift, if you come for a Christmas tour, you can return for free as many times as you'd like from February to September 2018 when you bring a paying guest!
•    Venue: Stetson Mansion
•    Address: 1031 Camphor Lane, DeLand, FL 32720
•    Admission: $25 adults; $15 ages 6-22; children under 5 admitted free
Enjoy a Christmas Spectacular Tour in this Stetson Mansion video!

DeBary Hall Historic Site Candlelight Tours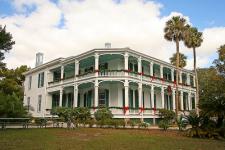 Take a step back in history with a DeBary Hall Historic Site Candlelight Tour.
Originally a hunting retreat for a wealthy steamboat line owner, DeBary Hall offers interpretive exhibits that give a glimpse into the lifestyle of the late 1800s. During the holidays, the historic site is aglow with holiday adornments, Christmas decorations and old treasures. Explore the lodge on a candlelight tour and hear the story of the Christmas Orange, followed by refreshments. This experience is recommended for visitors aged 12 and older; call (386) 668-3840 for reservations.
•    Venue: DeBary Hall Historic Site
•    Address: 198 Sunrise Boulevard, DeBary, FL 32713
•    Admission: $10 
Daytona Beach Boat Parade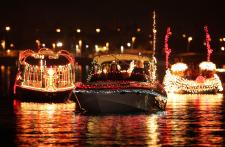 Holiday cheer gets a nautical twist at the Daytona Beach Boat Parade, a favorite local tradition that's back for another year on Saturday, December 1, at 6 p.m. Boats will be extravagantly decked out with twinkling lights and holiday décor to cruise the Halifax River, and you can experience the magic free of charge. Viewers post up watch along bridges, causeways and river shorelines, and it all culminates at Halifax Harbor Marina.
•    Venue: Halifax Harbor Marina
•    Address: 450 Basin Street, Daytona Beach, FL 32114
•    Admission: FREE
The 40th Annual Casements Ruby Red Gala in Ormond Beach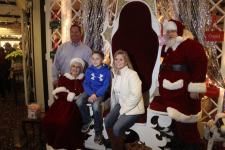 For nearly four decades, The Casements Country Christmas has brought joy and good tidings to the Daytona Beach area! Set on the shore of the Halifax River and just two blocks from the ocean, the mansion has been called "the jewel of Ormond Beach." This National Historic Site transforms into a winter wonderland on the first weekend of December. One $5 ticket gets you admission for all three days, and children under 12 are admitted free of charge. Enjoy special holiday décor, train rides, a Christmas tree gallery, a handmade craft room, a gourmet shop and more! On the third day, the jolly man himself will be in attendance along with Mrs. Claus. Call 386-673-5312 for tickets.
•    Venue: The Casements
•    Address: 25 Riverside Drive, Ormond Beach, FL 32176
•    Admission: $5; children under 12 admitted free
Christmas in Daytona Beach offers a wide variety of festive activities and holiday fun. No matter which one you choose, a winter getaway is sure to put your whole family in a sunny, spirited state of mind.
Enjoy a look at everything Daytona Beach has to offer and start planning your next trip! Download our free official visitors guide or sign up for our e-newsletter.