Daytona Beach is known all over the world as a place full of family-friendly attractions, expansive beaches and endless fun. But how did this favorite vacation destination get its start? Read on to discover just how deep Daytona Beach's roots run with an abridged historical timeline. 
1513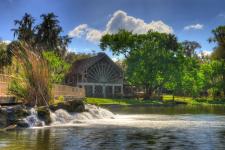 Beachgoers and racing fans aren't the only type of people to head in this direction. In fact, explorers have been flocking to the greater Daytona Beach area for centuries. In his famed search for the Fountain of Youth, Spanish explorer Ponce de Leon came across what's now the popular DeLeon Springs, located just west of Daytona Beach.  

1768
Andrew Turnbull, a British loyalist and physician, acquired land grants to the region with several business partners. He settled the land, which totaled 101,000 acres  and created New Smyrna colony (now called New Smyrna Beach). It is the site of the largest single attempt at British colonization in the U.S. 
1800
Around 1800, Samuel Williams settled a land grant of 3,000 acres he received from Spain, which had regained Florida from the British after the American Revolution. Williams built the area encompassing present-day Daytona Beach into a plantation that grew cotton, rice and sugarcane. His son, Samuel Hill Williams, inherited the plantation which later burned to the ground in 1835 during the Second Seminole War. 
1874
Matthias Day, a wealthy tycoon from Ohio who had made his fortune by selling sugar mill machinery and farm tools, became enamored with the area — and the notion that Florida was starting anew after the Civil War and he should be part of it. He began by building the area's very first hotel in 1874, followed by 20 homes, a general store and a post office. Not everyone shared Day's vision and excitement for the developing space, and he eventually ran out of money. Although the land was ultimately repossessed and Day returned back home to Ohio, he was widely considered a founding father of the city. Daytona officially became a city when it was incorporated in 1876 — and so the city still bears his name today. 
1876
Henry DeLand, a wealthy New York businessman, traveled to east Central Florida in 1876 to visit relatives. He was so impressed by the beauty and climate of the area he decided to start a town. Today, the City of DeLand is home to Stetson University, named after Henry DeLand's friend, famed hat manufacturer and philanthropist John B. Stetson. The mansion Stetson built is a private residence which welcomes guests for tours and celebrations.
1904
In 1904, civil rights leader and educator Dr. Mary McLeod Bethune established a girls' school for the daughters of African-American railroad workers in the Daytona Beach area — a school that would eventually become what's now called Bethune-Cookman University. Later, she was appointed to government positions by Calvin Coolidge, Franklin Roosevelt and Harry Truman. Today, the school has over 2,300 male and female students, a thriving athletics program and a museum dedicated to its beloved founder. 
1905
Stock car racing became a regular pastime along the hard-packed beaches of Daytona Beach in the beginning of the 20th century. By the 1920s, the shoreline was dubbed the "World's Most Famous Beach."
1918
Famous industrialist and philanthropist John D. Rockefeller quickly fell in love with Ormond Beach and its immaculate golf courses, wide beaches and suitable climate. He purchased a mansion built only a few years earlier and made The Casements his winter home. Rockefeller welcomed many famous guests at the residence located on the eastern banks of the Halifax River, including Henry Ford and Thomas Edison. The mansion, which is now listed on the National Register of Historic Places, is open for daily tours.  
1929 
Major Henry Segrave set his final land-speed record on the white sands of the "World's Most Famous Beach."
1946
On March 17, 1946, Jackie Robinson played in the first integrated spring training baseball game with the Montreal Royals, a Brooklyn Dodgers-affiliated team in Daytona Beach. Later in his career, he became the first African-American to play in the major leagues. The minor-league stadium in Daytona Beach now bears Robinson's name, and a life-size statue of the baseball legend has been cast at the entrance — you can visit both on your trip to Daytona Beach. 
1948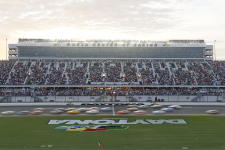 Motivated by the popularity of the beach and road races in the area, Bill France, Sr. founded NASCAR in 1947 and built the "World Center of Racing," Daytona International Speedway, in 1959.


2016
Completion of the famed speedway's project called "DAYTONA Rising" — a $400 million renovation that reimagined and reinvigorated the American icon into the world's first motorsports stadium.  
2020
Millions of people flock to Daytona Beach each year to experience a vacation that goes full throttle for fun. From live music to historical sites, and from paddle boarding to sunrise strolls, Daytona Beach is still that special place that caught the attention of Matthias Day over a century ago. Only now, the list of things to do is never-ending! Race enthusiasts will soon return for the 62nd running of the prestigious DAYTONA 500. Get tickets now and plan your trip today!
While you're visiting, be sure to learn more about the history of the Daytona Beach area at the Halifax Historical Museum, located in downtown Daytona Beach.