Loving all the stunning sunrise photos and tasty treats you've seen from people who've visited Ponce Inlet, but not sure where to start? We've put together the perfect itinerary for a day spent in Ponce Inlet. From fresh shrimp to historic sites, there's a lot to take in. Make the most of your visit by following these suggestions! 
10 a.m. — Soak in the sights.
A definite can't-miss activity for first-time visitors in the Daytona Beach area is climbing all 203 steps to the top of Ponce Inlet Lighthouse. As Florida's tallest lighthouse and originally built in 1835, it offers a 360-degree view of the Atlantic Ocean the Intracoastal Waterway and inland waterways. A trek to the top is well worth the effort — you won't soon forget this scenery! Plus, there's a lot to learn about and explore in the on-site museum and light station. In fact, the Ponce de Leon Inlet Light Station is one of only 11 lighthouses on the prestigious National Historic Landmark list.
11 a.m. — Learn a little!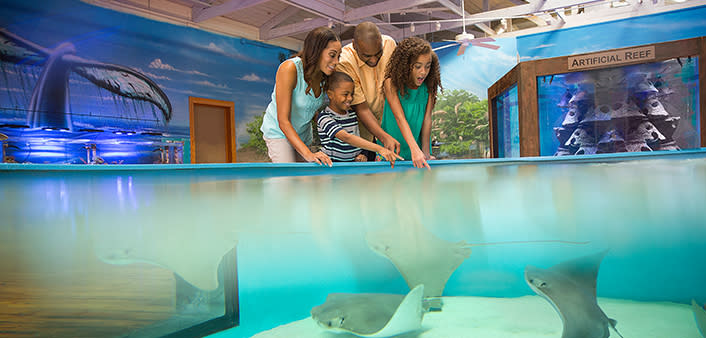 First up, head to the Marine Science Center right around the corner from the lighthouse. It's a favorite destination for area visitors of all ages, and an especially fun place to explore for those with children. Here, you can take your family on a fun and educational journey through a variety of marine life exhibits. Along the way, you can pet stingrays, see sea turtles up close in the rehabilitation hospital, view a variety of exhibits and meet the creatures of the artificial reef system. 
Afterward, pay a quick visit to the Ponce Inlet Historical Museum — free of charge.
Located at 143 Beach Street, this small local museum includes two historic Florida Cracker-style cottages that have been restored to their original layout. Get a close-up look at Ponce Inlet's cultural heritage!
12:30 p.m. — Grab some lunch.
There are a handful of places in Ponce Inlet where you can refuel after a fun morning full of hands-on learning. Down the Hatch Seafood Company is a great place to get a hearty lunch of fresh seafood, sandwiches, burgers and more! If you have a hankering for peel-and-eat shrimp, this is your spot.
2 p.m. — Adventure time!
Watch video: Just a few short miles south of Daytona Beach at the southernmost tip of the peninsula sits a locale known for being home to the tallest lighthouse in Florida.
Now that you've refueled with a filling meal, it's time to explore the natural wonder of Ponce Inlet. For the adrenaline junkies in your vacation crew, Ponce Inlet has a variety of exciting activities to explore. Try flying high with parasailing, cruise the waterways by kayak, or even charter a boat to fish one of the more than 60 sites making up the area's artificial reef.
For something a little bit more low-key, take the family to Ponce Preserve to go on a natural expedition. The park's 41 acres stretch from the ocean to the Halifax River, offering a varied terrain of ocean dunes, palmetto patches, maritime hammock and wetlands. At the base of the Green Mound is a live oak estimated to be more than 350 years old. There's even an observation tower in the park where you can get a good look at all the wildlife, beauty and serenity that surrounds the Ponce Inlet area. It's the perfect spot to visit the beach, fish off the boardwalk, launch canoes or play on the playground.
Another lesser-known Ponce Inlet gem is the Wilbur Rose Blueway — a popular paddling trail on the Intracoastal Waterway and tributaries of Rose Bay. Rent a small watercraft like a kayak, canoe or stand-up paddle board, and you might catch a glimpse of manatees, dolphins, porpoises and a variety of birds.
6 p.m. — Toast to a great day!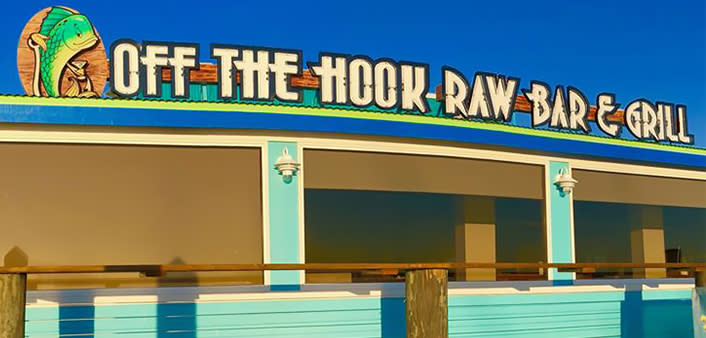 After an afternoon full of adventure, you'll be ready to settle in at a table at Off the Hook at Inlet Harbor. With sweeping inlet views, fun drink specials and menu items that will please the whole family, this restaurant is the ideal place to catch a sunset and say cheers to all the adventures you had in Ponce Inlet.
Sound like the perfect vacation day? We think so, too — book your trip to Daytona Beach and the Ponce Inlet area now!
Enjoy a look at everything Daytona Beach has to offer! Download our free official destination guide or sign up for our e-newsletter.