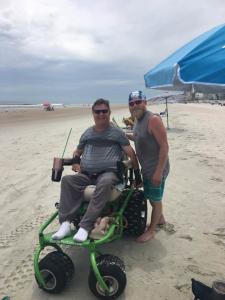 This review is about one of my most favorite experiences ever, and I am really excited to tell you about it! I'm talking about the electric beach chair I rented from Beach Mobility Rentals in Daytona Beach, Florida. I heard about these chairs a while back, and I finally got around to getting in one just recently. Now I'm wondering, "What took me so long?!"
Beach Mobility Rentals is a company started by Greg McNair, and it caters to the disabled community by having a variety of beach-accessible wheelchairs that can be rented in and around the Daytona Beach area. He actually rents them in many other parts of Florida with a little advance notice. 
The fleet of chairs at Beach Mobility Rentals is extensive and includes all types of beach-accessible wheelchairs. The Nomad is their most terrain-versatile of the fleet. It is electric and equipped with fat, knobby tires designed for any turf. Greg also has electric chairs designed for street and sidewalk use, and some that are designed specifically for the beach terrain. There are also 2 un-electric chairs that can go in the water, and one of them even floats! Both of these chairs can be easily pushed by a companion. I ended up renting the Nomad, because it seemed to fit my body and range of motion.
My good friend Ben goes to church with Greg, and he first made me aware of Beach Mobility Rentals and their fleet of beach chairs. So, Ben and Greg set up a day trip for me at the beach where Greg personally delivered the Nomad beach chair. With my wife's help, they put me in the chair, and Greg quickly showed me how to operate it. Then Greg left with plans to meet me later in the afternoon to pick up the chair. The operational instructions are pretty simple, really. And even though I had never been in a chair so big before, I quickly got an idea of how it handled. After being joined by another friend Tully, we headed out.
They put me in the chair across the street from the beach, so we crossed over A1A at a stoplight. As I made my way onto the sand, I immediately challenged this chair to see what it could do. I took a hard right onto the soft sand, and I never even slowed down one bit. It felt pretty incredible! At this point, I can only try to explain how much fun I had.
I've taken my regular wheelchair down to the beach many times, and I often get stuck anytime the sand is not perfectly packed. With this chair, I tested it again and again to see if there was a limit to where I could (or couldn't) go. Because of the electric batteries, this chair is not allowed in the water. Other than that, I was able to go anywhere I wanted on the beach. There was even a section of sand that was obviously churned up by an over-zealous truck or two, something I see often. Usually, I stay as far away from that kind of loose sand as possible. But on this day, I made a beeline for it, and I cut through that mess like a hot knife through butter! No problems at all.
The three of us cruised the beach for the next couple of hours, dodging the bronzing beach-goers that were scattered on the sand. At Ben's request, Greg installed a drink holder on this chair. So as I cruised, I took sips of my cold, refreshing soda and stayed nice and cool under the overcast sky. I could have had an umbrella installed if I wanted to, but I chose to get a tan instead.
My chair and I ended up being a real inspiration for others on the beach. A few people stopped me and asked where they could get more information for their friend or relative in a similar situation. Greg had given us cards just in case, so Ben gladly handed them out. I got a lot of thumbs up and smiling waves as I glided through the sand without a care in the world.
After we packed up, we crossed the street to the parking lot where Greg was waiting for us at our planned rendezvous time and place. Again, my wife helped the boys put me back in my chair, and they gave it a quick wipe-down to remove any salt and sand picked up along the way. I thanked Greg, Ben, Tully, and my wife Jo Lynn for helping me experience a truly fantastic day at the beach.
If you or someone you know has a disability, Greg would love to rent you one of his chairs. He is a great guy with a great story, and he would like nothing more than to introduce you to a day on the beach like the one I had. 
Written by Steve Deal who provides Daytona Beach Area CVB with information about accessibility.