The motorsports roots run deep in the Daytona Beach area. From land speed records and beach racing to the high-speed thrills of stock cars, sports cars, motorcycles and go-karts at Daytona International Speedway, auto racing is an integral part of what makes the Daytona Beach area so unique and special.
A visit to the Daytona Beach area should include a dining experience at one of the race-car themed restaurants in Daytona Beach that not only provides great food, but also embraces the rich racing history of the destination. Here's a look at seven race-car themed restaurants in Daytona Beach that will add a little more horsepower to your vacation.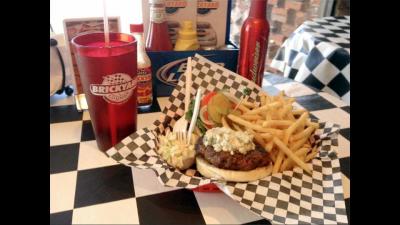 747 West International Speedway Blvd, Daytona Beach
Located in a distinctive A-frame brick building a couple of miles down the road from Daytona International Speedway on West International Speedway Blvd, the Brickyard Lounge & Grill, which opened in 1993, is famous for their ½ lb. hamburgers. This iconic restaurant's menu also features wings, salads, steaks and a full liquor bar, all served as guests are surrounded by racing memorabilia.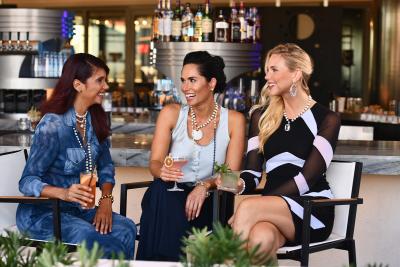 1870 Victory Circle, Daytona Beach

Blend in with the Daytona Beach dining scene at THE DAYTONA hotel, a Marriott Autograph Collection Hotel located at ONE DAYTONA, the shopping, dining and entertainment destination located across from Daytona International Speedway.
The Blue Flame and Sir Malcolm overlook Victory Circle at ONE DAYTONA and feature a unique décor reflecting the fascinating history of the world of racing. The Blue Flame delivers American cuisine with international influences, handcrafted cocktails including moonshine specialties, an extension wine list and custom draft beers.
At Sir Malcolm, wake up where breakfast classics meet comfort. Enjoy specialties such as the Bourbon Orange French Toast or sip on morning coffee.
Make sure to check out the Bluebird III, a replica of land speed record legend Sir Malcom Campbell, which resides in the dining room of the Blue Flame and Sir Malcolm.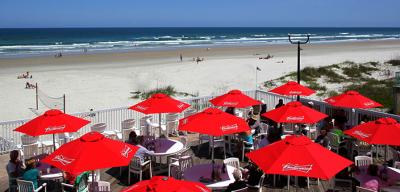 4511 South Atlantic Avenue, Ponce Inlet
Dine on the sand where beach racing got its start. Racing's North Turn Restaurant and Racing Museum sits on the exact location where beach racing began in Daytona Beach. The races took place on the beach starting in 1936 until World War II and then continued with the first Grand National race in 1948. Racing continued until 1958 when NASCAR relocated to Daytona International Speedway.
Enjoy sandwiches, wraps, steaks, seafood and pasta with a nice cold cocktail while also looking at racing memorabilia. Relax on the expansive deck overlooking the beach.
5218 South Ridgewood Avenue, Port Orange

The original First Turn Restaurant and Lounge was founded in 1984 on U.S. 92 near Daytona International Airport. Based on a stock car racing theme and home of the Charcoal Sizzlin' Steak, the original First Turn moved to its present location on U.S. 1 in 1988, one mile south of the Dunlawton Bridge.
2 South Atlantic Avenue, Daytona Beach

Cruisin Cafe Bar and Grill is a race car cafe like no other packed with the history of auto racing. Enjoy the thrill of dining in a genuine stock car. The decor includes amazing racing photographs, automobile panels and memorabilia that record the history of auto racing. Enjoy American style cuisine with a bit of everything including pizza, seafood, steaks, burgers and more.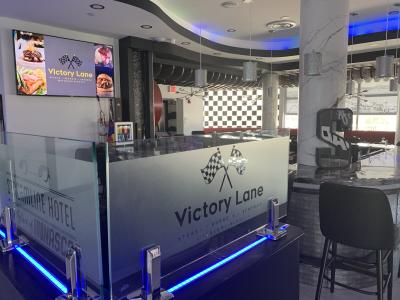 140 South Atlantic Avenue, Daytona Beach, FL
Recently opened, Victory Lane is located within the Streamline Hotel, which is a 1940's Art Deco boutique hotel located in the heart of Daytona Beach. Enjoy a menu that includes steaks, burgers and seafood in the hotel that is famous for being the Birthplace of NASCAR.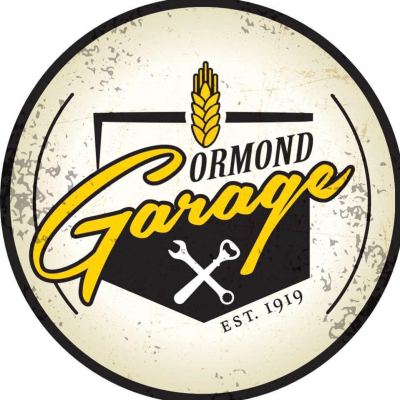 48 West Granada Blvd, Ormond Beach

The Ormond Garage is a dedicated craft brewery and American style eatery that delivers a unique dining experience that honors Ormond Beach's auto racing history. Take a step back in time and learn the history of automobile beach racing while feasting on delicious hand-helds with a southern twist and enjoying craft beers brewed with fresh, unique ingredients.
Before heading out to enjoy these dining options, make sure to contact establishments for updated operating hours. 
Ready to start planning your coastal getaway to Daytona Beach? Check out the great accommodations available in the area now, and start planning an amazing vacation today! We'll be looking forward to seeing you and your family in Daytona Beach soon!