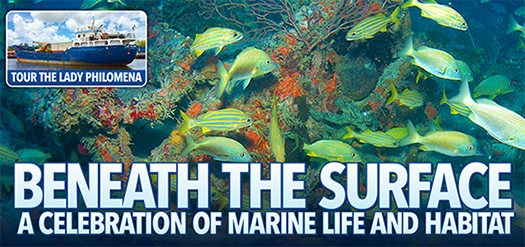 Diverse ecosystems and dynamic marine life are part of what makes the Daytona Beach area so special.To help ensure it stays that way, Volusia County has partnered with Coastal Conservation Association Florida, Building Conservation Trust and Yamaha to add to the county's artificial reef program.
A Storied Past
The Tug Everglades, a 90-foot steel tugboat and the Lady Philomena, a 150-foot steel cargo ship, are the latest vessels to join the area's extensive underwater artificial reef community located about nine miles offshore and 80 feet below the surface in Ponce de Leon Inlet. The massive Lady Philomena was donated to the county for reefing by the U.S. Customs and Border Protection service after it was seized with contraband in the Miami River. The Tug Everglades was moored in the same shipyard as the Lady Philomena and was donated to the same noble cause. 
The reef program has been in existence since the 1970s and consists of nearly 150 artificial reefs that have been constructed with the remains of ships, barges, concrete culverts, airplanes, bridges, FDOT concrete roadway construction barriers, concrete telephone poles and more. The habitats are strategically composed of multiple half-acre piles of structures that have been carefully deployed on the seafloor, helping to stimulate active marine life. They are teeming with fish, shrimp and crabs, and they support recreational and charter fishing and diving. 
To learn more, please visit the Artificial Reef Program.