As many wave-watching visitors are well aware, the Daytona Beach area is a perfect place to take up the sport of surfing — largely thanks to its regular, easily rideable swells and its coastal waters' flat, sandy bottoms. And beyond those surf-friendly characteristics, the area boasts yet another off-the-hook asset for aspiring wave riders: Mimi Munro Surf Camps.
Started in 2005 by Daytona Beach local and longtime competitive surfer Mimi Munro, these Ormond Beach-based camps run throughout the summer and cater to children and adults, as well as to surfers and aspiring surfers of all skill levels. Mimi Munro Surf Camps offers separate classes for adults and kids, and unless otherwise specified, all of the camps are held at Harvard Beach approach in Ormond Beach.

From the local waters to surfing stardom
Born in Daytona Beach and raised a short walk from the Atlantic Ocean in Ormond Beach, Mimi Munro spent much of her childhood in the local waters. When not in school or hanging around the house, she could often be found swimming, sailing, raft riding, fishing and crabbing in the Atlantic and the Halifax River with her siblings.
Around age 10, she took her first ride on a longboard after spotting friends in the waves with their dad's 10-foot Wardy surfboard. A couple of years later, with ample surfing skills under her belt thanks to regular visits to the beach at the end of her street with her brother's 9-foot surfboard, a fateful visit to the Florida state surfing championships at the Ormond Beach Pier swept Mimi into a life of surfing — and eventually into the young sport's record books.
The event's organizers were asking for girls to enter the competition so they could fill a couple of heats. Mimi's friends coaxed her into entering, a family friend paid her $15 entry fee — and she won first place!
During the years that followed, she built on this initial 1964 state championship with an array of surfing achievements, honors and awards, including (just to name a few):
Florida State Women's Champion 1964, 1965, 1966
East Coast Women's Champion 1964, 1965, 1966
1966 World Surfing Championships, third place in the Women's Division (Mimi is still the youngest surfer to place in a world competition.)
1966 SURFER Poll, fourth place (With this ranking, Mimi became the first East Coast surfer to place in the top 10 of a SURFER Poll.)
International Surfing Hall of Fame, inducted in 1967
East Coast Surf Legends Hall of Fame, inducted in 1996 (first woman inducted)
Surfing Walk of Fame, Huntington Beach, CA (2007 Woman of the Year)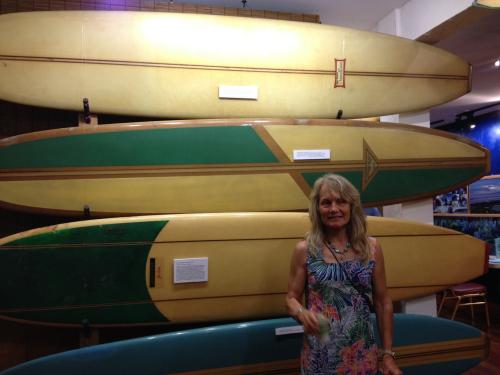 A chance to learn from a champion
At Mimi Munro Surf Camps, Mimi and her fellow instructors start offering instruction via group camps once school gets out for the summer. The camps are scheduled for every other week, and lessons begin when the tide is high in the morning. Surfboards are provided, but surfers can bring their own softboards if they'd prefer. (Outside the camps, the business offers group and private lessons throughout the year.)
Among the skills and knowledge surfers can gain by attending a Mimi Munro Surf Camp:
Understanding surfing equipment — what is needed, how to use it and how to care for it
Paddling, riding and board-handling skills
The hazards of surfing
Awareness and safety in the ocean environment
Surfing etiquette
For those concerned about safety as the pandemic threat lingers, Mimi Munro Surf Camps follows all of the Volusia County Lifeguard Corps' recommendations for COVID precautions, including not allowing surfers who are not feeling well or those under quarantine protocol to attend. And of course, all activities are held outdoors with proper social distancing in place.
Looking for more info on Mimi Munro Surf Camps? Visit the official business website for the latest class schedules and the  Mimi Munro Surf Camps Facebook page for regular updates and additional info on upcoming camps and classes. More information about surfing in the Daytona Beach area is available on DaytonaBeach.com.
Ready to splash into your next Daytona Beach adventure? Start planning your fun-soaked getaway today! We'll look forward to seeing you and your surf-seeking crew soon for some Wide. Open. Fun.