Visitors to Buc-ee's in Daytona Beach can find a great selection of food, drinks and souvenirs. But most of them think of Buc-ee's as something else.
Located at I-95 and LPGA Boulevard in Daytona Beach, Buc-ee's is more than just a gas station. It's an experience that includes 104 Buc-ee's gas pumps and a mega-convenience store that covers more than 50,000 square feet.
The Experience
The Daytona Beach location is one of more than 40 Buc-ee's sites in states including Texas, Georgia, Florida and Alabama. As soon as visitors arrive at any of those Buc-ee's locations, the experience begins. Visitors will immediately see the Buc-ee's cartoon beaver mascot, "Buc-ee," on the store sign. "Where the beaver never sleeps" is a slogan you can find on the company's website. Locations are open 24 hours a day, seven days a week.
Buc-ee's was founded in 1982, and ever since then, the company has shown a commitment to providing a clean, friendly and in-stock experience for its customers.
And when mentioning that experience, you have to talk about the restrooms. They are clean — very clean. Buc-ee's is even known for having the world's cleanest restrooms. In fact, in 2012, business-services company Cintas held a contest and awarded Buc-ee's in New Braunfels, Texas, for having the cleanest restrooms in the United States.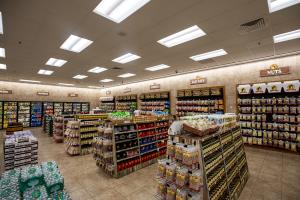 The Food
Stop in for tasty treats! The Buc-ee's food selection includes jerky, Texas BBQ, fudge, pastries and kolaches.
What are kolaches? They are pastries filled with sweet fruit jams or creams.
Hungry travelers can also find Beaver Nuggets at Buc-ee's.
What are Beaver Nuggets? They are a sweet corn-puff snack that's similar to caramel corn.
In describing the Calhoun, Ga., Buc-ee's location, an Atlanta magazine article stated that in addition to the kolaches, the store offers a barbecue sandwich, sausage on a stick, snacks such as more than half-a-dozen different kinds of yogurt-dipped pretzel, an extensive selection of drinks, and "an entire wall devoted to jerky."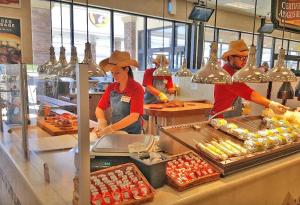 Shopping and Gifts
Take a break from your travels and enjoy the shopping experience! Buc-ee's describes its shops as being "filled with as many eclectic products as one could ever imagine." That encompasses regional food, and it also includes souvenirs, many of which depict the Buc-ee cartoon beaver mascot. One Tennessee store manager was quoted in a newspaper article as saying the store sells "anything you can imagine with a picture of a beaver on it."
In addition to its own Buc-ee's, the Daytona Beach area features more than 200 properties and 12,000 rooms, making it easy to choose from a wide variety of accommodation types. Visitors can find a great place to stay for a family vacation or a group gathering, with accommodations including boutique inns, oceanfront cottages and resorts. Visitors can also choose from various hotels, motels, bed & breakfasts, condo hotels, vacation rentals and campgrounds/RV parks.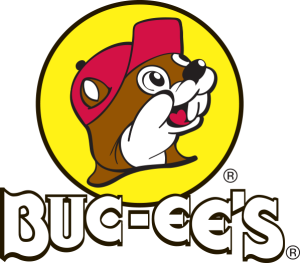 More on the Experience: Trivia
Did you know the New Braunfels, Texas, store is the largest convenience store in the world at 66,335 square feet?
Buc-ee's in Katy, Texas, is said to boast the world's longest car wash, with 255 feet of conveyor.
Buc-ee's also supports its local communities, contributing to non-profits supporting causes with the greatest need and longest-term effect.
If you are looking for a unique experience on your trip to Daytona Beach, that experience must include a stop at Buc-ee's.
Plan your Daytona Beach Getaway Today