Whether your family is homeschooling, roadschooling, or virtual learning, adding first-hand experiences to the mix is a great way to make family time fun AND educational.
From tasting new food to exploring history to experiencing a new adventure, travel can be a fun and rewarding way to enrich a child's education.
The Daytona Beach area offers many resources that will help make your beach vacation an edu-cation.  Get started now with this list of great ideas!
Art and Science

Spend the day and explore the universe at the Smithsonian-affiliated Museum of Arts & Sciences (MOAS). With exhibits for all interests, there is something for everyone at MOAS.  Unleash your child's imagination in the Children's Museum and try out interactive exhibits that demonstrate various principles of science. Travel through the universe in the Planetarium that features live star shows and full dome animated movies daily. Learn about the history of Coca-Cola, explore the Train Station featuring two full size train cars, and visit with our Giant Ground Sloth skeleton.
If you go: MOAS.org | 386-255-0285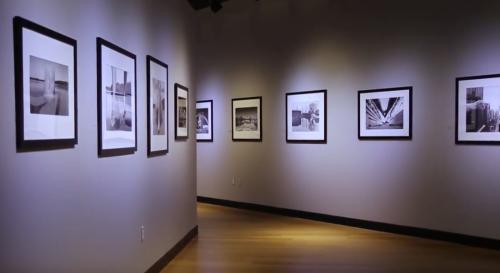 Located on Daytona State College's campus, the Southeast Museum of Photography is Florida's only museum dedicated to photography and admission is free. The Museum's exhibits and collections enhance understanding and appreciation of culture, history, art and photography.
If you go: SMPonline.org | 386-506-3894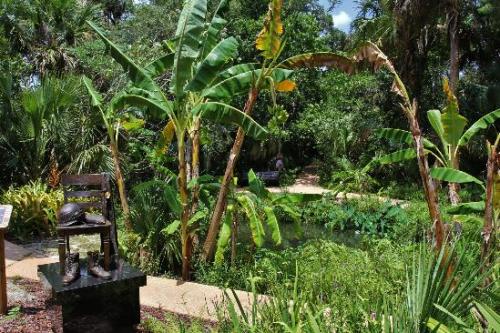 The Ormond Memorial Art Museum and Gardens offers changing gallery exhibits, art classes and kid's programs. Afterwards walk along the nature trails that wind through the lush, shaded tropical gardens, complete with fishponds and fountains. The Museum is in downtown Ormond Beach within walking distance of eateries and shops, just blocks from the beach.  Admission is free, although a $2 per person donation is gratefully accepted.
If you go: OrmondArtMuseum.org | 386-676-3347
Physical Education
With six state parks, a national seashore and a national wildlife refuge you'll want plenty of time to explore the Daytona Beach area. Not sure where to start? Here are two favorites.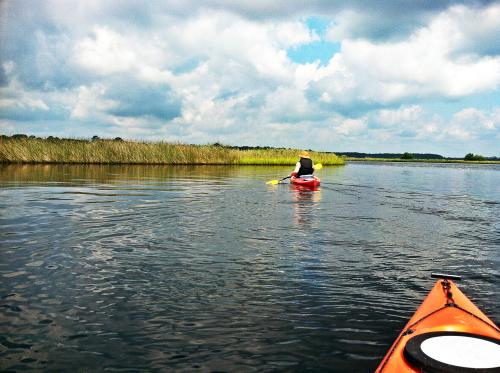 Native Americans once dwelled in what is now Tomoka State Park, living off fish-filled lagoons. Today, the inland waterways surrounding the park are popular for canoeing, boating and fishing. The park protects a variety of wildlife habitats and endangered species and is a bird watcher's paradise, especially during the spring and fall migrations.  Canoe and kayak rentals, along with snacks and beverages, are available onsite at The Tomoka Outpost.
If you go: FloridaStateParks.org | 386-676-4050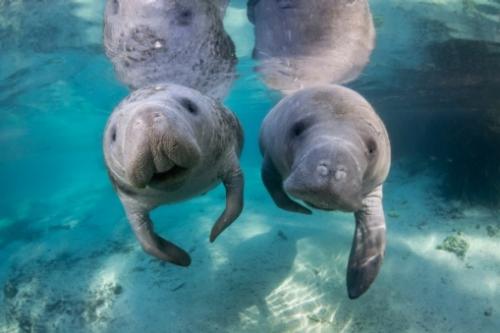 Located 45 minutes west of Daytona Beach, Blue Spring State Park is a favorite natural spring where from March through October you can swim and float in the crystal-clear water. From November through March, you can stroll along the walks and decks to observe manatees, also known as sea cows, that gather by the hundreds to keep warm in the spring water. Explore the St. Johns River aboard a guided boat cruise. Canoe and kayak rentals are also available at the park. Hike through the natural habitat along several well marked trails.
If you go: FloridaStateParks.org | 386-775-3663
History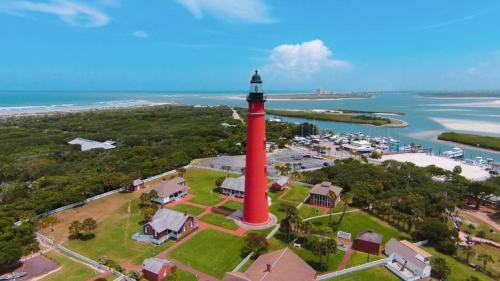 The Town of Ponce Inlet, located just south of Daytona Beach on tip of the barrier island, is the home of the tallest lighthouse in Florida. Along with historic displays, carefully preserved keepers' cottages and an exhibit of rare Fresnel lens, climbing the 203 steps to the top of the 175-foot Ponce Inlet Lighthouse will reward you with spectacular 360-degree views of the beautiful Atlantic shoreline and inland waterways.
If you go: PonceInlet.org | 386-210-3660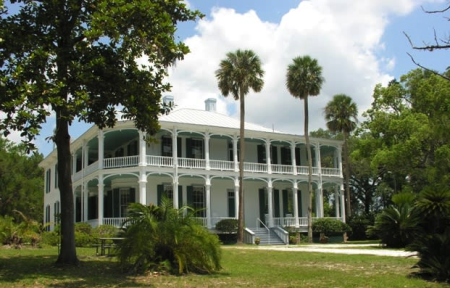 In the 1800s and early 1900s, some of this country's wealthiest people, along with presidents and princes, visited DeBary Hall, the 19th century winter retreat of European wine-merchant Frederick deBary. Today, the 10-acre site is listed on the National Registry of Historic Places and a variety of educational programs for adults and kids are held in the 8,000 square foot hunting lodge and other buildings. Access to Gemini Springs Park and the paved Spring-to-Spring Trail is just around the corner.
If you go: Volusia.org | 386-668-3840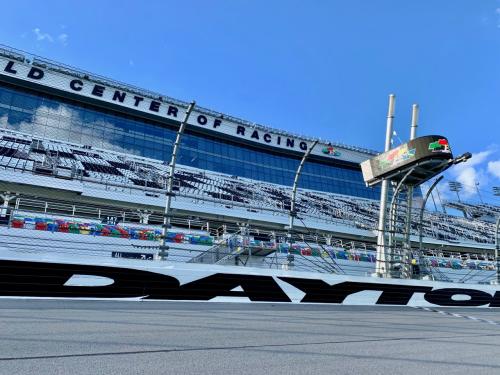 Venture behind-the-scenes and discover what makes Daytona International Speedway the World Center of Racing. During the 30-minute Speedway Tour, take a ride through the infield, see the 31-degree high banks and pass through the garages as you learn about the history of Daytona International Speedway. Travel along Pit Road and discover how NASCAR's top drivers prep for the largest motorsports event of the year. All tours include the Motorsports Hall of Fame of America and a close-up look at the winning DAYTONA 500 car.
If you go: DaytonaInternationalSpeeday.com | 1-800-PIT-SHOP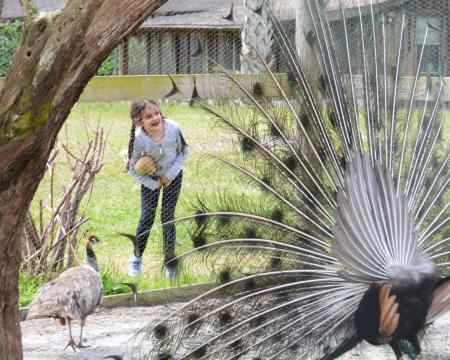 Step back in time at the Barberville Pioneer Settlement. This historical village features 19 structures nestled within a charming, moss-draped oak hammock in western Volusia County. Discover what living in rural Florida in the bygone days of the late 19th and early 20th centuries was like. Choose from self-guided or docent-guided tours. Self-guided tours with map and descriptions are available during operating hours and docent-guided tours are available to groups with 5 or more people with 24-hour advanced reservations. Children under 5 are free!
If you go: PioneerSettlement.org.| 386-749-2959
 
Share The Heritage
African Americans were among the Daytona Beach area's earliest settlers. Today, visitors to Daytona Beach can explore many historical sites and learn about the legacies of influential Black leaders linked to Daytona Beach including Dr. Mary McLeod Bethune and Jackie Robinson.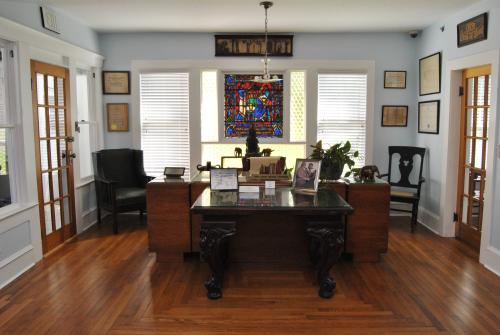 The home and gravesite of Dr. Mary McLeod Bethune presents fascinating memorabilia and artifacts from this leader's high-profile career. This National Historic Landmark is situated on the grounds of Bethune-Cookman University and offers guided tours. The daughter of former slaves, Dr. Bethune became a renowned educator, educator, civil rights leader and advisor to five U.S. presidents. For most of her life she resided in Daytona Beach where in 1904 she founded the Daytona Literary and Industrial School for the Training of Negro Girls with little more than $1.50 in cash, faith in God and five little girls for students. The school eventually became a co-ed high school and later merged with Cookman Institute of Jacksonville. In 2007, it became Bethune-Cookman University as it is known today.
If you go: Cookman.edu | 386-481-2121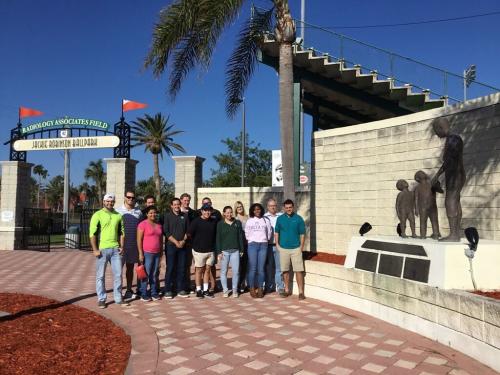 Jackie Robinson Ballpark & Museum is where baseball legend Jackie Robinson broke the 'color barrier' in professional sports when he played in his first spring training game in 1946. A bronze statue of Robinson is on permanent display outside the park's entrance. There are also numerous historical markers inside the ballpark detailing the facility's history as well as an outdoor museum. Ballpark tours are available by appointment.
If you go: MILB.com| 386-257-3172
Environmental Science

Also in Ponce Inlet, the Marine Science Center is the area's only sea turtle hospital and environmental learning center. Expand your knowledge of our unique marine environment and learn about conservation and rehabilitation efforts that protect sea turtles, seabirds and other marine life.
If you go: MarineScienceCenter.com | 386-305-5545

The Marine Discovery Center in New Smyrna Beach focuses on exploration, conservation and education. Visitors can book eco-boat and kayak tours, or participate in educational programs including homeschool programs, naturalist classes, lectures, more.
If you go: MarineDiscoveryCenter.org | 386-428-4828

The 360-acre Lyonia Preserve located west of Daytona Beach features hiking trails throughout the natural Florida scrub habitat, home to several threatened species including the scrub jay and gopher tortoise. The naturalist staff and volunteers at the Lyonia Environmental Learning Center provide a variety of educational programs throughout the year – classroom, group tours, guided hikes – as well as hands-on, interactive learning experiences for homeschoolers.
If you go: Volusia.org | Lyonia Environmental Learning Center 386-789-7207
Outdoor Classrooms

When the whole family is on board to try something new, having a bit of expert instruction might be just what's needed. From eco-tours to surfing lessons with a pro, to dolphin and manatee tours for first time paddlers to fishing outfitters with all the gear, enlisting an experienced guide is a great way to help ensure everyone will have fun and be safe. Come explore the great outdoors in Daytona Beach!
Ready to start planning? Check for special offers on our Daytona Beach Hotel Deals page. Download our free official destination guide, or sign up for our e-newsletter.