About Us
Welcome to the Daytona Beach Area!
In this section of our site, you will find information on the workings of the Daytona Beach Area Convention and Visitors Bureau (DBACVB). Select from one of the sections listed on the left for details.
To learn more about joining one of our advisory committees, click here.
We offer a variety of free services to our local tourism and hospitality industry partners. For more information, or to schedule a visit, contact: Roxanne Olsen, (386) 255-0415 ext. 114 or email rolsen@daytonabeach.com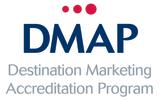 The Daytona Beach Area Convention and Visitors Bureau is a Destination Marketing Accredited Organization
The DBACVB is seeking volunteers to serve as official Tourism Ambassadors. Tourism Ambassadors are needed to welcome visitors at local visitor centers; greet visitors attending conventions and specials events; and to assist with various special projects and promotional programs.
For more information on becoming a Tourism Ambassador, click here!