DAYTONA BEACH, Fla. – Interest in trails is growing fast in the Daytona Beach area, and one of the newest favorites is the Share the Heritage Trail.
African Americans were among the earliest settlers in Daytona Beach, and the new Trail encourages today's visitors to explore the area's rich history, historical sites and legendary legacies.  
Top Three Must-See Trail Stops: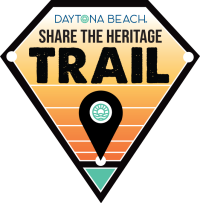 1. The home and gravesite of civil rights leader and educator Dr. Mary McLeod Bethune presents fascinating memorabilia and artifacts from this legend's high-profile career. This National Historic Landmark is situated on the grounds of Bethune-Cookman University and offers guided tours. The daughter of former slaves, Dr. Bethune became an advisor to five U.S. presidents. For most of her life she resided in Daytona Beach where in 1904 she founded the Daytona Literary and Industrial School for the Training of Negro Girls with little more than $1.50 in cash, faith in God and five little girls for students. The rest is history!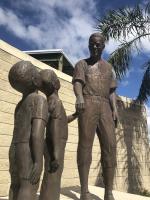 2. Jackie Robinson Ballpark is where baseball legend Jackie Robinson broke the 'color barrier' in professional sports when he played in his first spring training game in 1946. A bronze statue of Robinson is on permanent display at the ballpark's entrance. Schedule a tour and explore the numerous historical markers and outdoor museum, which detail the facility's amazing history. Or take in a game and root for the home team, as the Cincinnati Reds' own Daytona Tortugas play during the season.
3. The Smithsonian-affiliated Museum of Arts & Sciences is home to one of the finest African art collections in the Southeast.  This collection features 130 pieces of rare Ashante gold, as well as tribal and ceremonial objects includes masks, sculpted figures, carved commemorative staffs, ritual ornaments and more.
From churches and museums to galleries and gravesites, the Share the Heritage Trail boasts more than a dozen sites located throughout the destination. Visitors can map out their own itinerary and see a few – or book a few extra days of stay and see them all! For more information about African American heritage and cultural sites throughout the Daytona Beach area, go to https://www.daytonabeach.com/things-to-do/arts-and-culture/african-american-heritage/.
About the Daytona Beach Area | #LoveDaytonaBeach
Experience endless adventures in the Daytona Beach area, a destination comprised of eight distinct communities offering visitors the perfect beach base camp to explore East Central Florida. Choose thrilling activities or embrace the tranquility of days spent on 23 miles of world-famous white-sand beaches. With more than 12,000 beds, the destination boasts accommodations for all lifestyles and budgets from 4-star resorts to hotels, B&Bs and everything in between. More information is available at DaytonBeach.com. #LoveDaytonaBeach