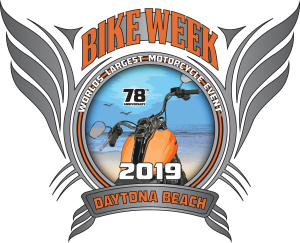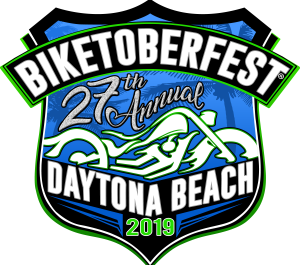 2019 Motorcycle Rallies in Daytona Beach
78th Annual Daytona Bike Week March 8-17 and 27th Annual Biketoberfest® October 17-20
DAYTONA BEACH, Fla. (November 12, 2018) – Daytona Beach will be welcoming motorcycle riders and enthusiasts from across the country and from around the world to two rallies in 2019: the 78th Annual Daytona Bike Week and the 27th Annual Biketoberfest®:
78th Annual Daytona Bike Week, March 8-17, 2019
Enjoy 10 days of high-octane street festivals, concerts, motorcycle races, bike shows, rallies, manufacturer showcases, and much more. Motorcycle enthusiasts from around the world enjoy spring riding in DaytonaBeach along historic Main Street to Midtown, Scenic A1A Highway and through the best of old Florida on the Ormond Beach Scenic Loop. The celebration continues at Daytona International Speedway, Teddy Morse's Daytona Harley-Davidson, and the U.S. Highway 1 corridors in Daytona Beach and Ormond Beach. The official source for information is OfficialBikeWeek.com
27th Annual Biketoberfest®, October 17-20, 2019
This annual Daytona Beach motorcycle rally draws bikers, motorcycle enthusiasts and curious travel seekers who want to enjoy beautiful fall weather, live music and motorcycle races at Daytona International Speedway. From the thrill of live racing to cruising along some of the most scenic rides in Central Florida, the official source for information is Biketoberfest.org.

About the Daytona Beach Area, Bike Week and Biketoberfest®
Discover Daytona Beach and its surrounding area, a resurging destination along Florida's East Coast comprising eight distinct communities. Daytona Bike Week has been a tradition since the inaugural running of the Daytona 200 in 1937. Biketoberfest® has drawn thousands of riders to this rally every October since 1993. Recognized worldwide for these and other events including the Rolex 24 At DAYTONA and the DAYTONA 500 at Daytona International Speedway – the 'World Center of Racing' - Daytona Beach also claims the headquarters of LPGA and NASCAR. With more than 12,000 rooms and 200 hotels, the destination offers a wide range of accommodations from 4-star resorts, hotels, B&Bs, campgrounds and everything in between. With 23 miles of world-famous beaches and so much more, it's no surprise the area was ranked #1 in Travel Channel's "Top 10 Attractions in Florida", and one the "10 Most Affordable Beach Vacations on Florida's East Coast" by TripAdvisor. Visit OfficialBikeWeek.com and Biketoberfest.org.