Experience cinematic excellence in an all-natural environment during the "Movies on the Halifax" series. Each first Friday of the month from now through December, The Casements will host a movie night under the stars and along the waterfront in Rockefeller Gardens. It's a wonderful way to enjoy entertainment with your family in the great outdoors. Sponsored by the Department of Leisure Services and The Casement Guild, the movie nights are offered to the public free of charge.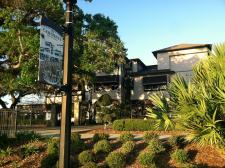 The Casements, located in Ormond Beach just a short drive from downtown Daytona Beach, is the former winter home of millionaire and philanthropist John D. Rockefeller. His love for Daytona Beach's mild climate and pleasing environment extends perfectly to an event you can enjoy in the gardens. The Casements is listed on the National Register of Historic Places and offers plenty of amusement, even when a movie isn't playing. If you want to explore this expansive and beautiful property, take part in a free tour. They are offered Monday through Friday from 10 a.m. until 3:00 p.m., and on Saturday from 9:30 to 10:30 a.m.
Should you find yourself looking for something fun to do on a Friday night, "Movies on the Halifax" is sure to please. Parking is a breeze on-site, but be sure to bring your own blanket or chair so that you can kick back and enjoy the movie.
The films are kid-friendly, with mostly PG-rated movies and the occasional PG-13. There's a wide range of films included in the series, ranging from classics to new favorites. Come out and join the fun with a movie under the stars that all ages will enjoy. Check out the full lineup below, and visit TheCasements.net for more information.
WHAT: Wonder Woman
WHEN: June 1, 2018, 8:30 p.m.             
RATING: PG-13
WHAT: Jumanji: Welcome to the Jungle
WHEN: July 6, 2018, 8:30 p.m.             
RATING: PG-13
WHAT: Paddington 2
WHEN: August 3, 2018, 8:30 p.m.             
RATING: PG
WHAT: A Wrinkle in Time
WHEN: Sept. 7, 2018, 7:45 p.m.             
RATING: PG
WHAT: Hotel Transylvania 2
WHEN: Oct. 5, 2018, 7 p.m.             
RATING: PG
WHAT: Star Wars: The Last Jedi
WHEN: Nov. 2, 2018, 6:30 p.m.             
RATING: PG-13
WHAT: It's a Wonderful Life
WHEN: Dec. 7, 2018, 6:30 p.m.      
RATING: PG
From catching movies under the stars to paddleboarding on the inlet, there's no end to the family fun waiting to be had in Daytona Beach. Pack your biggest beach blanket, bring some snacks, and join in the fun along the riverfront — we'll see you there.