An easy weekend getaway with the kids — it almost sounds like an oxymoron, right? But it IS possible in Daytona Beach. In fact, it's more than possible. It's easy. 
Sometimes, the effort of planning a big trip far in advance is what holds us back from taking the vacation. Finding a hotel, organizing activities for all age groups and making logistical arrangements can seem like a big commitment — maybe one we can't make too far ahead of time. Luckily, Daytona Beach makes it easy and effortless to go for a fun weekend escape — even if you plan at the last minute! 
For those residing within a drivable distance of Daytona Beach, such as in Atlanta, Miami, Tampa or Orlando, the car ride to Daytona Beach is scenic. Located just off of I-95 and I-4, it's easy to navigate to and from Daytona Beach.
Even if you only have 48 hours to spend in our special city, you can squeeze in a lot of fun, relaxation and waterfront fun. Ahead, check out our suggested itinerary for your weekend trip:
Friday Mid-Day: Arrive in Daytona Beach!
Drop your luggage and throw on swimsuits — it's time for the kids to burn off some of that extra, pent-up energy that may have accumulated on the trip. Go for a quick dip in your hotel pool or head to the beach for an afternoon splash; it'll feel good after sitting in the car.
Friday Night:
Next up, after everyone has showered and dressed, go for a wonderful waterfront meal at any one of Daytona Beach's fabulous restaurants with a view.
After soaking in the sunset and maybe topping off the night with a sweet treat, it's back to the room to rest up for another day of adventures.
Saturday Morning: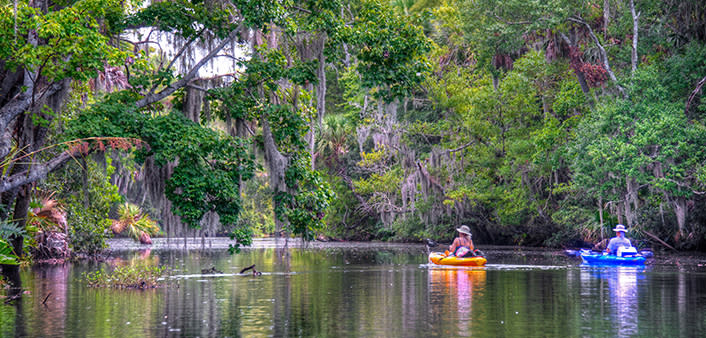 Rise and shine! If you are a family of early risers, the magnificent view of the sun rising over the Atlantic Ocean is truly unbeatable. Go for a family stroll, or stay in your jammies and soak it in from your hotel room's balcony.
Start your morning with an outdoor adventure before the day warms up.Rent canoes, kayaks or paddleboards and explore Daytona Beach's wild side. Eco-adventures are a great way to spend time together in nature while seeing a different, more natural side of Florida. Be sure to check out these top eight spots to kayak in Daytona Beach before you go!
Saturday Afternoon:
Pack up some sandwiches and load the cooler with icy-cold water bottles — it's time to head to the beach! Enjoy a relaxing afternoon of sandcastle building, splashing in the waves and snoozing in the sand. With 23 miles of famously wide beaches, you and your family won't have any trouble finding a spot all to yourself on the shoreline.
Saturday Night:
Daytona Beach's nightlife is vibrant, especially in the summertime. Head to the Daytona Beach Bandshell for a FREE oceanfront concert at the amphitheater. The shows are always rockin', and they're even followed by fireworks shows on Saturday nights. Check out the full concert line-up here.
If live music isn't your thing, check out one of the many craft beer breweries in the area. Many host food trucks as well as games and outdoor space, making it family-friendly (even for those under 21!).
Rainy Day Back-Up Plan: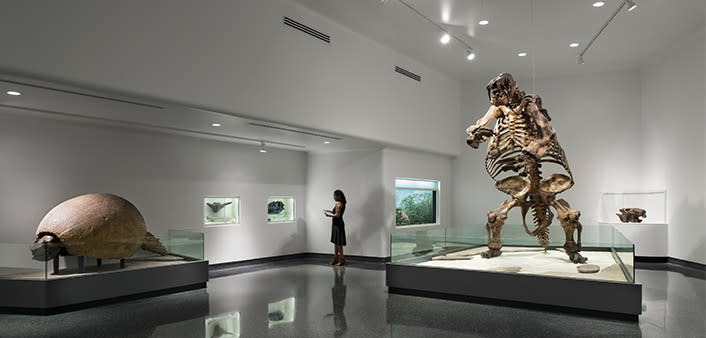 Hit the Museum of Arts & Sciences (MOAS)! Located in the lush, 90-acre Tuscawilla Preserve, MOAS is a Smithsonian Institution Affiliate and is nationally accredited by the American Alliance of Museums. You will be mesmerized by the vast range of art and the kids will LOVE the interactive fun that awaits at the popular Charles and Linda Williams Children's Museum inside MOAS!
Here, children can safely experience the principles behind engines by assembling and racing a race car. Learning how to take vital stats — an activity that's just what the doctor ordered — is also among the activities on tap. And, music is even more fun when you get to play a harp with laser beams! And, for kids who may have outgrown those activities, there's always the planetarium to check out!
Sunday Morning:
Bring your appetite and indulge with one of Daytona Beach's many delicious brunch options. From waffles to huevos, these five top spots have you covered.
Make your way toward the Ponce Inlet Lighthouse, which opens at 10 a.m. daily. Climb your way up all 203 steps to the top and enjoy a clear, 360-degree view of the city, the ocean and the waterways surrounding the area.
Once you're done perusing the Ponce Inlet Lighthouse grounds and museum, pop over to the Marine Science Center right nearby. Go on an educational journey through marine life, explore various sea-creature exhibits, touch a stingray, observe sea turtles in the rehabilitation hospital, and meet the creatures of the artificial reef system. It's a wonderful way to learn how to appreciate the wide, wonderful waters surrounding Daytona Beach, as well as how we can play a role in keeping them safe.
Sunday Afternoon: Depart Daytona Beach.
Sun-soaked and fully recharged, you'll head home already wondering when you can bring your family back to Daytona Beach.
Well, what are you waiting for? Book your weekend getaway now!
In Daytona Beach, there are tons of places to stay with waterfront views, resort-style pools and complimentary breakfasts — and all at a great price, too!
With more than 200 properties and a combined 12,000 rooms, there is no shortage of accommodation options in the Daytona Beach area. Because of the sheer number of choices available, it's typically no problem to get an oceanfront hotel room at the last minute. In-suite kitchenettes often make family travel more affordable, and there is also an array of condos and inns from which to choose. 
A weekend getaway is easy, breezy around here — so come and see us soon!