The ultra-savvy vacationer knows one of the best ways to save money on a vacation is to find a hotel room that comes with an in-room kitchenette! Many accommodation options in the Daytona Beach area feature full-sized fridges, mini-stoves and microwaves. Having the freedom and convenience to do a little cooking at your home away from home not only makes the entire vacation more affordable, it also opens up lots of options for vacationers. Ahead, read four of the best incentives for choosing a kitchenette for your next Daytona Beach getaway. 
Super Savings
The most obvious (and most common) reason for choosing a hotel or condo with an in-room kitchenette is the ability to make a few meals in the room and save on the costs of eating out. Of course, splurging on a special seafood meal on the waterfront or tasting some of the creative cuisine in town is part of the fun during most vacations — and that's a good thing! By mixing in a few quick-fix sandwiches, one-pot stovetop meals and microwaveable snacks with your plans to eat out, you can make more room in your budget for additional fun activities!
Pack up the Picnic
A full day at the beach can work up an appetite! Stay ahead of being "hangry" by packing up plenty of snacks and water for a seaside picnic. With a kitchenette, it's easy to make a quick pit stop at the store to gather the makings of the perfect picnic. Keep the fridge filled with grapes, hummus, cheese, sandwich fixings, sparkling water and whatever else strikes your fancy, and you'll be able to quickly pull together a delightful picnic at a moment's notice.
Enjoy Leftovers
Were your eyes bigger than your stomach? Or maybe you simply over-ordered because everything looked too delicious! Many Daytona Beach restaurants pride themselves on providing excellent value and good-sized portions — and sometimes that means you won't be a member of the clean plate club! When you have a kitchenette, though, leftovers are just a bonus to be enjoyed the next day (or perhaps for a midnight snack!). Make the most of your restaurant experience and enjoy reheated leftovers, thanks to your kitchenette.
A Taste of Home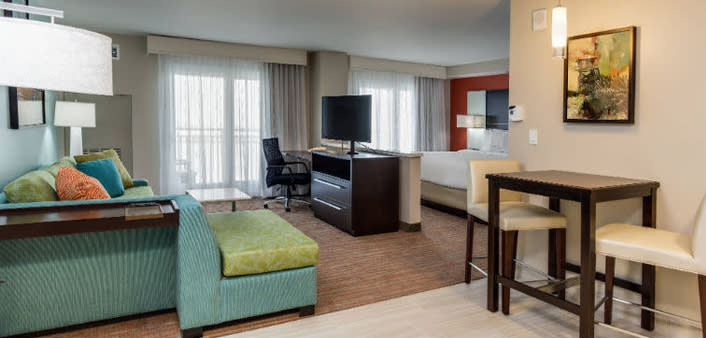 Many accommodations options include a full-sized fridge, which makes satisfying the whole vacation crew much easier. For some, simply having the coffee creamer you're used to, the baby food you need to refrigerate or the precious picky-eater-approved snacks on hand can make or break a relaxing vacation. Especially if you are traveling with kids, having some familiar food options on hand can make a big difference when everyone is out of the usual routine. With room to keep fresh fruit and veggies, having a fridge in the room might even make vacation a bit healthier, too!
Enjoy exceptional vacation value and get more bang for your buck! View a complete list of Daytona Beach hotels that include a kitchenette, and start planning your getaway today!