A day full of exploring the city, splashing around during water sports and lounging on the beach can work up an appetite. Check out some of these local favorite restaurants on your next trip to the Daytona Beach area. 
For Breakfast
Starlite Diner

This iconic 1950s-style diner serves up classic breakfast and diner items all day long. Check out the menu here.
WHERE: 401 N. Atlantic Avenue
TYPICAL PRICE: $3-$11
SPECIALTIES: Pancakes, breakfast combos
Located on a fishing pier, Crabby Joe's gives you the option to dine inside or on the deck for breakfast, lunch and dinner. It's a true oceanfront experience, complete with a sea breeze and fishermen passing by with the fresh catch of the day. Click here for the breakfast menu.
WHERE: 3701 S. Atlantic Avenue
TYPICAL PRICE: $6-$15
SPECIALTIES: Crab cake Benedict, omelets, hotcakes
The Cracked Egg Diner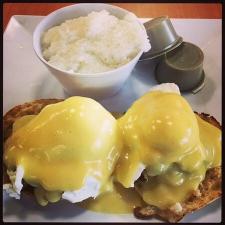 Widely regarded as one of the best breakfast joints in the Daytona Beach area, The Cracked Egg offers a menu without any bad options.
WHERE: 3280 South Atlantic Avenue
TYPICAL PRICE: $5-$10
SPECIALTIES: Omelets, eggs Benedict, homemade apple fritters
For Lunch
Antman's Crazy Kitchen
Grab a wrap or hot sandwich at this popular spot — a great choice for brunch and daily lunch specials. Click here for the full menu.
WHERE: 112 Bay Street
TYPICAL PRICE: $7-$10
SPECIALTIES: Hot sandwiches, Philly cheesesteaks, crabby fries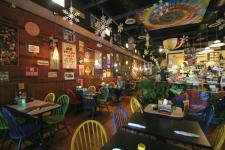 After a morning spent in the sunshine, refuel with "real" food — delicious concoctions that aren't over-processed or overly prepared.
WHERE: 110 S. Beach Street
TYPICAL PRICE: $8-$15
SPECIALTIES: Vegan dishes, salads, wraps
For Dinner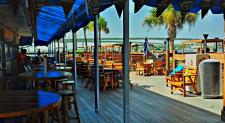 This waterfront restaurant and bar is perfect after a day spent lounging on the beach on the beach or exploring the city. You can even dock your boat at the on-site marina!
WHERE: 721 Ballough Road
TYPICAL PRICE: $10-$18
SPECIALTIES: Fishbowl drinks, seafood, fish plates
For a romantic atmosphere and excellent service, try this restaurant specializing in fine Italian dining. Reservations are recommended. View the full menu here.
WHERE: 220 Magnolia Avenue
TYPICAL PRICE: $20-$40
SPECIALTIES: Homemade pasta, fresh seafood, fine wines
Ocean Deck Restaurant & Beach Club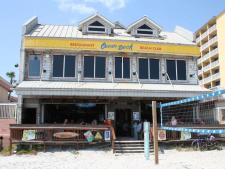 Ideal for a laid-back dinner or group gathering, this beachy spot is known for live music and fried seafood.
WHERE: 127 S. Ocean Avenue
TYPICAL PRICE: $12-$20
SPECIALTIES: Fried seafood, Rasta chicken, shareable appetizers
Something Sweet
Angell & Phelps Chocolate Factory
No trip to Daytona Beach is complete with a stop by this chocolate factory to satisfy your sweet tooth! Drop in to get a treat and take a free, 20-minute guided factory tour at select times.
WHERE: 154 S. Beach Street
TYPICAL PRICE: $1-$20
SPECIALTIES: Chocolate-covered potato chips, assorted chocolate boxes
No matter where you choose to eat in Daytona Beach, you can't go wrong. Better yet, stick around for awhile and try them all.