Adventurers, nature lovers and outdoor enthusiasts are all drawn like magnets to the Daytona Beach area, and it's understandable why! With innumerable marshes, springs, lakes, rivers, creeks and inlets, the region is brimming with fun-filled water activities.Explore the waterways, soak in some fresh air, and get to know Florida's wild side at any one of these area locations:
This Florida State Park features the largest spring on the St. Johns River! The beautiful Blue Spring is crystal clear and 73 degrees — ideal for taking a seasonal swim or paddling through on a kayak or canoe. What makes this park a real standout is its designated manatee refuge, which also serves as the winter home to a growing population of West Indian manatees. You can rent your canoe or kayak and launch right on-site, and afterward enjoy snorkeling, scuba diving, walking trails and more.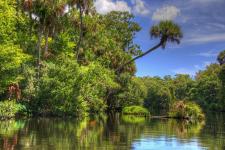 Cracker Creek is a historic outdoor venue located right on the banks of the Spruce Creek River in Port Orange, just up the road from Daytona Beach. The venue offers several types of personal boating options, including tandem kayaks, single kayaks and canoes — all ideal for exploring the river and soaking in close-up views of the landscape and wildlife. Rates start at just $18 per hour for a single kayak rental.
Situated an easy 45-minute drive from the heart of Daytona Beach, DeLeon Springs State Park offers a natural escape from life's busyness. After exploring the park's historical ruins and displays, guests can rent paddleboards, kayaks or canoes at the concession area. The park's paddling trail provides access to the 22,000-acre Lake Woodruff National Wildlife Refuge, with an abundance of lakes, creeks and marshes to explore. Bonus: you can make-your-own pancakes onsite at The Old Spanish Sugar Mill Grill and Griddle House.
Located in the city of DeBary, about 35 miles from the oceanfront in Daytona Beach, the 210-acre Gemini Springs Park provides endless places to explore. The crystal-clear spring is a major trailhead for the Spring-to-Spring Trail, with nearly 6.5 million gallons of sparkling fresh water bubbling up from the two springs each day. In addition to renting kayaks and canoes here, you can enjoy equestrian trails, fishing docks and a popular dog park.
Experience the more secluded side of wild Florida at Hontoon Island State Park, located six miles west of DeLand off of State Road 44. Soak in peace and solitude on this island situated in the St. Johns River, which is only accessible by private boat or park ferry. Hike through the park, learn about Native American history on the island, observe the abundant wildlife, or rent kayaks or canoes to paddle around the river. The park's ferry operates daily from 8 a.m. to one hour before sunset.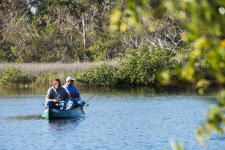 This is Ponce Inlet's largest park, with approximately 41 acres stretching from the Atlantic Ocean to the Halifax River. Sitting at the heart of the park is the Green Mound State Archaeological Site, an ancient Indian midden, as well as an ancient live oak tree estimated to be more than 350 years old. While there is plenty to explore in the park, you can venture beyond its boundaries by heading down the creeks via the kayak and canoe launch. Note that unlike some of the other places listed here, no rentals are available at Ponce Preserve — you must bring our own or rent from a local company.
Tiger Bay State Forest is located in the central section of Volusia County, approximately 12 miles west of Daytona Beach, and easily accessed off of West International Speedway Boulevard. Although there are no on-site rental companies, the state forest's canoe and kayak launch allow you to explore the wetlands, two lakes and the main water feature for which the park is named: Tiger Bay. If you prefer to stay on dry ground, horseback riding and bicycling are also popular recreational activities at Tiger Bay State Forest.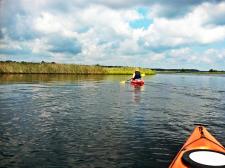 This park and former Native American dwelling ground is a local favorite for camping, fishing, boating and more. Tomoka State Park protects a variety of wildlife habitats and endangered species, such as the West Indian manatee — and you can get a close-up look at all of it by renting a canoe on-site and launching nearby. Floating along the Tomoka River, you'll also have an incredible vantage point to observe some of the 160 species of birds that have been spotted in the area.
In addition to Daytona Beach's famous 23 miles of white-sand beaches, the city and its surrounding regions are a nature-lover's paradise. With so many great parks and launch sites, it can be hard to choose just one to explore — the only solution is to stay another day! For a complete list of kayaking and canoeing options in the Daytona Beach area, view the full line-up of launch sites and rental companies here.