For decades, motorcycling enthusiasts have descended upon Daytona Beach by the thousands each October for the Southeast's best motorcycle rally. That tradition continues in 2023 with the 31st Annual Biketoberfest®!
If you enjoy getting together with fellow bike lovers and taking scenic rides in the beautiful fall Florida weather, as well as exciting live music performances, thrilling motorcycle races and shows, and other biking-themed fun, this famous four-day motorcycle rally is for you! Read on to discover just a handful of the highlights among the many fun-fueled events and other things to see and do at this year's Biketoberfest®, set for October 19–22 in Daytona Beach.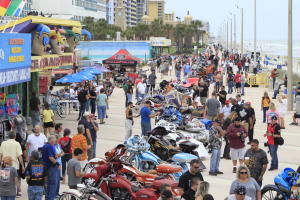 Ride the Loop
Winding through lush live-oak canopies and boasting an abundance of beautiful ocean, river and marsh views, the famed Ormond Beach Scenic Loop covers 30-plus scenic miles running from Birthplace of Speed Park to the Tomoka River basin. Along the way, bikers can stop at roadside attractions such as North Peninsula State Park, Highbridge Park, Bulow Creek State Park and the Fairchild Oak, and Tomoka State Park.
Even better, this iconic ride is just one of a long list of them in the area. Check them all out today — and start planning your on-the-road adventures!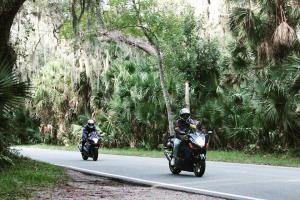 Visit Main Street
The starting point for another well-known ride route at the rally — the Street Festival Ride — historic Main Street in downtown Daytona Beach offers plenty of destinations for biker-friendly food and fun, and it's especially hopping during rallies like Biketoberfest®. Just a few of the can't-miss hot spots here include Main Street Station, Dirty Harry's Pub, and the Bank & Blues Club.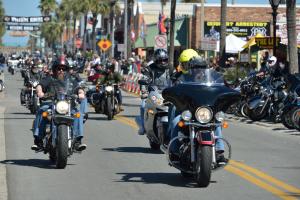 Experience all the action at the speedway
The iconic Daytona International Speedway will play host to a range of exciting, motorcycle-focused events during Biketoberfest®, and rally attendees can catch them all. The action on tap at the track includes the Championship Cup Series' National Championship Sprints and the American Sportbike Racing Association's crowning of its seasonal champions. The speedway will also host the area's largest motorcycle marketplace with live entertainment and vendor displays.
The Official Biketoberfest® Welcome Center presented by GEICO will be located in the display area at Daytona International Speedway. Along with information about the area, the Welcome Center will be handing out free posters, pins, poker chips and helmet stickers for visitors.
Explore Destination Daytona
Yet another must-see stop during Biketoberfest®, Teddy Morse's Destination Daytona features a 109,000-square-foot showroom that showcases both new and used Harley-Davidson motorcycles, along with a large selection of biker clothing and accessories. A range of other biking-focused shops can be found on-site as well. When hunger strikes, visitors can choose their favorite eatery from options like Houligan's, Daytona Pig Stand, Big Scoop Ice Cream and Wild Hog Café. Be sure to check out Saints & Sinners Pub, too! Also found in the complex, cold beverages are always on tap at Saints & Sinners and live entertainment is a regular offering on weekends and during rallies.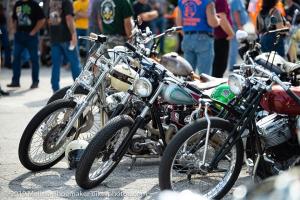 Additional resources
This year's Biketoberfest® offers a range of options for tech-savvy motorcycle enthusiasts to stay in the know regarding rally events, racing, rides, bike shows, things to do, dining and more. The Official Biketoberfest® App provides up-to-date info leading up to and during the event, as do the rally's social channels including Facebook, Twitter, Instagram and YouTube.
Ready to start planning your Biketoberfest® adventure in Daytona Beach? Explore all the biker-friendly accommodations available in the area — and start planning your ride-heavy Daytona Beach getaway today!