Right in the heart of town, Daytona Beach's Main Street entertainment district pulses with energy in the evenings. The district serves as a major hub during the city's world-renowned motorcycle festivals, but it's alive and hoppin' during the other seasons of the year, as well. A hot spot for live music, good food and weekly entertainment, the district annually welcomes more than 500,000 motorcycle enthusiasts and beachgoers from around the globe. 
Here are the details on four hot spots you can't miss while you're in the area:
316 Main St Station in Daytona Beach is a favorite vacation destination for those seeking open-air night-life entertainment at Daytona's famous biker-themed night club. Located next door to Boot Hill Saloon and just blocks from the Ocean Center Convention Center, Main Street Station is a historical landmark with roots dating back to 1934 and the origins of stock car racing on the beach. 
Located just a short walk from the Ocean Center and Peabody Auditorium, Dirty Harry's is the perfect pit stop for a cold drink before a big concert or after an event. Inside, Dirty Harry's has a cozy pub aesthetic with a lively nightclub atmosphere. When you walk through the doors to the outside, you'll find a palm tree-lined parking area that, during its larger events, Dirty Harry's often transforms into a massive block party complete with an outdoor stage for live bands and contests. Coming up on July 1, join the Dirty Harry's crowd for the monthly 1st Sunday BBQ — a customer-appreciation event featuring free BBQ, Bloody Mary specials and live music!
For a fun nightclub with a unique vintage feeling, head to The Bank & Blues Club. This nightclub serves up a wide variety of live blues and rock bands, and it all takes place inside a historic, 1920s-era bank building. The secret is out of the vault, though — The Bank & Blues Club is a happening place to catch a concert.
Mark Telesca Band
Saturday, June 23
Allman Goldflies Band
Saturday, June 30
Holy Human CD Release Party
Friday, July 6
Kevin Maines & The Volts
Saturday, July 7
Joel DaSilva Band
Saturday, August 4
A night of Soul with "A Touch of Class"
Saturday, August 11
Saturday, October 13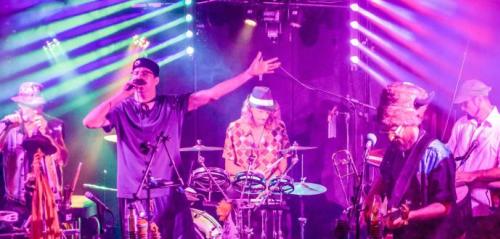 For a billiards room by the beach, pop in to Full Moon Saloon. It operates as a pool hall six nights a week, and even hosts weekly tournaments on Friday and Saturday nights. On occasion, Full Moon Saloon is also the scene for a number of smaller festivals and block parties throughout the year, which includes events such as New Year's Eve, an annual original music fest and more. When these events take place, Main Street is closed to traffic so that the stage and bars can be set up outside. It creates a fun and friendly environment where fans can stroll the street, enjoy the entertainment and make some new friends.
Whether you want to get behind the 8-ball or just watch, don't miss these weekly tournaments:
WHAT: Friday 8-Ball Tournament
COST: $7 buy-in
WHEN: Sign-up starts at 7 p.m., tournament starts at 8 p.m.
WHAT: Saturday 9-Ball Tournament
COST: $7 buy-in
WHEN: Sign-up starts at 7 p.m., tournament starts at 8 p.m.
WHAT: Jack & Jill Tournament — combined handicap of 10 & under
COST: $12 buy-in (per couple)
WHEN: Final Saturday of each month; sign-up starts at 7 p.m., tournament starts at 8 p.m.
Next time you find yourself in the Daytona Beach area looking for a little nightlife fun for the over 21 crowd, make your way to the Main Street entertainment district! It's a fun way to end the day after hours of lounging on our 23 miles of beaches, exploring the gardens at the Casements or browsing one of the many art galleries in the area. No matter whether you love hanging 10 or visiting historical sites, Daytona Beach has something to offer vacationers of all ages. Start planning your trip today!