First observed at Ohio's Kent State University in 1970, Black History Month is celebrated each February to honor the proud history and achievements of African Americans in the United States. And for Daytona Beach visitors during the second month of the year, there's no shortage of attractions where Black history is on full display.
During your next visit, take in these five Daytona Beach attractions that highlight African American culture and history: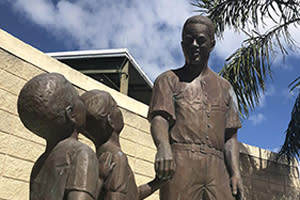 Jackie Robinson Ballpark: Celebrated as the boundary-breaker who in 1947 became the first African American to play in a Major League Baseball game, Jackie Robinson is a renowned member of the Baseball Hall of Fame. He's also a true national hero. Before he broke the color barrier with the Brooklyn Dodgers at Ebbets Field in April 1947, he made history in the first integrated MLB spring training game in 1946 — right here in Daytona Beach.
Today, the minor league ballpark that bears his name is home to the Class A Daytona Tortugas, an affiliate of the Cincinnati Reds. A statue, historical markers and a museum celebrating Robinson's achievements are also on site.
CTA:
TAKE ME OUT TO THE BALLPARK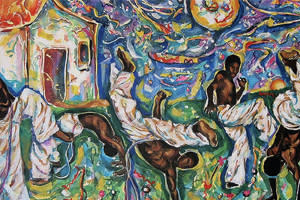 African American Museum of the Arts: A 30-minute drive inland from Daytona Beach in DeLand, the African American Museum of the Arts in DeLand is the only museum in the area devoted to African-American culture and arts. The museum's permanent gallery features artworks from Nigeria, Zimbabwe, Kenya, Madagascar, and other African nations. It also houses a collection of African artifacts, sculptures, and masks.
CTA:
ABSORB THE ARTS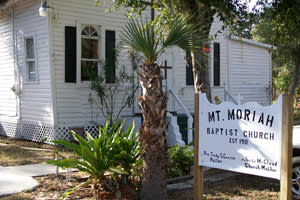 Freemanville Historic Site: Located 10 minutes south of Daytona Beach in Port Orange, the Freemanville Historic Site marks the location of a community that freed slaves settled in 1867 after the American Civil War. A state historic marker commemorates the site on the Share The Heritage Trail, and the City of Port Orange celebrates Freemanville Day on the second Tuesday of each February with historical re-enactments.
CTA:
SEE THE SITE
Mary S. Harrell Black Heritage Museum: Housed in a historic building about 15 miles south of Daytona Beach in New Smyrna Beach, this museum displays photographs, memorabilia and artifacts dating to the early 1920s. The collection highlights African-American history and race relations in small-town Florida throughout the 20th century. As a Black History Month bonus — each February, the museum hosts its annual Black Heritage Festival.
CTA:
HEAD TO THE HARRELL MUSEUM
Mary McLeod Bethune Home & Gravesite: As a pioneering educator, founder of Bethune-Cookman University and renowned civil rights leader, Dr. Mary McLeod Bethune is one of the Daytona Beach area's most celebrated residents. Those who visit her historic home and burial place on the Bethune-Cookman campus are treated to fascinating artifacts, photos and memoirs that tell this local legend's inspiring story.
CTA:
LOCATE THIS LANDMARK
Cultural attractions in the Daytona Beach area don't end with the list above. Want to learn more about Daytona Beach's African American history and heritage?
Ready to create your educational adventure in Daytona Beach? Start planning your culture-soaked getaway today! We'll look forward to seeing you and your vacation crew soon for some Wide. Open. Fun. *** It is always recommended that you check directly with any attraction in advance to confirm current operating hours and guidelines.