With Valentine's Day around the corner, now is the perfect time for vacation-ready lovebirds to plan a romantic February getaway together. And boasting beautiful scenery, temperate weather and a long list of couple-friendly activities, the Daytona Beach area is sure to be a hit with both you and your significant other — no matter what type of attractions and activities the two of you enjoy visiting and pursuing together.
For those looking for a little help planning a Cupid-approved date night, here's a list of five great ways that sweethearts who love a range of interests can spend some bond-building time together.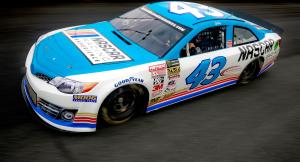 Adrenaline junkies — Thrill-seeking couples have plenty of options for getting their adrenaline pumping in the Daytona Beach area. Among them, Daytona International Speedway — known by motorsports fans far and wide as the "World Center of Racing" — offers the opportunity to not only witness a range of racing events and other high-octane action, but even to get behind the wheel of a genuine NASCAR race car. Parasailing is an extra-exciting way to see the coastal sights while taking in a bird's-eye view. Zipline through the tree canopy and Screamer's Park features a number of ways to scratch an adventurous itch, including thrill rides like the Slingshot.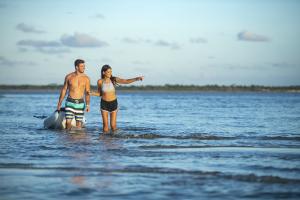 Outdoor enthusiasts — Outdoorsy types will find a long list of reasons to fall in love with Daytona Beach, which is loaded with amazing ways to get outside and get into some couple's adventures. Just a few of the ways to enjoy the outdoors in the area include hiking and/or biking on over 60 miles of showcase trails, paddleboarding the area's plentiful waterways and surfing some of the Atlantic coastline's top spots for the splashy sport.

Food fanatics — Foodies will find an array of Florida flavors to savor in the Daytona Beach area, no matter what type of tasty treat they're in the mood for. For those seeking a romantic meal with a view, the area offers a range of waterfront dining opportunities. The Daytona Beach Ale Trail treats lovers of the sudsy stuff to plentiful options for sipping on locally brewed craft beers. And of course, no Valentine's Day would be complete without diving into some decadent chocolates — a luxury that Daytona Beach's Angell & Phelps Chocolate Factory can certainly support.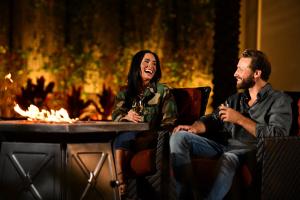 Night owls — For lovers of late-night action, the Daytona Beach area comes through big time with an impressive collection of after-hours hot spots. A small sampling of the top nightlife opportunities on tap in the area includes the Sky Lounge rooftop bar at the Streamline Hotel, Ormond Beach's Rockin' Ranch Nightclub, live music and dancing at the Ocean Deck, and the mix of entertainment experiences offered at ONE DAYTONA.

Serenity seekers — Of course, many vacationers would prefer to simply relax when they take their getaways, and the Daytona Beach area provides a number of great ways to take a load off. With 23 miles of wide, white-sand beaches, Daytona Beach certainly suffers no shortage of spots to kick back under a beach umbrella and soak in the sun and soothing sounds of crashing ocean waves. The area is also home to a collection of sensational spas where couples can treat themselves to some serious pampering and the full spectrum of signature spa treatments.
Considering all of the great options listed above, gifting a romantic Daytona Beach vacation may be the ultimate way to show your loved one how much you care this Valentine's Day weekend. Check out the hotel deals available in Daytona Beach now, and start planning your amazing couple's getaway today! We'll be looking forward to seeing you and your special someone in Daytona Beach in February!