Picture this: The sun is shining, the oceanfront is glimmering, and you're cruising down iconic A1A with the wind blowing through your hair. A visit to Daytona Beach isn't complete without a classic motorcycle or moped cruise through the area. And lucky for visitors, there are plenty of rental shops ready to help you soak in a scenic ride. TEASER BREAK
Teddy Morse's Destination Daytona
Head to Ormond Beach to experience the world-famous, 109,000-square-foot showroom at Teddy Morse's Destination Daytona. As the area's premier source for genuine Harley-Davidson® motorcycles and merchandise, it's a trusted shop for authorized rentals. Explore the options at 1637 North U.S. Highway 1 in Ormond Beach and pick out your perfect ride! Note that special event weeks (like Bike Week) require advance reservations, so be sure to call 386-261-1330.
EagleRider Motorcycle Rentals & Tours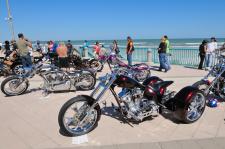 The world's largest motorcycle rental and tour company has a branch right here in Daytona Beach just west  of Daytona International Speedway. The shop specializes in Harley-Davidson®, Honda and BMW motorcycle rentals, with a number of trikes and scooters to choose from, as well. You can opt for a daily rental, a guided tour or a self-guided excursion. Two of the best aspects of EagleRider are that it's open seven days a week, and free customer pickup is offered! 
Midwest Motorcycle Rental & Tours
Located at 444 North Beach Street near the base of the Main Street Bridge, Midwest Motorcycle Rental & Tours is in prime proximity to many of Daytona Beach's best sights. Have your own Harley-Davidson® for the day! Choose from a variety of models, and get an even better deal when you rent for three or more days at a time. Or, opt to scoot around the area on a C.P.I. Scooter - no motorcycle license is required to rent a scooter, just a valid driver's license.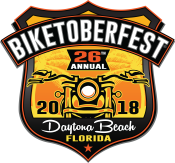 If all the hype about the 26th Annual Biketoberfest has you geared up to go for a ride, or if your bike didn't quite fit in your carry-on, these Daytona Beach rental shops have you covered. Cruise 30-plus miles of rural beauty on the Ormond Scenic Loop, take in the history of the A1A byway, or just roam wherever your free spirit leads you — it's sure to be a memorable ride in Daytona Beach!