Just a short drive from the sky-high rides, theme park lines, and character costumes of Orlando, sunny beaches stretch for miles. In fact, there are five beaches within about a one-hour car trip from Orlando that you won't want to miss. Easily pop over for a quick weekend getaway, or tack a few days onto the end of your Orlando trip to truly unwind and feel restored — a vacation after your vacation, if you will.
Grab your bathing suit, head east on I-4, and set your sights on the blue horizon of one of these five beaches near Orlando:
#1: Daytona Beach
Plenty of elbow room, beach, and off-beach parking

Famous for its wide, expansive shoreline, Daytona Beach is the perfect place to spend a couple of days en route to or from Orlando. A place you can run, relax or ride on 23-miles of hard-packed, white-sand beaches that are often up to 500 feet wide at low tide. You'll have plenty of elbow room to soak up the sun, build a sandcastle or simply kick back while the world melts away.
All 23-miles of beach are open to pedestrians 24/7 with free access. Cars are permitted in designated areas of the beach (sunrise to sunset, tides permitting).  There are off-beach parking options, too. Check out Sun Splash Park on South Atlantic Avenue for free parking, a splash pad, playground, picnic areas, outdoor showers, restrooms and beach-access ramps. A parking garage at Ocean Walk Shoppes gives easy access to the Boardwalk area and pier, where you can stroll, take selfies and find plenty of things to keep you entertained. You can even grab a bite of fresh seafood right on the pier! From renting and riding bikes on the sand to fishing off the pier, Daytona Beach offers endless fun for all ages.
#2: Ormond Beach
Naturally beautiful beach with local vibe

At the turn of the 20th century, Ormond Beach earned a reputation as a getaway for famous railroad magnate Henry Flagler, as well as millionaire/philanthropist John D. Rockefeller. In fact, you can visit the Casements, Rockefeller's former winter home on your visit!
Ormond Beach, ranked by TripAdvisor travelers as a Top 25 U.S. Beach in 2021, has a distinctly local vibe. Besides the naturally beautiful beach, you'll love the locally owned boutiques, charming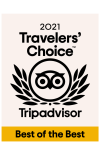 restaurants, and quirky craft breweries. Andy Romano Beachfront Park is the perfect place to let the kids run around and enjoy a splash pad and picnic before hitting the beach. There are also restrooms, a splash pad, a shaded pavilion, concessions, grills, free parking, and more!
#3: Ormond-By-The-Sea
A quiet and peaceful escape

Located at the quieter northern end of the Daytona Beach area, Ormond-By-The-Sea provides a peaceful escape and stark contrast to the bright lights of Orlando. Here, the traffic-free, pedestrian-only beaches offer off-beach parking spots and a wide variety of restaurants — perfect for a totally relaxing, low-key day!
#4: Daytona Beach Shores
Expansive and tranquil 
For a beach trip that's filled with tranquility, head to Daytona Beach Shores, located south of Daytona Beach proper. With expansive stretches of beaches, oceanfront resorts and beachside charm, Daytona Beach Shores is the perfect place to feel like you've gotten away from the hustle and bustle of life.
Frank Rendon Park is the ideal spot to find free off-beach parking. The whole family will enjoy the playground, sheltered picnic areas, grills and outdoor showers. It's the perfect place to soak in the beauty around you.
#5: Ponce Inlet
Steeped in history and quaint

The Town of Ponce Inlet offers a quaint "Old Florida" experience, maintaining its authentic charm while serving up chartered fishing excursions, the popular Marine Science Center and some of the area's best waterfront restaurants. Of course, Ponce Inlet's claim to fame is the famous stretch of beach where the very first NASCAR races took place! Head to Racing's North Turn for a bite to eat and to soak up the area's history. Visit the beach from Ponce Preserve, a river to ocean nature park that offers an observation tower, nature trails, a playground, and beach access. Lighthouse Point Park, 52 acres of undisturbed natural beauty located at the southern tip of Ponce Inlet, offers fishing, nature trails, an observation tower, swimming, and pavilions. Leashed pets are welcome.
New Smyrna Beach is located just on the other side of this pretty little inlet and is another beautiful beach within range of Orlando.
While you're in Ponce Inlet, climb all 203 steps to the top of Ponce Inlet Lighthouse. As Florida's tallest lighthouse and originally built in 1835, it offers a 360-degree view of the Atlantic Ocean, the Intracoastal Waterway, and inland waterways. A trek to the top is well worth the effort — you won't soon forget the scenery! For a full itinerary of how to spend a day in Ponce Inlet (even if you skip the beach!), read more.
Ready to plan your beach getaway?
One of the best things about Daytona Beach and the surrounding beaches is the ease and availability of parking. Handicap parking and free beach wheelchairs are also readily available for those who require it.
No matter which beach you choose, you're sure to be in for a treat — and all within close proximity of Orlando. Get driving directions now!
Watch video: Get on the sand with Beach Mobility Rentals.
Beach Mobility Rentals - What Would You Do? from Beach Mobility Rentals on Vimeo.