Daytona Beach is famous for its wide beaches, but did you know that it also offers a wide variety of activities for all ages? Sure enough, the list of ways to have fun here is a mile long. Whether you are embarking on a romantic getaway for two, taking a family trip or gathering together for an extended family reunion, you'll find everything you need in Daytona Beach. Even if your vacation crew spans multiple generations, the variety of options available makes it easy to keep everybody in your group happy and having fun! 
For the little ones: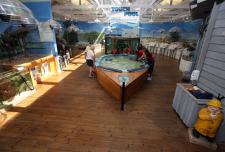 Make your way to Ponce Inlet for an environmental journey at the Marine Science Center. People of all ages enjoy the touch tanks, educational demonstrations and sea turtle rehabilitation unit, but it's especially fun to watch a child's eyes light up when they first feel the slippery skin of a stingray! The young ones will also enjoy a visit to the popular children's museum at the Museum of Arts & Sciences, where the interactive exhibits lead to endless fun-filled discoveries. And, of course, Daytona Beach itself serves as one giant playground for all ages — a place to splash, get sandy and let imaginations roam. From water parks to indoor trampoline houses, there are many ways to enjoy family fun in Daytona Beach — view more family activities here.
For the adventure lovers: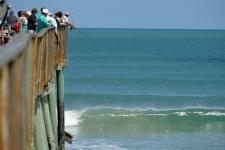 Grab your rod and reel and head to the Daytona Beach Pier, a popular local fishing spot. There's no cost to fish on this pier, and fishing licenses are not required, making it the perfect activity to begin on a whim. Or, get a close-up look at marine life including dolphins, birds and even manatees with a paddle board or kayak adventure. It's an eco-friendly way to explore the immense water systems in the area, get some exercise and spend time together! If you want a local taste of the area, hit the Daytona Beach Ale Trail. Grab your designated driver and get to sippin' on unique brews with your crew. The adventures don't stop there — check out all the things to do in Daytona Beach.
For the easygoing: 
Although the adventures are endless in Daytona Beach, sometimes the most daring thing you can do is unplug from the world and truly be present. Start your morning with a sunrise stroll on the beach, or spend an entire afternoon lounging in the sand with a great read. The area has a rich history and vibrant cultural scene, with many museums, galleries and live theatre. For the history buffs, entire days can be spent exploring the area's historical sites, such as Ponce Inlet Lighthouse. Whether wandering through nature trails or winding down at a wine bar, you can create a getaway that's just your speed.
Without a doubt, Daytona Beach is the perfect vacation spot for all ages. Whether you're biking on the beach, soaking in the sun while eating fresh seafood or discovering a new water sport, endless fun awaits. Start planning your trip today!