For decades, hundreds of thousands of people have flocked to Daytona Beach each year to experience the "birthplace of speed." As the destination where NASCAR got its start and stock car racing became an American tradition, Daytona Beach is often synonymous with racing. And without a doubt, the place to pay homage to racing history and salute its vibrant present is Daytona International Speedway.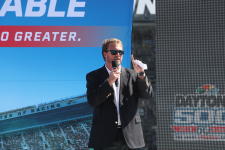 "As 'The World Center of Racing,' the most prestigious races in motorsports have a stop here," says Chip Wile, who has served as president of Daytona International Speedway since 2016. "From the Rolex 24 to the DAYTONA 500, everything we do here is the biggest and the best in its discipline."
And sports-car racing is only the beginning. The Speedway boasts more than 300 event days every year. From go-karts to motorcycles and everything in between, races of all shapes and sizes take place here. In 2018, the Speedway even hosted an international professional triathlon, the Challenge DAYTONA Triathlon.
"We always say, 'If it has wheels, we'll race it here!'" says Wile.
Countless historic moments have been witnessed at the Speedway, and new favorite family memories continue to take shape here every day. With a variety of Speedway tours that the Speedway offers, you can take part in the experience even if you can't make it on a race day.
Choose from various tiers of tour options ranging in duration times, cost and features. The Speedway Tour clocks in as the shortest option at 30 minutes long. During this tour, you'll climb aboard an open-air tram and enjoy a narrated ride on the famous track. Snap a photo at the famous Gatorade Victory Lane, and end the tour standing next to the year's DAYTONA 500 champion car, which is preserved in the exact condition it was in as it zoomed past the checkered flag.
The 90-minute All-Access Tour offers a rare opportunity for fans to come face-to-face with the finish line they've come to know so well, get a close-up view of the pit stalls and unique views of the Speedway from a variety of other vantage points.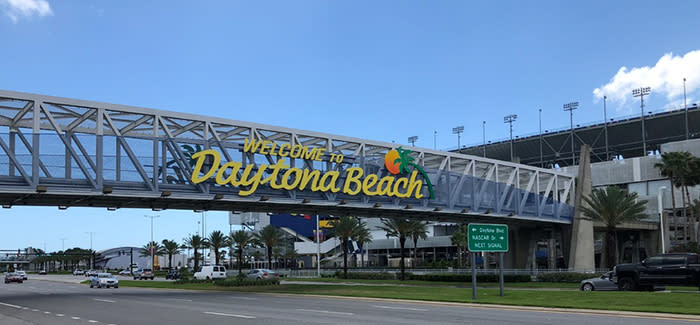 For true fans of motorsports, the VIP Tour is unmatched with three full hours of unprecedented access to the Speedway. Enjoy an intimate look into the past, present and future of the Speedway — from viewing archival treasures to accessing the Coca-Cola Theatre, you'll end the day an expert on all things motorsports.
At the end of each tour, you'll be able to take a stroll through the Motorsports Hall of Fame of America. The exhibit showcases a wide variety of displays that honor all forms of motorsports, from stock cars to aviation. No matter the size or age of your vacation crew, there's plenty for all to enjoy.
"The great thing about Daytona International Speedway is that we have something for everyone," explains Wile. "I've seen toddlers looking in awe at the car displays and senior citizens who grew up watching the DAYTONA 500 finally get to see it in person. And with the addition of ONE DAYTONA right across the street, you've got a whole day's worth of activities over here."
Just one visit to Daytona International Speedway helps a person appreciate and understand how important this place is not only to motorsports, but to all sports.
If you haven't been to the Speedway for a few years, or came with family when you were just a child, a trip back is well worth it. The Speedway underwent major renovations and improvements from 2013 to 2016, and it is now unlike any other venue in the world. What all has changed?
"Everything," laughs Wile. "Nothing is the same. From the racetrack to the elevators, everything is upgraded. We now have 101,000 wider, more comfortable seats — all with cup holders, improved concourse areas, 40 escalators, Wi-Fi throughout the venue, and the list goes on."
Of course, one thing that will never change is the singular swell of adrenaline and excitement that sweeps through the crowd during an event.
"It has been the honor of my life to be a part of the Daytona International Speedway team. The men and women I work beside every day are so incredible and talented," says Wile. "I'll never forget my very first DAYTONA 500 as president. I stood there, looking up at 101,000 people attending the 59th running of the race and being so proud. So much goes into it — a lot of hard work from a lot of people — and I was so proud."
Experience it for yourself! Come witness this place where legends are born — book your tour or buy tickets for an upcoming event at www.daytonainternationalspeedway.com, and start planning your trip to Daytona Beach today!
Don't forget to download our free official visitors guide or sign up for our e-newsletter.