Seasoned beach-goers know that some items are simply must-haves for days spent enjoying the sand and surf along the ocean's shoreline — because bringing them along can help guarantee unforgettable outings during coastal getaways.
So, to ensure you're prepared to get the most out of your next visit to Daytona Beach's famed 23 miles of white-sand beaches, make sure you have these 10 essentials in your beach bag before you head to the coastline:
Sunscreen — This might be the No. 1 must-have for days spent in the sunshine. Dermatologists recommend slathering on a sunscreen with an SPF of at least 30, which blocks 97% of the sun's harmful UVB rays. And reapply frequently.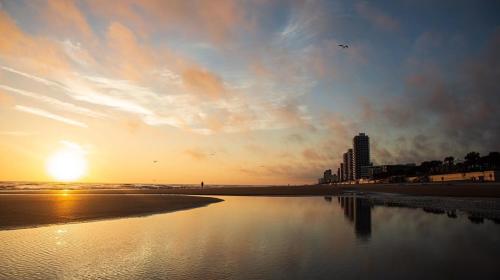 Sunglasses — Of course, squinting doesn't add to your fun in the sun. And even if the day starts out overcast,  the sun will  start shining through — so sunglasses are a must. You might even want to consider packing two pairs of sunglasses in your beach bag: one fashionable pair that you feel great wearing out and about, and an inexpensive pair that won't cost much to replace if lost when spending time in the water.
Insulated water bottle — Staying hydrated is critical when spending long stretches of time in the sun, so bringing a sizeable water bottle along is essential to any beach outing. And with a well-insulated one, you can enjoy cool, refreshing drinks for hours.
Snacks — Your beach-going crew is also likely to get hungry during long days of fun in the sun — so bringing your favorite snacks along can enable you to stay longer and keep everyone happy. Throw a few snacks in your beach bag or cooler so you're all set when hunger strikes. And in Daytona Beach, if your snacks run out, you can stop by one of the food or ice cream trucks conveniently located along the beachfront for a quick and easy meal.
Earbuds — Especially if you're spending days lounging on the sands, a soundtrack of your favorite tunes is a sure way to make a great day even better. And bringing along earbuds will give your audio quality a boost while allowing you to set just the right volume for your own enjoyment.
Beach towel — Especially if you're planning to do some splashing around in the waves, you'll need a way to quickly dry off. And even if you don't plan to get wet, a big beach towel gives you a great place to sit or lie down and soak up some sun.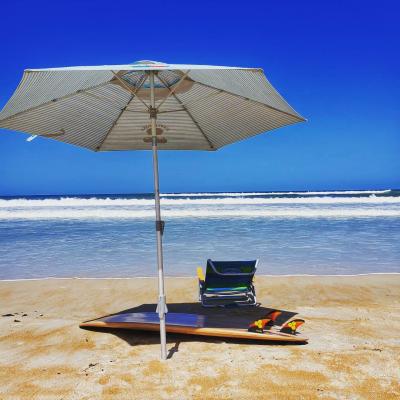 Beach umbrella — During an extended stay at the beach, particularly if it's a bright and sunny day, you may want to  take some breaks from the direct sunlight — and a good beach umbrella can provide some welcome shade in a flash. If you're shopping in Daytona Beach, it's easy to find one that is that is light and compact to fit into your beach bag.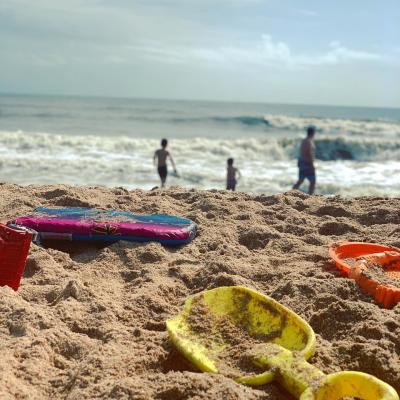 Beach toys — When you bring kids to the beach, packing a few sand toys can add to their fun in the sun. And even if your beach crew is all grown up, a fun beach game like bocce or frisbee can add some excitement. (For more beach-game ideas, check out this article on the Daytona Beach Blog.)
A good book — Of course, when you're lucky enough to have your toes in Daytona Beach's seaside sands, you've already successfully broken away from the daily grind. But diving deep into a good book can take your oceanfront escape to a whole new level. And boosting a good book's appeal even further, the soothing sound of the ocean waves is the perfect companion to a page-turning plotline.
A portable beach chair — OK, this last item may be a bit bulky to actually fit inside most beach bags. But beach chairs have gotten lighter and lighter over the years, and most feature carry straps that can easily be thrown over the shoulder and toted right along with the beach bag. And once you're settled into the oceanfront sands, having a good beach chair in tow can really ramp up your relaxation levels.
Ready to pack a fun-filled Daytona Beach vacation into your upcoming schedule? Start planning your coastal Florida getaway today! We'll look forward to seeing you soon.