Daytona Beach is home to nearly 20 golf courses, the "World's Most Famous Beach," abundant nightlife, and the "World Center of Racing," and that's just the tip of the proverbial iceberg.
There is a lot to do in Daytona Beach, on and off the course, hence the area's rising popularity as a golf destination. With so many options, here is a 3-day itinerary that will deliver an unforgettable trip for your golf group.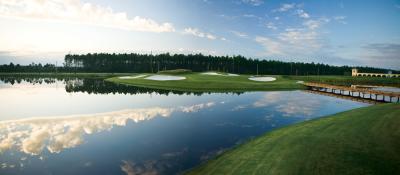 Day 1
8:00 a.m.: Your trip begins with a drive to New Smyrna Beach to play Venetian Bay Golf Club. Ownership has invested in the property and the Clifton, Ezell and Clifton design is better than ever. Golfers that find the short grass off the tee will have the opportunity to score as the course's TifDwarf greens don't have a surplus of undulation.
1:30 p.m.: For lunch, head to the beach and enjoy a meal at Racing's North Turn Beach Bar & Grille. The historic restaurant is filled with racing memorabilia and photographs and is located where Daytona Beach's first races were held. From 1936 until Daytona International Speedway opened in 1959, stock cars raced on the beach and Racing's North Turn, which was recognized as a Historic Landmark (and a Top 10 Florida Beach Bar nine years in a row!), allows visitors to experience that history.
3:00 p.m.: You are off to Ponce Inlet Lighthouse & Museum, which traces its own rich history back to the 19th century. Make it a priority to climb the 203 steps to the top of 175-foot lighthouse - it's Florida's tallest - because the 360-degree views are breathtaking.
6:30 p.m.: After freshening up at the hotel, head to the Ormond Garage to enjoy one of its 15 original craft brews. Here is a vote for the O.G. Hefeweizen, a German style wheat beer with hints of banana and cloves.
7:30 p.m.: Reservations await (make them in advance!) at Rose Villa Southern Table & Bar, one of the area's best restaurants. Built in the late 1800s, Rose Villa is a Victorian jewel that specializes in Southern food. The Rose's deviled eggs are a great way to start your meal and the Southern fried chicken special - a ½ fried chicken, smashed yukon gold potatoes, collard greens and gravy - is the perfect way to cap opening day.

Day 2
8:00 a.m.: LPGA International, the area's most acclaimed facility, awaits. You can play either the Jones or Hills course and you won't go wrong either way. On this trip, let's challenge the Arthur Hills design, which is framed by beautiful magnolia trees and native pines. There are no parallel fairways and there is a premium placed on driving the ball well at the 4.5-star layout.
12:30 p.m.: Walk inside and have lunch at Malcolm's Bar & Grill, LPGA's onsite restaurant. Featuring fresh food and a creative menu, Malcolm's rises far above the level of standard "clubhouse food." This restaurant's quality will be reflected in your enjoyment of lunch.
1:45 p.m.: The chance to experience Daytona International Speedway and the Motorsports Hall of Fame is one you can't pass up. You will have a whole new respect for NASCAR's best after enjoying the 60-minute Speedway Tour and seeing those high-banked turns up close!
4:00 p.m.: Take the skywalk across the road and enjoy ONE DAYTONA, the area's newest entertainment complex. Head to the roof at Rock Bottom Restaurant & Brewery, an ideal spot to enjoy a cold one while rehashing your day before heading to 4 Rivers BBQ for a meal you won't forget. Shopping, dining, fitness and entertainment options abound at ONE DAYTONA, so soak it all up before calling an end to your day.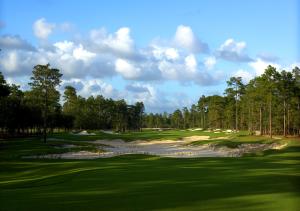 Day 3
10:30 a.m.: Enjoy a little extra rest before driving to Victoria Hills Golf Club in DeLand. The Ron Garl design has been ranked among the state's top 15 public layouts. With uncommon elevation change and sprawling waste bunkers, Victoria Hills is a perfect way to close out the golf portion of your trip.
** 3:00 p.m.: Make your way to downtown DeLand and its award-winning downtown district on Woodland Boulevard. You can enjoy your final craft brew at Persimmon Hollow prior to walking to dinner a little later. There are many dining options in the downtown district. If you want to conclude your trip with a gourmet meal, Cress is a critically acclaimed restaurant known for serving fresh locally sourced food or for something more casual, try Chica's Cuban Café.
** For the thrill seekers among us, consider a trip to Skydive DeLand for a tandem parachute jump before heading downtown. Sky Dive DeLand is world renowned and has a staff of experienced instructors who offer personalized experiences for jumpers of all skill levels.
8:00 p.m.: Return to your room and begin dreaming of your return trip to Daytona Beach.
Start planning your next golf getaway today! For more information, visit DaytonaBeach.Golf