It's a popular saying, "Pics, or it didn't happen." And as it relates to travel, the meaning is pretty clear — share photographs of your amazing vacation!
It's easy to see why TRAVEL + LEISURE named Daytona Beach one of the top five Most Instagrammed Beaches in the World!)
Visitors to our sun- and fun-soaked area have an array of iconic settings to choose from when they snap their selfies or take group photos of the whole vacation crew.
Next time you're looking to capture some picturesque proof of your Daytona Beach getaway, consider these 12 iconic shots that are signature to the area: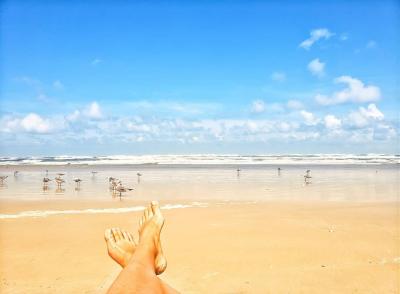 1.   Toes in the sand: The largest draw to the Daytona Beach area has to be the Atlantic Ocean. And boasting 23 miles of white-sand beaches where visitors can soak in some sun and surf, it doesn't disappoint when it comes to its availability of sweeping coastal scenes. So next time you and your vacation crew head to the Daytona Beach shoreline to spread out a beach blanket, prop up a beach umbrella, or enjoy some wet and wild fun in the waves, don't forget to take a few photos to post for your social set.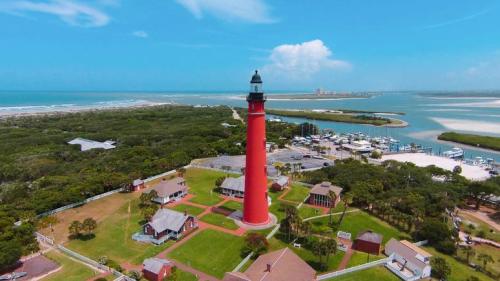 2.   Life at the lighthouse: One of the peak attractions in the area can be found at the southern tip of Ponce Inlet, where the Ponce Inlet Lighthouse towers 175 feet above the ground to offer amazing views of the Atlantic Ocean, the Intracoastal Waterway and the entire Daytona Beach peninsula. So put on your sneakers, grab your camera, and climb the 203 steps to the top of this lofty landmark to get some 360-degree view photos of the area.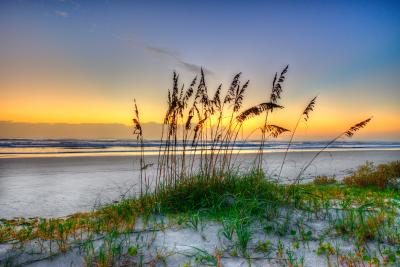 3.   Sunrise over the ocean: For early risers, the sight of the sun peeking over the horizon as it climbs into the sky above the Atlantic's blue waters is reward enough for skipping the extra beauty sleep. But when you can capture the scenic spectacle in a photo that's perfect for posting on your favorite social site, it's all the more reason to set the alarm and hop out of bed bright and early in the morning. So get ready to rise, shine, and perfectly frame that beautiful sunrise in your memory-making photo.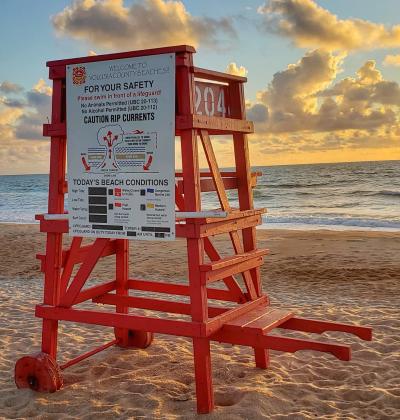 4.   Lifeguard tower or stand: The dedicated members of Volusia County's Lifeguard Corps are always ready to help keep swimmers safe at the beach, and their iconic, bright lifeguard stands make for a great backdrop (that screams "Daytona Beach") for your oceanside photos.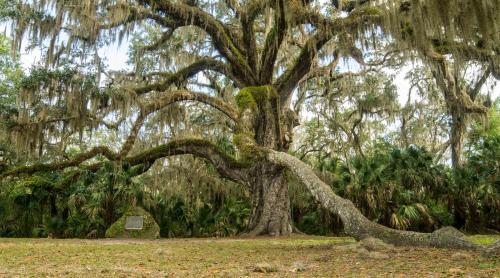 5.   Fairchild Oak: Found at Bulow Creek State Park in Ormond Beach, the 400-plus-year-old Fairchild Oak has seen a lot of area history. And as an obvious elder in the maritime forest where it stands, the majestic tree boasts towering and wide-spanning branches draped in Spanish moss that make for a picturesque — and signature Daytona Beach — backdrop for your social photos.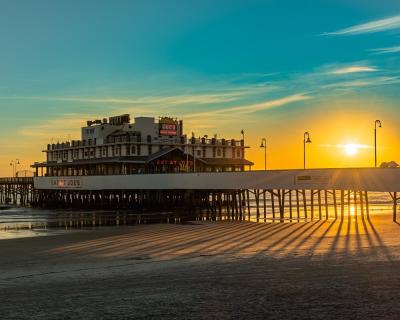 6.   Under the pier: Extending 1,000 feet into the Atlantic Ocean alongside the Daytona Beach Boardwalk, the Daytona Beach Pier is another iconic area landmark that's great for photo-taking, and the wooden columns and beams that provide support beneath the topside that visitors stroll along make for great leading lines when framing your vacation photos.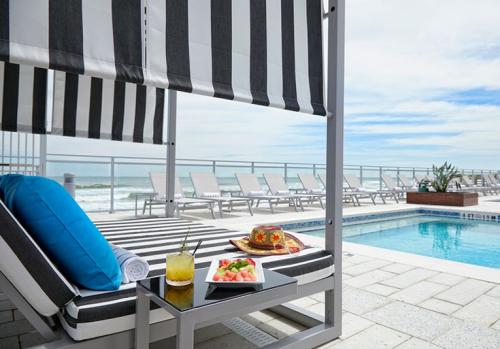 7.   Poolside cabana: You'll definitely want your photos to convey the relaxing atmosphere you're enjoying during your Daytona Beach vacation, and not many photos can express a laid-back tropical vibe quite as well as one showing you lounging, perhaps with a frozen concoction of choice in hand, while spending time in a poolside cabana — an amenity that's not hard to find among the Daytona Beach area's oceanfront resorts.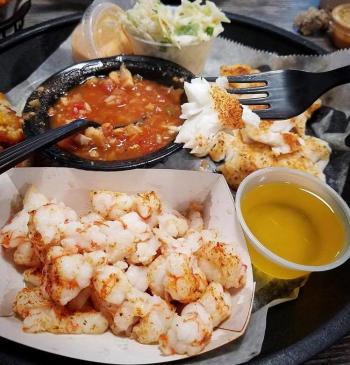 8.   A seafood pic: With such an abundance of ocean waters within easy reach, it should come as no surprise that fresh local seafood are the highlight of many a menu in the Daytona Beach area. So don't hesitate to capture and post a photo of your favorite dish during your Daytona Beach stay — the biggest challenge you may face in doing so might be choosing just one fresh-caught meal to commemorate.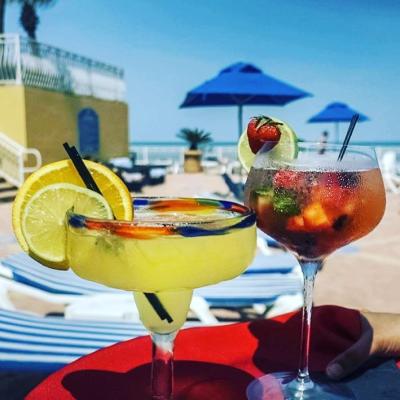 9.   A drink/cocktail by the water: As crooner Jimmy Buffett would testify, there's just something about the vibe that's served up with ocean breezes and the warming rays of the sun that just makes cocktails taste better by the beach. So be sure to snap a photo of your favorite beverage to share with friends and followers on your social media accounts.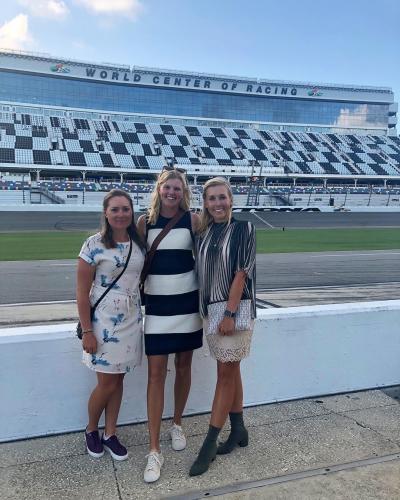 10.  Victory Lane: Some of the most memorable photos from some of the biggest of history-making races at Daytona International Speedway are taken in Victory Lane, where the confetti flies after a racer claims the checkered flag. And when you take a tour of the iconic track, be sure visit this so-often celebratory spot to get a pic of yourself and your own pit crew having fun at the historic racing venue — so you can share your great memories with friends and remember your thrilling adventure in Daytona Beach for years to come.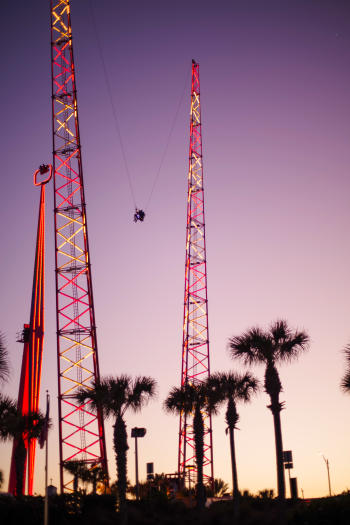 11.  Boardwalk/Screamers Park at night: Located near the Daytona Beach Pier at the south end of the Daytona Beach Boardwalk, Screamer's Park is a top destination for thrill-seekers visiting the Daytona Beach area. And regardless of whether anyone in your crew is brave enough to board the Slingshot or the other rides, the park's festive nighttime lights make for a great (and signature Daytona Beach) backdrop for your photos.
12.  Mural at Crabby Joe's: Once featured on The Travel Channel's Man v. Food, Crabby Joe's is a great place to grab a bite to eat, along with some incredible ocean views from the restaurant's perch atop the Sunglow Pier. The brightly colored and ocean-themed mural that welcomes diners to the above-the-waves eatery also makes for a great backdrop when you want your photo to proclaim, "We're having a blast in Daytona Beach!"
Ready to snap all of these Instagram-enhancing shots during your Daytona Beach vacation? Start planning your getaway to the Daytona Beach area today! Act before they get away, and you could find a deal on your stay by checking for special offers on the Daytona Beach Hotel Deals page. We'll be looking forward to seeing you (and your Instagram posts) soon for some Wide. Open. Fun.